I must admit… I've been a bad blogger lately because all  my words have been going into a few projects I've been working on. So now that I'm here, how about if I tell you a little about those?
This one's all done…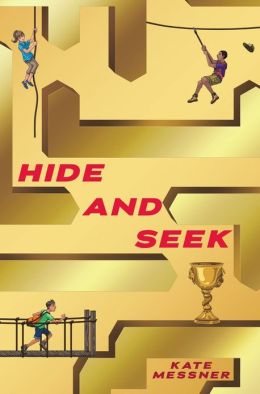 HIDE AND SEEK is my follow up to CAPTURE THE FLAG, and in this second mystery, a sacred Silver Jaguar Society artifact goes missing, and Anna, Henry, and Jose go with their families to the rainforest of Costa Rica to try and track down the priceless Jaguar Cup before it falls into the wrong hands forever.  I love this book (maybe even more than CAPTURE THE FLAG – am I allowed to say that?) and can't wait for it to come out in April.
After HIDE AND SEEK, Anna, Henry, and Jose will have one more adventure, and I'm working on that book right now. It's called MANHUNT, and it pits the Silver Jaguar Society against the most nefarious art theft gang in all of Europe in a race to save the most beloved works of art in the world. This book takes place in some of the brightest and darkest places in Boston and Paris and was so much fun to research that I wish I could hop on a plane and do it all over again. But the great thing about writing books is that you get to relive your research trips with every draft.  It may be below freezing and drizzly where I live, but in my writing room this week, it was Paris in August, right down to the breeze on the Seine and the wafting smell of banana-Nutella crepes.
I've also been working on a couple proposals for new projects that are too new to be talked about but have been haunting my dreams and my notebooks for a while.
I don't have a new book coming out until Spring, but I do have a short story to share now.  A while back, Scholastic asked me to write a piece of original fiction for their Storyworks magazine, and I jumped at the chance to try something a little different from what I usually write. It's science fiction, and it's called "They Might Be Dangerous."
Scholastic has made much of the February/March issue of Storyworks available online (they're great that way) so if you'd like to read my story, you can click here to find it.   Scroll down to find "They Might Be Dangerous," and then you can click on it to download the story as a pdf to read and share.