The first time my friend Marjorie and I cobbled together a group of children's writers for a short retreat, my husband was fascinated. "Really? What are you going to do all day?"
"Write."
He looked at me for a few minutes. "That's it?"
"Pretty much. We'll also take breaks to eat and talk about writing."
He nodded skeptically, the same way you might nod at a kid who promises she won't use that flashlight to read under the covers. Once the retreat started, he came out for a quick visit. "Wow," he said. "I can't believe everyone's just…writing." There were two writers with laptops on the downstairs porch, four more above them on the upstairs porch, a few scattered on couches and chairs, and a handful more at long tables in the designated quiet room. But really, the whole place was quiet, and my husband was stunned. I think he'd been expecting to catch us setting up the disco ball for the DJ.
Last week, our group got together again, for four days of…yes….mostly just writing. You can have a writing retreat anywhere there are beds and some public space for get-togethers. We have ours here, at the Valcour Inn and Conference Center on Lake Champlain because it's a lovely setting and a big space with lots of places for people to hide away and write.
We do take some breaks for talk and exercise — some people went for runs and hikes at nearby Ausable Chasm. We had a yoga instructor visit for a Tuesday morning session to counteract all that sitting time, and there was time to play on the big lawn, too.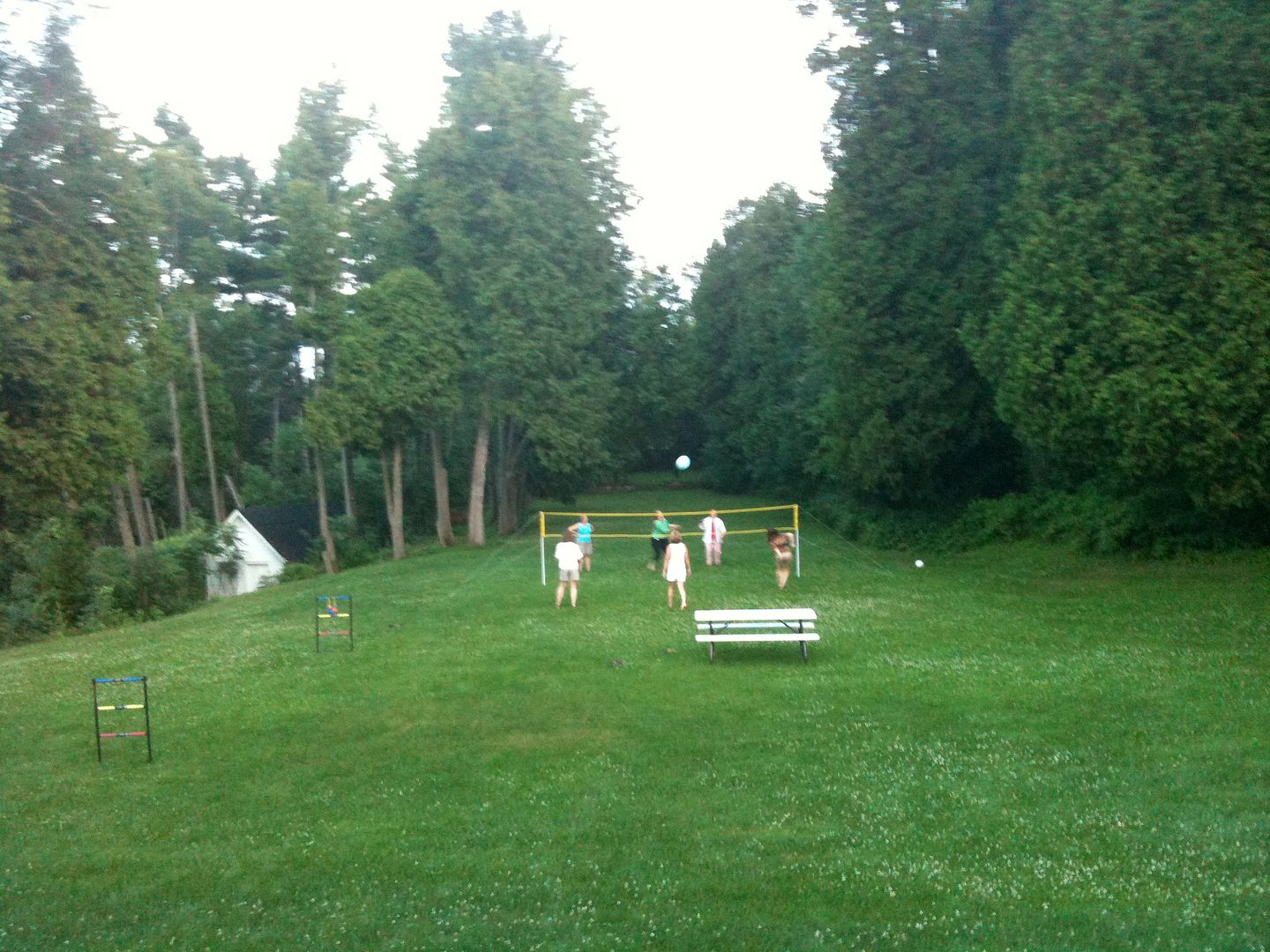 But mostly, there was a lot of this…
…writers scattered at tables, in rocking chairs and at picnic tables, on couches and chairs with bare feet tucked up under them, or scribbling in notebooks on the rocks down by the lake. Sometimes there were walks, quiet conversations about characters or themes or sticking points before people fell quiet to write again. And every afternoon at 5:00, or 5:15 or 5:27, or whenever we reached that good stopping point, we wandered up to the second floor porch to share what we'd accomplished that day and celebrate one another's work.
This was one of my favorite parts of every day, hearing what people had done in the quiet hours.
"I really connected with my character this afternoon."
"I finished my proposal, and I'm ready to send it to my editor!"
"I came up with another metaphor."
"I'm halfway through my revision."
"I sat by the lake and wrote down the colors of rocks for one of my settings."
Glasses were raised, accomplishments cheered, and then we went downstairs to eat dinner. The last night, we gathered in one of the big rooms, and everyone had a chance to read five minutes from a work in progress. These were just magnificent, and I went to bed late that night, still lost in settings and visiting with all those characters in my mind. I'm so thankful to my fellow retreaters for the gift of their company, the gift of their words.
I'm home now. It's not quite as quiet, and I'm making dinner every night again, but I'm still working, still revising. Somehow, the spirit of those four days keeps me going, long after the inn has emptied out.