There's been a lot of online chatter lately about virtual author visits, and as someone who wears two hats, I've been paying special attention. Because I'm a middle school English teacher as well as an author, my ability to travel for school visits is somewhat limited, so I'll be using Skype videoconferencing software to offer virtual visits to classrooms and book clubs when THE BRILLIANT FALL OF GIANNA Z is released in September.

I also love the idea of my own students having more opportunities to talk with authors, and today my 7th graders had a virtual visit with the amazing Laurie Halse Anderson. We read CHAINS this winter and were swept away, so the kids had lots of questions about how Laurie researched the novel and brought her characters to life. Laurie is planning to offer virtual visits for schools starting in the fall, and we were thrilled to be her guinea pigs. Our kids piled into the auditorium at 9:45 this morning and waited for my laptop to ring with Laurie's 10am call on Skype.
And then there she was!
Laurie and I agreed to double team an online review of our virtual visit – I'm providing a teacher's perspective, and she's blogging about the experience from the author's point of view over at halseanderson . So here are my thoughts on virtual visits: the good, the bad, the ugly, and the awesome…
The Good:
~Laurie is not only an incredibly talented author but also a friendly, generous, down-to-earth person, and that came through on the big screen, too. Our 7th graders loved her before this visit; they love her more now.
~She gave answers that were just long enough but not too long. We had time for about 30 kids to ask questions in a 45-minute visit, and they were just thrilled. When the kids asked about her research, she held up her latest sources.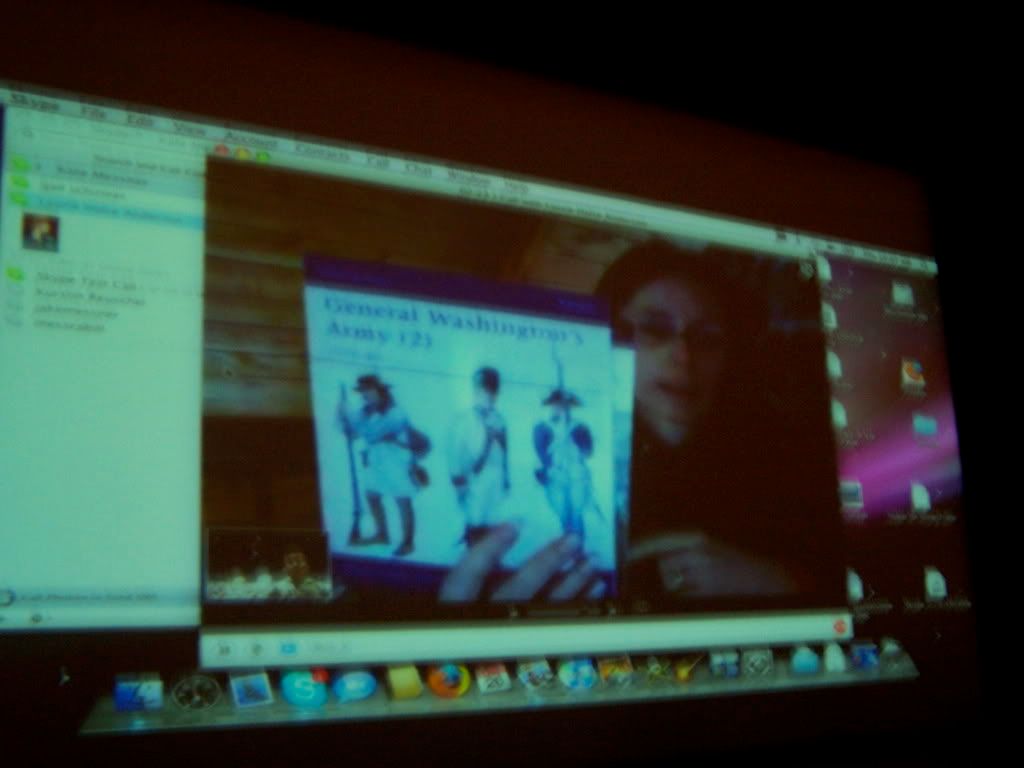 ~Our plan to keep things organized worked. Students knew who was asking questions and when it was their turn. I gave each interviewer a rundown, along with an index card with the question her or she wrote.

Kids were on "standby" when the person before them on the list was talking with Laurie, and that kept things moving along.
~The setup for this virtual visit was pretty much painless.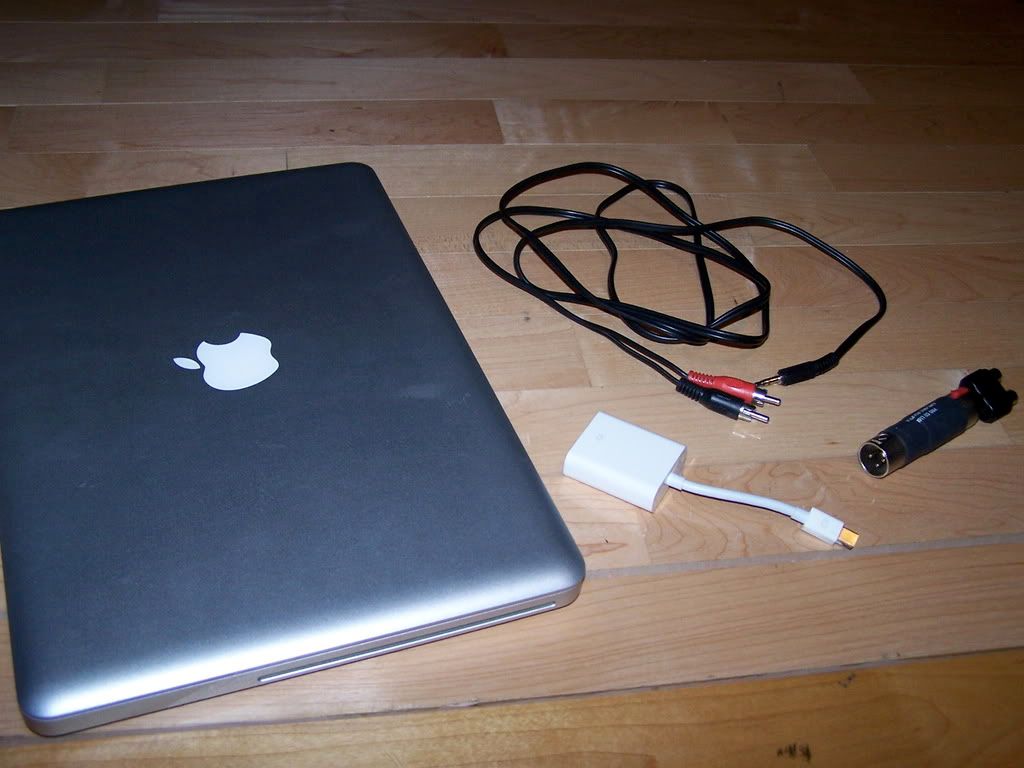 ~I brought in my laptop from home (a MacBook with a built-in camera), connected it to the projector in our auditorium, hooked the computer into the school network, and patched it into our sound system.
~Skype worked like it was supposed to work 95% of the time. (See "the Ugly" for the other 5%)
The Bad: (What we'd do differently next time)
~Sometimes, it was hard for our auditorium audience to hear the questions being asked. Our interviewers were facing Laurie on the laptop, rather than the other students. Next time we do a virtual author visit, I'll remind the kids about the need to speak up, try to get a microphone set up, or perhaps ask if our author might be willing to repeat questions before answering.
The Ugly:
~Skype is wonderful and magical and free. It is also subject to the whims of all sorts of Internet bandwidth, firewall, and other technology issues that I don't entirely understand. As a result, four or five times during our virtual visit, we simply lost the connection. Laurie's face would freeze mid-sentence, and we had to hang up and call her back. Usually, that all happened within a few seconds, but once I had to quit Skype and re-launch the application before we could get our connection back, and that took an extra minute. Overall, the interruptions were annoying but manageable.
The Awesome:
~Kids who I never dreamed would stand and share a question were so excited to talk with Laurie. She treated each student like his or her question was the most important one in the world. I watched their faces as they listened. They glowed.
~My class was watching the ALA video-conference from Denver last month and cheered when Laurie was announced as the winner of the Margaret A. Edwards Award for Lifetime Achievement. We cheered again today and loved that she could hear us this time!
~We also got to listen to Laurie read the first few pages of FORGE, the sequel to CHAINS, told from the point of view of Isabel's friend, Curzon. It is so full of promise that I don't know how I'm going to wait until 2010 to read the rest.
Thanks, Laurie, for such a wonderful morning with our kids!
If you want to read about another author/illustrator's experience, Elizabeth Dulemba has an extensive blog post on her first virtual visit, too.

And finally….a to-do list for teachers who want to set up a Skype virtual author visit.
1. Download Skype at home and try it out with someone you know. Figure out how it works. It's pretty simple, but you'll want to make sure you're comfortable before you set up a visit.
2. Contact your technology coordinator to see if you can use Skype at school. Some will say yes. Some will say no. And some will wave magic wands and adjust bandwidth restrictions and unblock things so you can pull it off. Send them chocolate later.
3. Contact the author with whom you'd like to have a virtual visit. Find out about availability, technology needs, and fees. Also be aware that video chats aren't everyone's cup of tea, so if an author says no thanks, respect that.
4. Once you've set up a date and time (morning may be best to avoid high usage Internet times), reserve the space where you'll be having your virtual visit. Make sure the equipment you'll need is available and working. If you're not good with technology, enlist the help of a co-worker who is. Send that person chocolate later, too.
5. Make a plan for your virtual visit. How long will it last? (30-45 minutes seems to be perfect.) Who will ask questions? Where will they stand? Where do they go when they're done? If you figure it out ahead of time, you won't have to interrupt your visit to deal with questions.
6. Talk to your students about etiquette for a virtual author visit. In many ways, it's just like having a guest speaker in your auditorium or classroom in person, and kids need to know that all the same rules about courteous behavior apply. It will also be important for them to know that technical issues are a possibility and that their quiet cooperation will help you get things fixed more quickly.
7. Test Skype at school. It doesn't matter if you've tested it at home; things are different on school networks, and you don't want to discover a problem when it's time for your virtual visit.
8. On the day of your virtual visit, launch Skype and either call the author or wait for him/her to call you – whatever you agreed upon in advance. Know that there may be technical problems, but you'll be able to fix them. You may want to have kids bring books for silent reading in case there's an extended period of lost contact. Planning and flexibility (and a sense of humor!) will go a long way toward making your virtual author visit a great experience!
One more thing….
9. After your virtual visit, would you stop back here and let me know how it goes? I can't wait to hear more about kids & authors coming together through technology!