I dressed up as Abigail Smith for Halloween on Saturday. She's the main character in SPITFIRE — a young girl who disguises herself as a boy to fight in a Revolutionary War naval battle on Lake Champlain. In the first chapter of my historical novel, Abigail steals a rowboat and arrives to meet Benedict Arnold's fleet on the lake, looking cold, disheveled, and soggy. Since it poured rain during the Burlington, VT Halloween Parade, I was particularly authentic, giving out temporary tattoos, with my hair soaking wet.
Afterwards, it was blessedly warm, dry, and cozy at Borders, where I gave a presentation to about 15 people who braved the weather. I took my work cap off and shared my secret…that I was really a girl disguised as a boy. (They promised not to tell General Arnold!)
The kids in attendance were real history lovers, and they taught me a few things, too.
And of course, they were excited to reach into Abigail's haversack to check out some artifact replicas and find out about life on an 18th century gunboat.
When Abigail was done answering questions, the kids had some things they wanted to ask the author of SPITFIRE, so I "went to get her" while one of my helpers passed out samples of hardtack. (Only one man wondered why I was changing my clothes in the Classical Music aisle.)
Rain or shine, Burlington's Church Street Marketplace sure knows how to throw a party. Marketplace Events Coordinator Becky Cassidy and Borders Sales Manager Kristine LeMay were fantastic to work with and made the rainy day seem a lot brighter.
After the presentation, I went downstairs to sign copies of SPITFIRE. I'm still surprised when I show up for events and they have signs up, like I'm an author or something.
What you don't see is the other side of this rack, where there's a picture of
, who had signed copies of A BAD BOY CAN BE GOOD FOR A GIRL at Borders the week before my visit. Do you think Tanya and I look alike? I had never noticed the resemblance, but…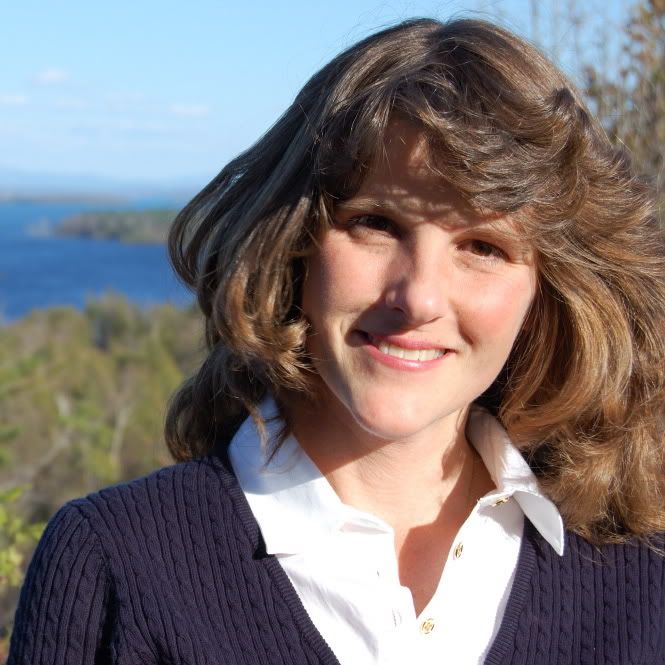 One man kept looking at one side of the rack, then looking at me, then looking at the photo on the other side. Finally, he crossed his arms and frowned at me, so I helped him out.
"I'm that one," I told him, pointing to my side of the sign.
"I thought so," he said, "but you look a little like her, too. Not that that's a bad thing…"
Maybe Tanya and I will have to do an event together some day and really confuse the guy…