It's not quite Thursday, but I'm feeling thankful for:
…SNOW!! We didn't get as much as expected (I think
stole it all when the storm swung to the south), but it's still beautiful, and the skiing will be great this weekend.

…the delete button on my keyboard. I just finished a rewrite of a chapter book that my agent said needed to lose some weight before it sees the light of day.
Before: 15,300 words
After: 9,988 words
(She was right, too. The new version is simpler, funnier, more universal, and more kid-friendly. One more revision pass, and I'll be ready send it off.)
…March Novel Madness, a get-moving, springtime writing project born at the Kindling Words retreat last month. My goal is going to be 5000 words per week, which should carry me to the end of my new middle grade novel. I'm especially thankful for the talented, organized, and fabulously fun Alison James, who sent out inspiration packages to the writers participating in MNM. Once I figured out that the lumpy envelope in today's mail wasn't anthrax, I was delighted to find a word count calendar and peanut M&Ms inside.
…a Map of the World to guide my March writing.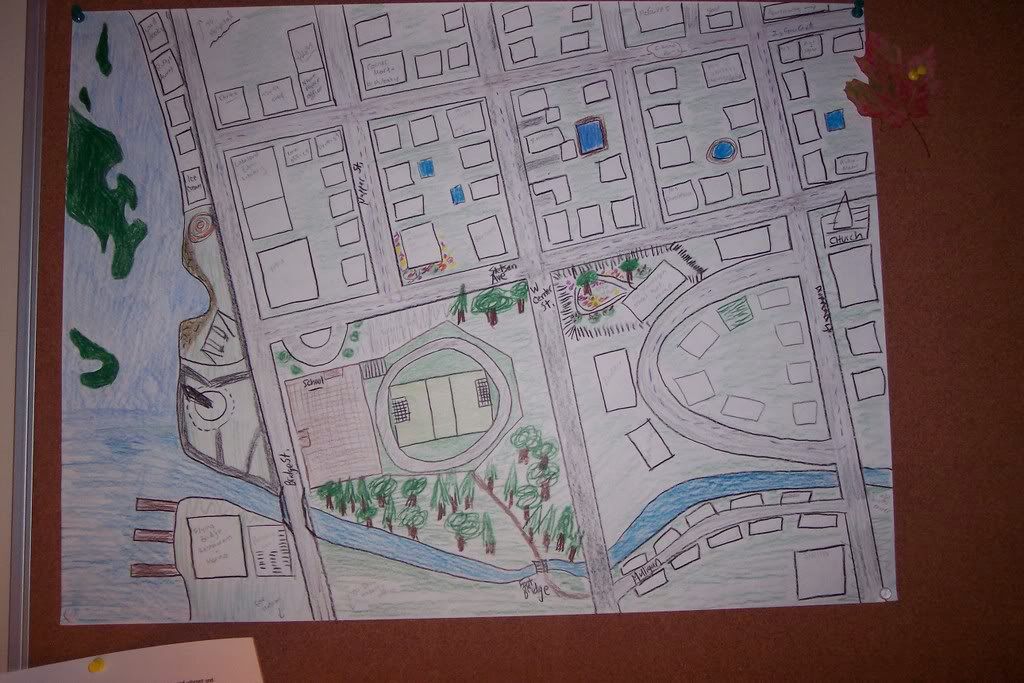 At one of Laurie Halse Anderson's Kindling Words workshops, she discussed the importance of setting details — and how hard it can be to "see" those details when you're writing a contemporary novel. I have a much easier time with historical novels, when all the rich setting details come from my research on real places and time periods. What's a writer to do with a neighborhood she made up? Make a map? That's what several writers suggested to me, so I sat down with colored pencils and a huge piece of poster paper and mapped Zig's neighborhood.
It's all there — the school, his best friend's house, the diner, the rock skipping spot…everything. Already, it's so much easier for me to envision the places that are part of his life. It was really, really fun. While I was drawing, I figured out something important about a secondary character's backstory and discovered some spots in the neighborhood I hadn't known about before. Try this strategy!
Bonus for writers with kids at home: They can do this right along with you. E spent two hours adding details to her map of our neighborhood while I worked on mine.