I am officially spoiled.
Saturday's presentation & signing at Flying Pig Books in Shelburne, Vermont was absolutely fantastic – thanks to book-loving store owners Elizabeth & Josie and a whole loft full of enthusiastic kids, parents & grandparents. Thanks to my husband and kids, too, who came along to help me carry props, set up extra chairs, and serve hardtack!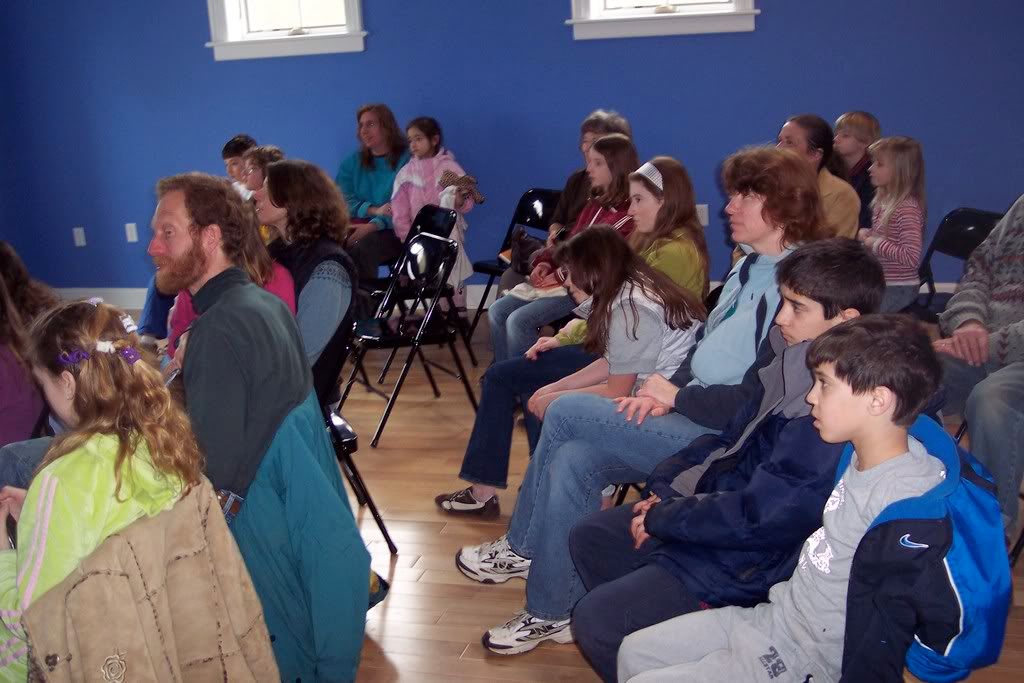 Flying Pig holds its author events in a big, beautiful room they call The Loft. It's a lovely, lovely place for book-talk, with a cathedral ceiling and tons of natural light.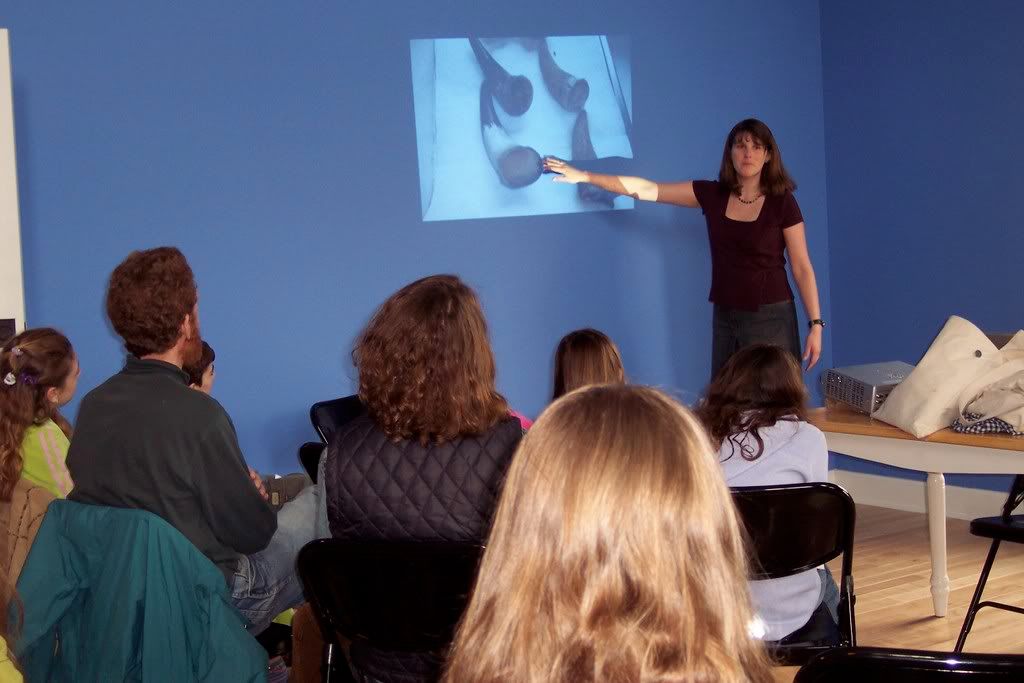 The kids liked hearing about the "experimental archaeology" parts of my research on 18th century life. Early blog readers will remember the saga of the powder horns on my roof…
I spotted a few familiar faces in the audience.
Author Tanya Lee Stone brought her kids and another kid she borrowed from a neighbor, I think.
My daughter and I have already planned a return visit to the Flying Pig Loft for June 7th, when Tanya will be there to give a presentation on her new book Elizabeth Leads the Way: Elizabeth Cady Stanton and the Right to Vote, which comes out later this month. I'm impatient for this one!
I'm also looking forward to Tanya's nonfiction workshop at the New England SCBWI Conference later this week. She's giving a two-part session with Charlesbridge editor Yolanda LeRoy. Talk about a terrific team!
Here's the downstairs-bookstore part of Flying Pig. This store has a HUGE focus on kids' books. It took me almost an hour to drag E out of this section.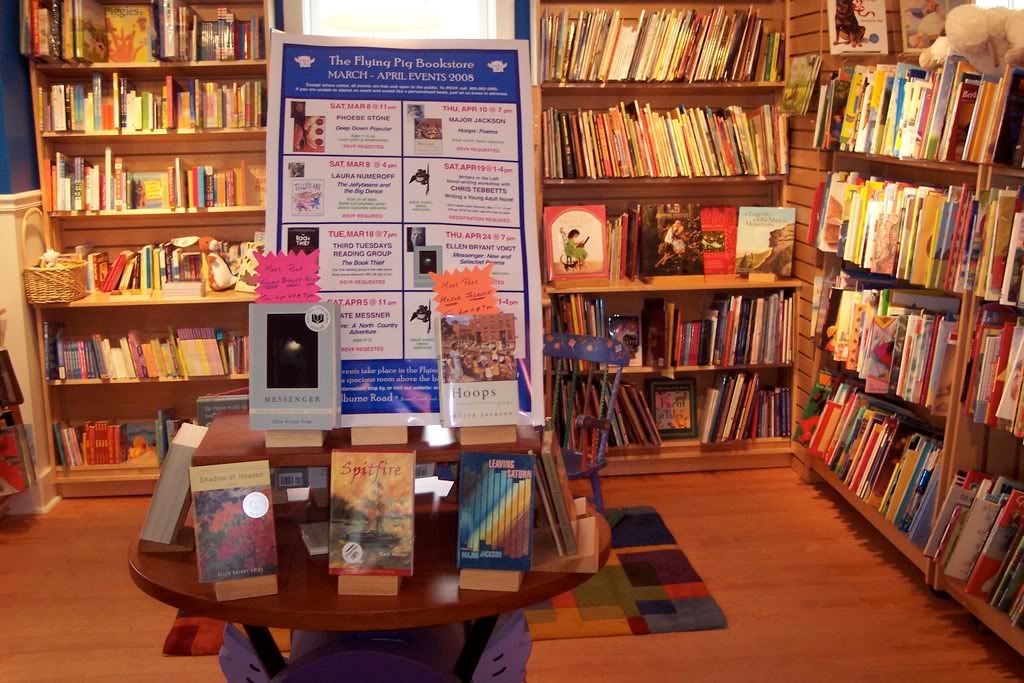 But here's the very best thing about Flying Pig Books…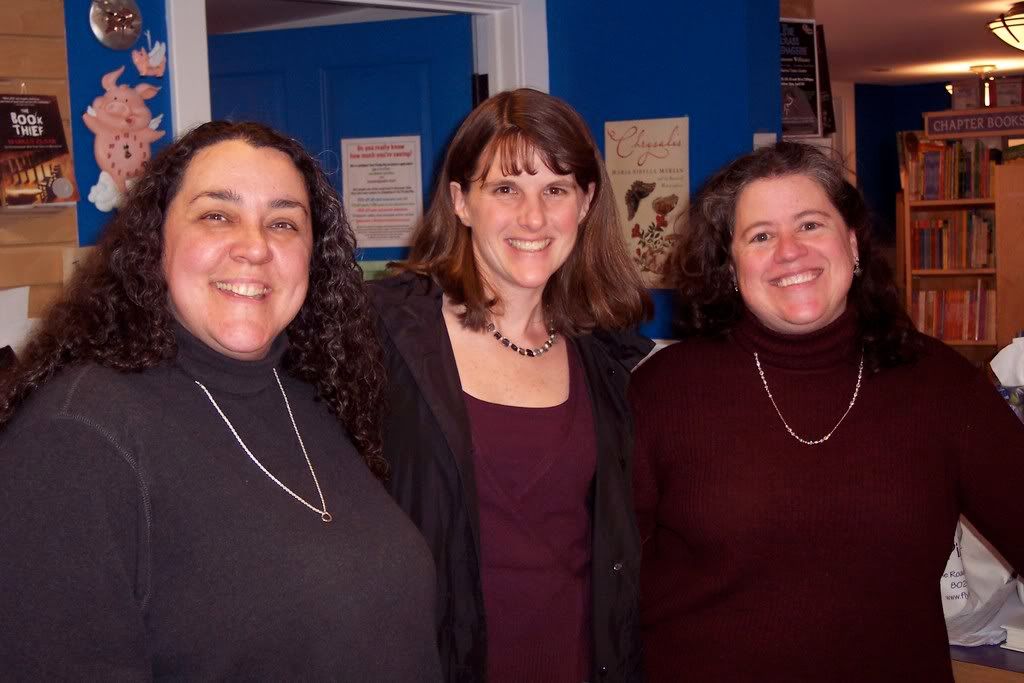 Left to right: Josie Leavitt, me, Elizabeth Bluemle
Owners Josie Leavitt and Elizabeth Bluemle love books & authors, and like so many folks who run indies, they know their stuff. They pointed both of my kids to perfect books right away. E went home with Clementine's Letter, the new Clementine book from Sara Pennypacker and illustrator Marla Frazee and a signed copy of My Father the Dog, an outlandishly funny picture book written by the Flying Pig's own Elizabeth Bluemle and illustrated by Randy Cecil. J picked up James Paterson's new Maximum Ride book, The Final Warning.
Thanks, so much, Elizabeth, Josie, and Shelburne readers for a fantastic morning in the loft!