Happy Friday! Congratulations on wrapping up your first week of Teachers Write 2013 – it's been amazing to read your brave ideas and to watch writerly relationships growing. Many thanks to all who shared this week or commented to cheer on other writers.
Every Friday this summer, the party moves over to Gae Polisner's blog for Friday Feedback, a chance to share your writing, get some feedback, and give feedback to others, too. Wondering how to do that in a helpful, supportive way? You may want to check out this essay I wrote for the Stenhouse Summer Blogstitute last year:
It includes excerpts from the real editorial letter I received from my kind, smart Walker/Bloomsbury editor,  Mary Kate Castellani when we were working together on THE BRILLIANT FALL OF GIANNA Z. and offers specific ideas for how you can use Mary Kate's strategies to encourage writers and to help them think more deeply about their work. So check this out, and then head on over to Gae's blog to give it a shot.
But before you do…I promised some surprises this summer, and I'm thrilled to share an extra special guest post today from none other than The Book Whisperer herself…Donalyn Miller.
Donalyn is a classroom teacher, blogger, and author. Her first professional title, THE BOOK WHISPERER, has encouraged teachers around the world to set aside the worksheets and dioramas and focus on real, authentic reading in their classrooms. Donalyn's next book, READING IN THE WILD, comes out in November.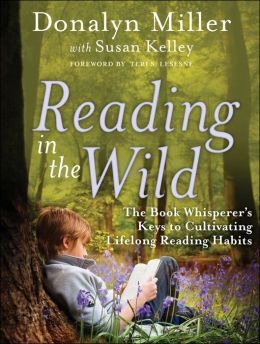 I think READING IN THE WILD will be one of the most important books you'll read this year. It focuses on what makes a Reader… not a lower-case school reader who goes through the motions, but a lifelong Reader with a capital R, who lives and breathes words and loves to learn and inhabit new worlds. Can teachers help kids become that kind of Reader? Donalyn says yes and shows us how, with vivid examples from her own reading life and classroom.
Today, she's sharing a bit more of her writing life with us in a special guest post that explores how you might get started writing about your own classroom, too.
Write Where You Are by Donalyn Miller
When I was a kid, writing well was part of the school game. I never wrote outside of school. I was told that I was a good writer. I earned high grades on my writing from teachers—the only audience who saw my writing. In high school, I wrote my assignments in the car on my way to school, while my best friend, Larry, navigated his Ford Pinto around potholes. I dodged my English teachers when they asked for my rough drafts. I never wrote any; it seemed like a waste of time. I don't think I was ever taught how to write. I was a student of what my fellow Texan, Gretchen Bernabei, calls the "Ass/Ass" method of writing instruction: assign the writing, and then assess it. For me, writing was an obstacle course of grammar, mechanics, and formatting. I wrote the papers my teachers assigned, earned my A, and gave my papers to my mom to hang on the fridge.
Even after I became a language arts teacher, I didn't write outside of school. I wrote in front of my students as a model—because my mentors told me I was supposed to—but that was it. Writing for the sake of writing held no relevance for me. I didn't have a clue about how to teach writing. I knew that something was missing, and I was at a complete loss to figure out what it was.
During my fifth year of teaching, I enrolled in grad school. Every week that fall, I sat with colleagues, Audrey Wilson and Jennifer Isgitt, listening to them talk about the National Writing Project and how much it changed their professional lives. The fire I saw in their eyes when they talked about what they had learned about writing and teaching during the Summer Institute compelled me. I wanted that fire, too. I applied to the Writing Project that spring.  I wasn't entirely sure what I was getting myself into, but I didn't care. I only wanted to be a better writing teacher.
Spending a month that summer surrounded by other teachers as we wrote and shared our stories changed me. I finally understood that to be a better writing teacher, I needed to write. I began keeping a notebook and jotting poems and essays about my daughters. When school started, I recorded anecdotes about my students and our days together as readers and writers, too. Showing my real writing efforts with my students terrified me, but I discovered that sharing my writing life with my students helped them write better. Writing outside of school for the first time, I began to see myself as a writer.
Early that school year, I received a call from Elizabeth Rich, an editor at Teacher Magazine. Elizabeth had worked with my principal, Ron Myers, a few years before and she contacted him to see if he had any teachers who could write a one-shot "Ask the Mentor" column for the magazine. Ron told her, "I have one."
After introducing herself, Elizabeth asked, "I hear that your students read 50 books a year without any rewards or incentives. Is that true?"
I replied, "Isn't reading its own reward?"
She responded, "Well, how do you do it?"
Put on the spot, I realized that this was not an easy question to answer, "I don't know. It's like I'm some sort of whisperer. I talk to the kids about books and they read them."
The moniker "The Book Whisperer" stuck as did Elizabeth's original question, "How do you do it?" Through my writing, I have been trying to answer that question ever since—both for myself and for the people who read my writing. That first "Ask the Mentor" column turned into three. Teacher Magazine invited me to write a blog. I remember thinking at the time, "I won't tell them that I don't know the first thing about blogging." When several publishers approached me about writing a book, I thought, "I wonder how long it will take them to figure out that I am not a writer?"  Whenever I receive an invitation to submit an article or write a blog post, it still surprises me. Don't they know that I am still trying to figure out how to be a good writer? Don't they know that I struggle with writing and hate it some days?
Dorothy Parker famously said, "I hate writing, I love having written." I relate. I do. Discovering that I am able—in spite of crushing insecurity and my complete lack of discipline—to write something worthy amazes me.
I think it is OK to admit when we have a love/hate relationship with writing. The most important thing is to keep writing. We are writers because we write—nothing more, nothing less.
Penny Kittle talks about Writing Territories—topics that writers revisit again and again. My territories include my daughters, my love for nature, and my childhood stories. Mostly, I write about my students and our shared lives as readers and writers. As teacher writers, recording our classroom stories can be a great place to start writing. For teachers, writing about our classrooms is the ultimate reflective practice—we see how our daily interactions and observations inform our thinking about teaching and learning. We also capture our remarkable students, their experiences, and how they shape our lives.
Think about your classroom and your students. What moments stick with you? Record your daily anecdotes in your notebook. Start with what happens in your classroom each day. What did your students say and do? How did you respond or feel about what happened? What did you notice that was funny or insightful or poignant? After recording an event as well as you can, dig deeper into what this moment reveals about your teaching and your interactions with your students. Did this moment move your students forward somehow? What did you learn? How did this moment build community among your students and you? What did you discover about your students that you didn't know?
Look back through your school stories occasionally to see what threads emerge. Is there an over-arching theme about your teaching that emerges? Perhaps, you can shape your anecdotes into an article and submit it to a professional journal. Is there a particular student that you write about often? Perhaps, this child can be the protagonist in a fictional story. For every teacher, our classroom stories provide powerful writing territory that fuels our writing and our teaching.