I want to start this post with a confession. I am not a great writer. In fact, I am frequently a pretty awful writer who pens first drafts full of clunky prose and tired language. Sometimes I turn a Monday into a Wednesday in the middle of a chapter (this, in a book that is not supposed to include magic), and sometimes my characters don't know their own names, much less their motivations.
So how have I managed to get a bunch of books published and even convince people that some of them should win awards?
I am a really passionate, enthusiastic reviser. When I do school visits, I always tell kids that revision is my favorite part of the writing process because that's when I actually feel like I'm GOOD at this writing thing. When I'm drafting? Not so much.  But once that draft is down, I always feel ready to roll up my sleeves and make something of the mess. That process, for me, is full of wonder and discovery and hope. So I'm a big believer in the magic of revision, and I wanted to set aside a #TeachersWrite day to celebrate it.
Author friends:  We'd love to hear from you.  If you have a favorite revision strategy, or advice on the revision process, or a post about revision that you'd like to share, please leave a comment and join the conversation.
Teacher & Librarian friends:  I know that some of you have read my book for writers & teachers of writers, REAL REVISION: AUTHORS' STRATEGIES TO SHARE WITH STUDENT WRITERS, and I'm more than happy to answer questions about that in the comments today. And whether you've read it or not, please fire away with any other questions you'd like answered when it comes to revision.  And please feel free to share your revision experiences from this summer, too.
Here some revision resources you may find helpful for your teaching and writing: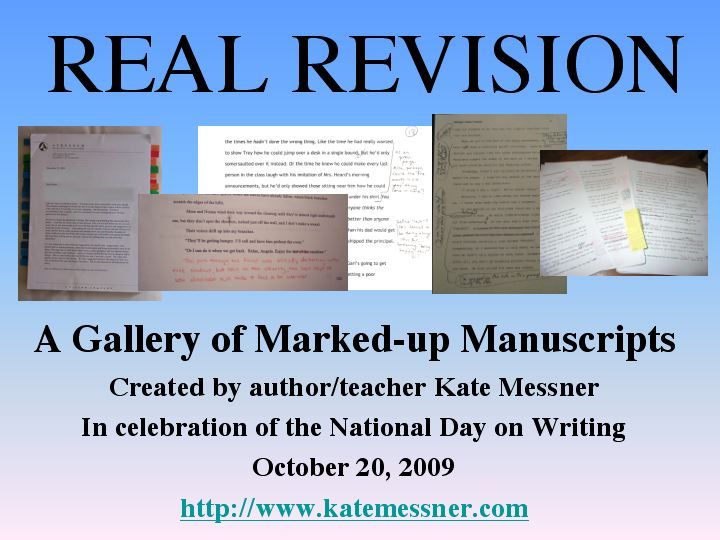 Revision Gallery – A Collection of Marked Up Manuscripts
What Revision Looks Like – A Pinterest Board
REAL REVISION home page with links to Kate's two videos on revision
65 Off-Draft Writing Prompts to Kick-Start the Revision Process
REAL REVISION Interview with Lauren Oliver
REAL REVISION Interview with Lisa Schroeder
REAL REVISION Interview with Jo Knowles
REAL REVISION Interview with Linda Urban
REAL REVISION Interview with Laurel Snyder
REAL REVISION Interview with Karen Day
Comments are open – let's talk revision!   And on Wednesday night (8/15), we'll also talk revision on Twitter with a chat from 9-10pm EST, using the hashtag #RealRevision.