It's time for your Thursday Quick-Write! I know it's a holiday, so no worries if you're too busy setting off fireworks and eating s'mores to write before bedtime. You have the weekend…
Our guest author today is Jenny Meyerhoff. She's the author of a young adult novel, Queen of Secrets, and three books for young readers–Sami's Sleepaway Summer, Third Grade Baby, and most recently, The Barftastic Life of Louie Burger, a story about an aspiring stand-up comic with an unusual catch phrase. Unlike Louie, Jenny is not a comedian, but she does know a lot about barf. After all, she's a mom. Her three kids love fluffernutters, comedy and reading. Jenny lives in Riverwoods, Illinois with her funny kids and her delightful husband. For more information, visit her website:  www.jennymeyerhoff.com.
Setting a Mood
When I am writing a short story, a picture book or a novel, I believe one of my main goals is to make the reader feel something. In fact, this may be my most important goal, but often I get caught up in the plotting, the clever wordplay, the characterization, and I forget about the mood. When the writer isn't deliberate about mood, the reader is often left emotionally cold.
The way I define mood, it is the overall emotional resonance of a piece of writing.  While a novel as a whole has a mood each scene will also have its own mood as well, but that mood will relate to the overall mood. For example, if the overall mood of a novel is sad, then the moods of scenes may vary from heartbreaking to bittersweet but will likely not extend as far as giddy excitement, unless there is a great reason for it.
Often when I'm writing a first draft, I forget to think about mood, and while this is okay, at some point I need to go back and check that what I've written isn't at odds with the mood I meant to create. Maybe I wrote about the desolation of gray snow and bare trees in the same scene that my character got up the nerve to ask for what she wanted and got it. My reader is going to have a hard time knowing what to feel. When I revise, I pick details that echo what my character is feeling and describe them in ways that evoke a certain feeling.
Get a blank paper and in a few sentences, write a bare bones factual description of the room that you are in right now, for example, one brown desk, a wooden bookshelf, a rectangular window.  Use all five senses if you can. How does the room smell, feel, what sounds do you hear. Get up and walk around. Pick thinks up, touch them.
 Okay, now imagine you are creating a scene in that room with a character who is feeling terrified. What would that character notice about the room? How would it be different from the emotionless factual description. Perhaps the way the clock ticks? The way the door sticks? The fact that the door doesn't lock. Write a paragraph describing the room from this character's point of view. Don't tell us that s/he is terrified, but make it clear from the description.
Now write from the point of view of a character who is in love.
Now from the point of view of a character is impatient, sad or angry.
Extension: if you have a work in progress, pick a scene, and write the emotion you want your reader to feel at the top of the page. Now read through and notice all the details you've included that evoke that emotion, all the places you could add detail that would add layers of emotion, all the places you've created an emotional response at odds with the mood you intended.
Thanks for writing with me!
Jenny
Note from Kate: Feel free to share a few lines of what you wrote  in the comments.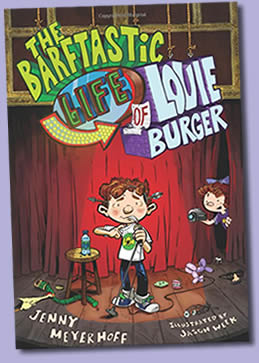 Jenny's giving away a signed copy of her newest book THE BARFTASTIC LIFE OF LOUIE BURGER to one lucky commenter today!