Good morning! Guest author Anne Nesbet joins us for today's weekend reflection. Anne is the author of THE WRINKLED CROWN, A BOX OF GARGOYLES, and THE CABINET OF EARTHS. As her website says, she writes "curious books for curious people," and she joins us today to talk about finding the story hidden in your research…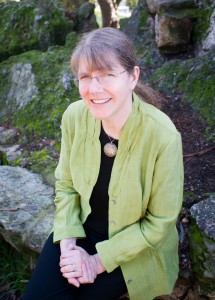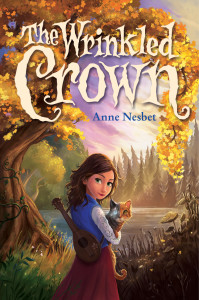 From Research to Story
Since a couple of lessons this week have been about research, I thought it might be worth tackling today one of the most mysterious, wonderful, and (sometimes) difficult phases in a writing project: turning research into story. I prefer to think of this as "finding the story hiding in the research," because the placebo effect is real, friends, and if I tell myself the story IS THERE, then that means I just have to FIND it, which feels somehow less daunting than making the whole thing up.
(By the way, although here I'm going to be talking about writing stories set in actual moments of history in actually existing places, I know from experience as the author of fantasy novels like THE WRINKLED CROWN, for which I had to learn quite a bit about instrument-making, that the "research-to-story" transition has to be navigated even when we're writing about magical or imaginary places.)
So where is the seed of the story hiding in our research? And how do we breathe life into that story? My first historical novel comes out this fall from Candlewick; it is called CLOUD AND WALLFISH, and it's set in East Berlin in 1989. I happened to be living in East Berlin in 1989 and had hundreds of pages of notes on daily life behind the Iron Curtain. Plus my inner archive-rat (very like a pack-rat, but with longer, more elegant whiskers) had carefully collected newspaper clippings, souvenirs, scraps of interesting paper. I had no shortage of research materials! But for twenty-some years those materials lived in their boxes–and the memories of East Berlin lived in my head–without turning into a fictional story. After all, I didn't start publishing books for children until 2012, so I kept my East German archive without thinking of it as the basis for a novel.
One day that changed. I noticed one item in particular in my collection: the map of East Berlin, with that puddle of blankness where West Berlin was located. East German maps left West Berlin blank, as if its being occupied by the United States, France, and Britain had wiped it entirely off the map.
I looked at that blank spot, and this time I asked myself a question: What would a child do with a map with a blank spot in the middle of it? And I was pretty sure I knew the answer to that question: Fill that blankness with an imaginary world!
And right there I had found the seed of a story. Suddenly a character had slipped into the room: a child who would draw imaginary worlds on the blank parts of a map of Berlin. I wanted to know more about this character: whom he or she might be, where he or she might have come from. And I went through my collection again, rereading my old journals, looking at the old photos, studying the old newspapers, and this time I let my characters (already I was quite sure the child must have a friend, and that one of them must come from the other side of the Wall) guide me through all of this wonderful debris I had been holding onto for so long. "Is this part of your story?" I asked them, pointing to some little piece of history, or picture of the Wall, or a description from my diary of the East Berlin donut stand. "How about this? Or this?" And we figured out together which of these random fact and details might become part of the story, might be woven into fiction.
Whatever sort of story you are writing, research is almost certainly a part of your writing process. (We don't know everything about anything, after all!) You may be digging through historical materials. You may be trying to remember what the inside of that funny old clothing store looked like on East Main Street, back when you were a kid. You may be researching the possible reproductive habits of dragons! An important first part of the process is creating a collection: your own archive of nifty facts, curious images, maps and quotes. A good collection hums with potential. You have a hunch something can be done with these wonderful objects/pictures/details! It's just a matter of finding your way in.
As my Berlin story shows, an object in that collection can sometimes create the beginnings of a character: someone who would have loved that object–or hated it–or perhaps who lived in that funny-looking house in that picture–or who used to sneak into a neighbor's garden to pick strawberries, so much sweeter when they're still warm from the sun.
Then that character can help you reassess your collection: where (for instance) are the items that generate conflict? How do the items in your collection affect your character? Threaten your character? Fill your character with longing for something he or she doesn't have? . . . . And soon you'll find you have more than just a character: you have the makings of a plot!
My East Berlin tale grew into a friendship-and-spying story called CLOUD AND WALLFISH. It comes out this October, so I am now working hard on a new project, inspired by my mother's childhood in Maine. My mother died relatively young, so I can't ask her questions directly, alas. But I went back to Maine and spent some time reading through the local newspaper for the year 1941–and was amazed by the treasures I found there. Really, if you ever feel stuck, reading through old newspapers is guaranteed to give you all the new material and inspiration you could possibly want! The ads alone are well worth the effort–I'm still smiling about an ad I found for "Skits Stretchy-Seat Underwear."
And sometimes you'll find story-generating gems, like this review of a concert by the town's new amateur orchestra: "The only discordant note in the entire evening's performance was a disturbance in the balcony which occurred during the final selection. Later it was disclosed that the disturbance was caused by a musically minded mouse who arrived without having a reserved seat." !!
It feels like a good day for some research "Show and Tell": what interesting nuggets do you have in your collection? Is there a particular object or image or anecdote that inspired a recent story of yours? How did your story begin to emerge from your research? Share in the comments! And may wonderful, deep stories grow from the research seeds…..