Good morning! Today's guest author is Lisa Papademetriou, author of the Confectionately Yours series and A TALE OF HIGHLY UNUSUAL MAGIC. (Fun fact… Lisa's alter-ego Ivana Corrrectya has a hilarious grammar blog!)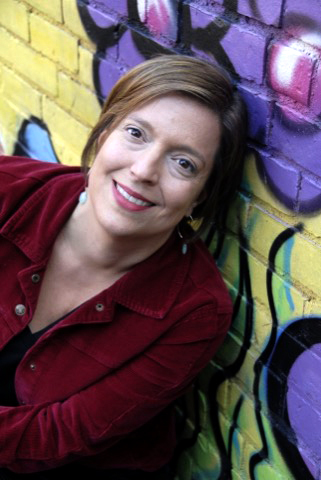 Plot, Character, and Destiny
When I was ten years old, my grandmother gave me a magic book.
It was a book of fairy tales, and it was in English. This was extraordinary to me, because my grandmother was from Germany. She explained that this book was a gift to her from her father, my great-grandfather, who had bought it from a bookstore in France during World War I. He had wanted his daughter to learn English, and she did. It was helpful, no doubt, when she immigrated to the United States just before the outbreak of World War II. For some reason, my grandmother never gave it to my father. She gave it to me. My father became an architect; I became a writer. That book had an effect on my life, but I don't think that it would have had the same effect on just anyone. It affected me, in part, because of who I already was, and who I was becoming. As Heraclitus famously said, "Character is destiny."
My husband says that every person is a package deal. No one is perfect in every way—every single one of is a mixture of good and bad qualities. By the same token, your characters will be a mixture of good and bad qualities, and his or her destiny is linked to those qualities. The seeds of their journey exist at the beginning of the story. By the end, those seeds have borne fruit.
In the Nichomachean Ethics, Aristotle said that too much or too little of any virtue becomes a vice. For example, in Macbeth, his main virtue is ambition. That is the seed of his character that grows throughout the play. But the balance of this virtue steadily falls out of balance. Too little would make him lazy. That's not his problem. His problem is that he has too much, and it makes him ruthless.
Let's look at another character. Dorothy, from The Wizard of Oz. At the beginning of the story, her virtue is that she is spontaneous and a dreamer. But too much spontaneity is recklessness, and too much dreaminess is foolishness. These flaws lead her into her adventure, the end of which is the correction of these flaws. Right? She sees the "man behind the curtain." And she realizes that there is no place like home. 
In other words, there are two things at play in any destiny, the character and the character's destiny, which is simply another way of saying plot. E.M. Forster pointed out that, "Incident springs out of character, and having occurred it alters that character." As the plot moves forward, the character will change by degrees, until his or her destiny is fulfilled.
How do you know which way your character is going to go? From virtue to vice, or from vice to virtue? Well, are you writing a tragedy or a comedy? I highly suggest that you begin with the end in mind. Even if you do not know exactly how your book will end, you probably have a sense of the ending, what feeling or response you would like to provoke in your reader.
Today's Assignment: Let's work on our characters a little bit. I want you do explore your character's virtues and flaws. Write a scene or memory in which his or her main virtue is clear. Then rewrite the scene with the virtue out of balance—make it into a flaw, and see what you can come up with. Have fun – and feel free to share a paragraph or two from today's quick-write in the comments if you'd like!