Good morning! It's Friday, which means there's an opportunity to get (and give!) feedback over on Gae's blog.
And here, we have guest author Madelyn Rosenberg! Madelyn is is the author of nine books for kids of all ages, including the Nanny X books and the How to Behave books. She wrote her newest book, THIS IS JUST TEST, with longtime friend Wendy Wan-Long Shang. You can find Madelyn online at www.madelynrosenberg.com or @madrosenberg on Twitter. Today, she's joining us to talk about collaboration.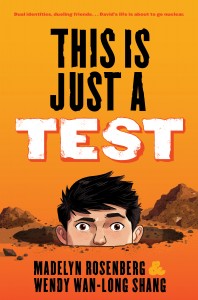 I sit and write in the world's messiest office, where my only companions are often an exercise bicycle bedazzled with my most recent laundry and the braver of my two cats. Many writers I know spend their days (or nights) in similar situations, dependent, of course, on cat allergies, cleanliness habits, and whether or not they have invested in a standing desk. We take community where we can find it: In critique groups, at guild meetings, during an occasional Thursday write-a-thon at the Rock n' Joe.
In a world that's filled with rejection, even for published writers, it's essential to have community support. I always find it's easier to write knowing that someone's out there waiting for Chapter 2. Over the past few years, I reached out to my writing community in a different way, by collaborating with a writing partner – with Mary Crockett for Dream Boy and most recently with Wendy Wan-Long Shang for This is Just a Test.
For me, collaboration was a real gift. It can be a gift for students as well. Sure, there might be frustrations if a partner takes you down a path you don't want to follow or imbues a character with a trait you are certain she doesn't have. But collaborative writing also gives you an editor, even as you write those first paragraphs. It helps you beat writer's block. It gives you encouragement: you can do this, partner. With students, it also serves as an ice breaker and motivator, and increases both self confidence and self esteem (really: Google it.) I know it did for me.
All of this is a long way of getting to today's writing prompt, which requires you to find a partner, if just for one day. You can try this with someone in Teacher's Write, with your kid, your Uncle Buck, your mail carrier – anyone who's willing. Two choices follow.
Your Assignment:
Option one: An exquisite corpse. You may have done this with pictures when you were a kid: someone draws the head, marks where the neck begins, folds the paper over, and hands it to the next person who draws the body without ever seeing the head. Here you're doing the same thing, only with words. Have someone begin a story with just a paragraph or so, and pass it to the next person, who writes the middle. It goes back to player one for the beginning of the ending and back to player two for the final lines. You may take turns either virtually or on real paper. Provide your partner with the last three words from the last sentence of each section as a hook, an inspiration or a tease. The results show you how just a few words can generate thoughts, dialogue and plot.
If you want to your collaborative writing experiment to be more, well, collaborative, try option two: Do the same assignment, swapping paragraphs back and forth, only don't hide anything. Discuss your character and plot. Give each partner a chance to tweak and edit and add lines to the parts he or she didn't generate. If you want this one to be a little longer, that's fine, but try to keep it to five or six paragraphs, max. (It's a quick write, after all.)
If you have time and a willing partner, feel free to try both options.
In the comments, let us know which option you tried and how it worked for you. Were you funnier or more dramatic because you knew someone else would be seeing your words right away? More self conscious? Less self conscious? Were you surprised at the turn your story took? More confident in the final results?
I do this prompt with my family (the no-peeking version) when we're on car trips or in restaurants. We especially like playing in large groups, where each person contributes a single line, with no clue as to what's come the line before. The outcome is often more a surreal poem than a story, but we always end up laughing.