Good morning! Jo has your Monday Morning Warm-up here, and Linda Urban is joining us for today's mini-lesson. 
Linda Urban writes picture books, chapter books, and middle grade novels.  Her works include A Crooked Kind of Perfect, Hound Dog True, The Center of Everything, Milo Speck Accidental Agent, Mouse Was Mad, Little Red Henry, and most recently, Weekends with Max and His Dad. Her books have appeared on more than 25 state reading lists, as well as best books lists from The New York Public Library, Kirkus, the National Council of Teachers of English, and IndieNext.
In today's Quick-Write, we're going to focus on one approach to writing a critique or response when you're helping someone out as a reader of a work in progress. Linda Urban and I are critique buddies who do this kind of reading for one another often. She's our guest author today, so we're sharing a conversation about critiquing as well as a peek at what it sometimes looks like.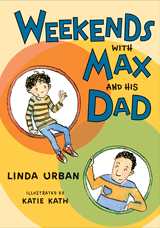 Linda:
Sometimes when we ask a reader to look over our work, what we're really asking is how they understand the words on the page.  What assumptions are they making?  Am I leaving the right seeds planted in the right garden?  Is the tone of my character dialogue conveying the playfulness I think she has?  Or does she just sound cheesy?  
Kate:
That's exactly the kind of help I needed with my novel Breakout, about what happens in a small town when two inmates break out of the local prison. The book is told entirely in documents, and after writing all of them, I was so overwhelmed that it was difficult for me to know if the words on the page were reflecting characters' voices the way I'd hoped. I asked Linda to focus on that when she read. Here's what it looked like in practice…
Nora Tucker's letter on page 1 with Linda's response:
An excerpt from Elidee Jones's time capsule letter to "future Wolf Creek residents" with Linda's response: 
Sometimes, critiquing is a matter of asking questions and making specific suggestions, but often, it's also a matter of telling a writer, "Here's what I'm taking away from what you've written so far…" Ready to give that kind of critique a try? 
YOUR ASSIGNMENT:
———–
In the spirit of being brave, I'm sharing a little more of this not-quite-ready manuscript with you today. If you'd like to give this kind of "here's-what-I'm-seeing-and-thinking" feedback a try, choose one of the excerpts below (either Nora's letter or Elidee's letter to her brother Troy) and write a paragraph analyzing what you've taken away from it. Suggestions, of course, are always welcome, too! These letters are not from the very beginning of the book, so there may be references to things that came up that were mentioned earlier- that's okay. 🙂 Feel free to ask questions, too – questions help writers see what's clear and what's not, and often they force us to think more thoroughly about what we're trying to say.
Nora's letter for the time capsule – June 8th
Dear Future Wolf Creek Residents,
I was planning to write about my sleepover with Lizzie today, but there's something WAY BIGGER going on because two inmates broke out of Dad's prison overnight!
Lizzie and I went to bed at around ten. Right before that, I went to close my blinds so the sun wouldn't wake us up early. My window faces the prison, and you can see the lights and the siren horns over the houses across the street. Those sirens are supposed to go off and warn everybody if an inmate escapes, only they didn't.
So at eight this morning, the doorbell rang and it was a state trooper who told Mom two inmates had broken out of the prison. Mom already knew that because I guess Dad got a phone call at five in the morning when they were discovered missing, so he had to go to work then. Mom told Lizzie and me not to say anything to Owen because she doesn't want him to be all scared. She says this isn't going to last long because even if the police don't find those guys right away, it won't be long before the black flies do, and then they'll be begging to go back into prison.
Mom also told us she got an early morning phone call from Lizzie's mom, who's at the hospital with Lizzie's grandma. Her grandma woke up having chest pains or something, so Lizzie's mom took her to the emergency room to have it checked out. It turns out everything's fine and it wasn't a heart attack or anything, but they're still at the hospital, and Lizzie's mom can't pick her up until later.
So it's been a pretty crazy morning here! I figured all these time capsule letters were going to be about sleepovers and brownies and final exams, but I guess you never know.
Oh! Speaking of brownies, I have Lizzie's grandma's secret mint brownie recipe for you.
Priscilla's Magical Minty Brownies
Mix up two packages of any brand fudge brownie mix according to the directions.
Pour a little less than half the mix into a 10×15 inch baking dish.
Put a layer of Peppermint Patties on there.
Pour the rest of the mix on top and bake it at 350 for about 45 minutes or until they seem done.
I was expecting it to be fancier, but I guess that was her secret. Sometimes things aren't quite how they seem.
Anyway…back to the prison break. Lizzie and I wanted go out reporting so we could write more letters to you about it. Lizzie has this cool new voice recorder thing that would have been perfect, but Mom said we couldn't go out because of the manhunt, which is totally unfair because she let Sean go to the market for work.
So I guess Lizzie and I are going to work on collecting background information instead. That's always important for news stories, too. Lizzie's making a chart showing inmate population and stuff, and I'm going to copy my notes about Alcatraz escapes in history. I know Alcatraz is a totally different prison and has nothing to do with Wolf Creek, but there are some really cool stories.  One team of guys who escaped from Alcatraz made dummies and left them in their beds so it would look like they were still there, sound asleep, instead of out escaping.
Pretty smart, right? More to come…
Your friend from the past,
Nora Tucker
————————————————————–
Elidee's letter to her brother Troy on June 8th: 
Dear Troy,
We were supposed to come see you today, but now we can't because two guys broke out of the prison. Have you already heard about that? You must have. It's not like people bust out of that place every day.
Mama had your Skittles and stuff all packed. We were gonna get there right when visiting hours start at 8:30, but we didn't even make it to the end of the street. The cops were stopping every last car. When Mama pulled up, they looked in the back seat and the trunk and asked where we were headed. She told them, and one guy laughed. The other guy said there wasn't gonna be visiting hours for a good long time. So we went home. Mama says I can eat your Skittles, and she'll get new ones whenever it turns out we can see you.
Do you know those guys? You probably can't answer that. Probably I won't even send this letter — Mama says you won't be able to get mail for a while either. Really I'm just writing because everybody at home is busy with end of school stuff, and there's nobody to talk to here. I don't know any kids, and Mama's all caught up in church stuff. You know that's part of the reason we had to come, right? Other than you. Her church friend Mrs. Gonzalez moved here last fall so she could visit her husband more, and she's been trying to get Mama and me to move up ever since.
That wasn't supposed to happen, though. We were supposed to stay in the Bronx because I was going to switch to some fancy school that you have to apply to get into, and it was gonna be great. Mama was gonna be ten kinds of proud. Only I didn't get in. I worked so hard on that dang application and wrote it all fancy, but then a letter came in the mail saying that even though my grades were fine, my essays were boring. They said it nicer, but that's pretty much what it came down to, and I didn't get in.  Right after that letter came, Mama decided it was God's will, telling her we ought to move to be closer to you and Mrs. G. So here we are. And now she can't see you anyhow because those guys got out.
I hope you don't know those two. I hope it all happened far away from you because it sounds like the kind of thing that could get everybody in trouble, and you definitely don't need more trouble than you got already. None of us do. Not when everything's already so different and mixed-up-out-of-place.
I started school this week. There's only a few days left of classes before summer. It's okay.
I won't ask how it is in there. I know it's awful, even though Mama tries to make it sound like it's not so bad and you'll be okay.
I hope you'll be okay. And I hope us being closer helps you remember there's a life waiting for you.  Mama says you're just as smart as I am except when it comes to choosing your friends. She says you'll be able to take college classes when your time's up. Sooner if you win your appeal. I used to think Aunt Maya was right about that being some crazy-pants dream, but I keep thinking about that guy from the play. The one who wrote his way out.
You would have liked that play. Even though it's about dead white guys, the actors and actresses all looked like us. It was your kind of music, too – all rap and hip hop  – and that Hamilton guy said in a song he never thought he'd live past twenty. I'm pretty sure he ripped that line off from Kanye, but it was still pretty cool. It made me forget that the story happened so long ago, you know? Like it coulda been happening in our old neighborhood right now. And like maybe you really could write your way outta that prison like Hamilton wrote his way off his island.
So keep working on your appeal. I'll wait a while to eat your Skittles in case we get to see you soon.
Love you,
~Elidee
---
Feel free to share your feedback in the comments if you'd like, too!