Shall we celebrate another week of writing with a book giveaway? I think that's what we'll do…
Guest author Katy Duffield has a copy of FARMER MCPEEPERS and a copy of CALIFORNIA HISTORY FOR KIDS: MISSIONS, MINERS, AND MOVIEMAKERS IN THE GOLDEN STATE.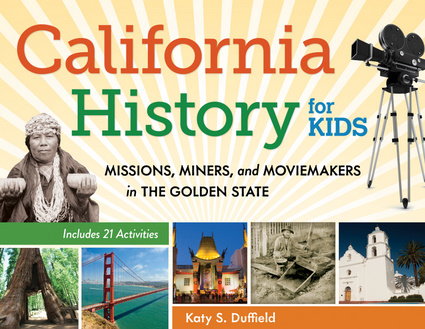 One lucky winner will receive BOTH books  – to enter the drawing, just leave any comment on today's blog post before 11pm EST Saturday night, and I'll draw a winner's name to be announced on Monday.
Also…one of my critique partners, Loree Griffin Burns, is giving away an ARC of CAPTURE THE FLAG on her blog. (You should know Loree anyway – she writes amazing nonfiction, so go visit her even if you don't want to enter her drawing, which ends at midnight EST on Friday, June 22.)
And finally, before we get chatting in the comments, some of you have asked about ordering signed books for yourselves or your classrooms or maybe summer birthday gifts. I have a book signing for my new mystery, CAPTURE THE FLAG, on July 2nd, and The Bookstore Plus in Lake Placid has offered to take phone orders for personalized, signed copies of any of my books for kids.  Give them a call at 518-523-2950 if you'd like to order any of my books for kids. (Let them know you're part of Teachers Write; I have a special inscription for you guys!)  You can read about all of my available picture books, chapter books, and novels here.  I'll sign books on July 2nd, and the bookstore will mail them out that week. Shipping's free on orders over $50 and reasonable on smaller orders, too. If you're enjoying Teachers Write and would like to support my books, this would be a great way to do that AND support a great indie bookseller that was instrumental in helping one of its local libraries recover from devastating flooding in Tropical Storm Irene.
My editor at Scholastic has some extra uncorrected advance reader copies of CAPTURE THE FLAG, too, and she's offered to send those to the first 40 people who call the bookstore to order CAPTURE THE FLAG.  So if you call and order that book, and you'd also like an ARC, please email me  (kmessner@katemessner.com) with your address right after you place your order. (Please don't ask the bookstore what number you are when you call, though…it confuses them. I promise to put an update on the Facebook page when those 40 ARCs are spoken for.)
Now…how's it going this week?  Are there topics you're wondering about that we haven't talked about yet?
Friday Writing Happy Hour is a chance to relax and share comments about our progress, goals, accomplishments, and whatever else is on your mind.  And if you'd like feedback on a snippet of writing, head on over to Gae Polisner's blog for Friday Feedback, where you can share a few paragraphs of your work and offer feedback to others, too.
 Enjoy your weekend, and remember to check in at Jen's Teach Mentor Texts blog on Sunday.  I'll see you back here Monday morning!