I'm in Fitchburg, MA this weekend for the New England Society of Children's Book Writers & Illustrators Conference, and this morning, I'm up early and pretty much overwhelmed with gratitude that I get to be part of this world. It's been an amazing conference so far. Among the highlights…
Hearing Allyn Johnston & Marla Frazee discuss their editor/illustrator collaboration.
Listening the inspirational Cynthia Leitich Smith talk about change and challenges in a writing life.
A long and unhurried dinner conversation with smart, funny, kind friends. Good pizza, too.
Seeing my awesome agent, Jennifer Laughran, in real life for the second time. We live on opposite coasts, and almost all of our conversations are via email, so getting to talk and laugh together face to face is a treat.
Giving my workshop on Skype author visits, having all the technology work well, and hearing people say it was helpful.
A late-night conversation with Harper editor Molly O'Neill about one of the projects she's been working on. Listening to Molly tell the story of acquiring a YA novel called YOU that releases in August, I was so impressed with her passion for the book. I think as writers, we're used to hearing other writers gush about their characters with that kind of excitement, but we don't often get a chance to hear editors talk about their work. It was a great reminder that they care about our words and stories just as much as we do, and that these are their book-babies, too. Also, I am now dying to read YOU.
Having Jo Knowles & Carrie Jones sign a couple books for my classroom library. (*waves to students* I am bringing you presents!) Here are a few photos from yesterday's book signing.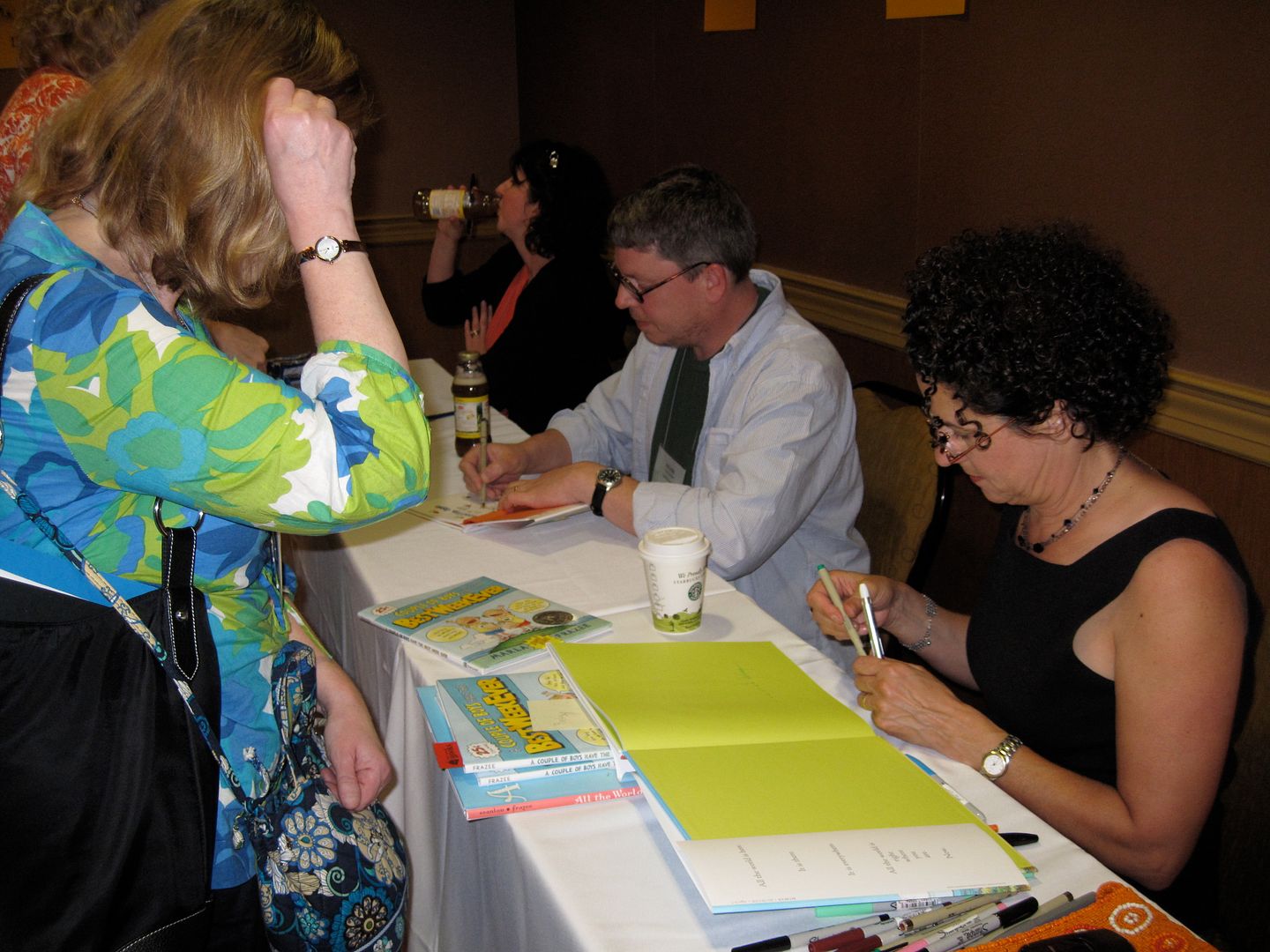 Marla Frazee signs ALL THE WORLD, with Frank Dormer & Erin Dionne as autographing neighbors.

Here's Erin Dionne visiting with a reader/writer friend. See the stacks of Oreos? Erin brought them to go along with her terrific tween novel MODELS DON'T EAT CHOCOLATE COOKIES. Because the signing was many hours after lunch, this made Erin very popular. Erin is funny and wonderful and popular anyway, but you know…Oreos always help.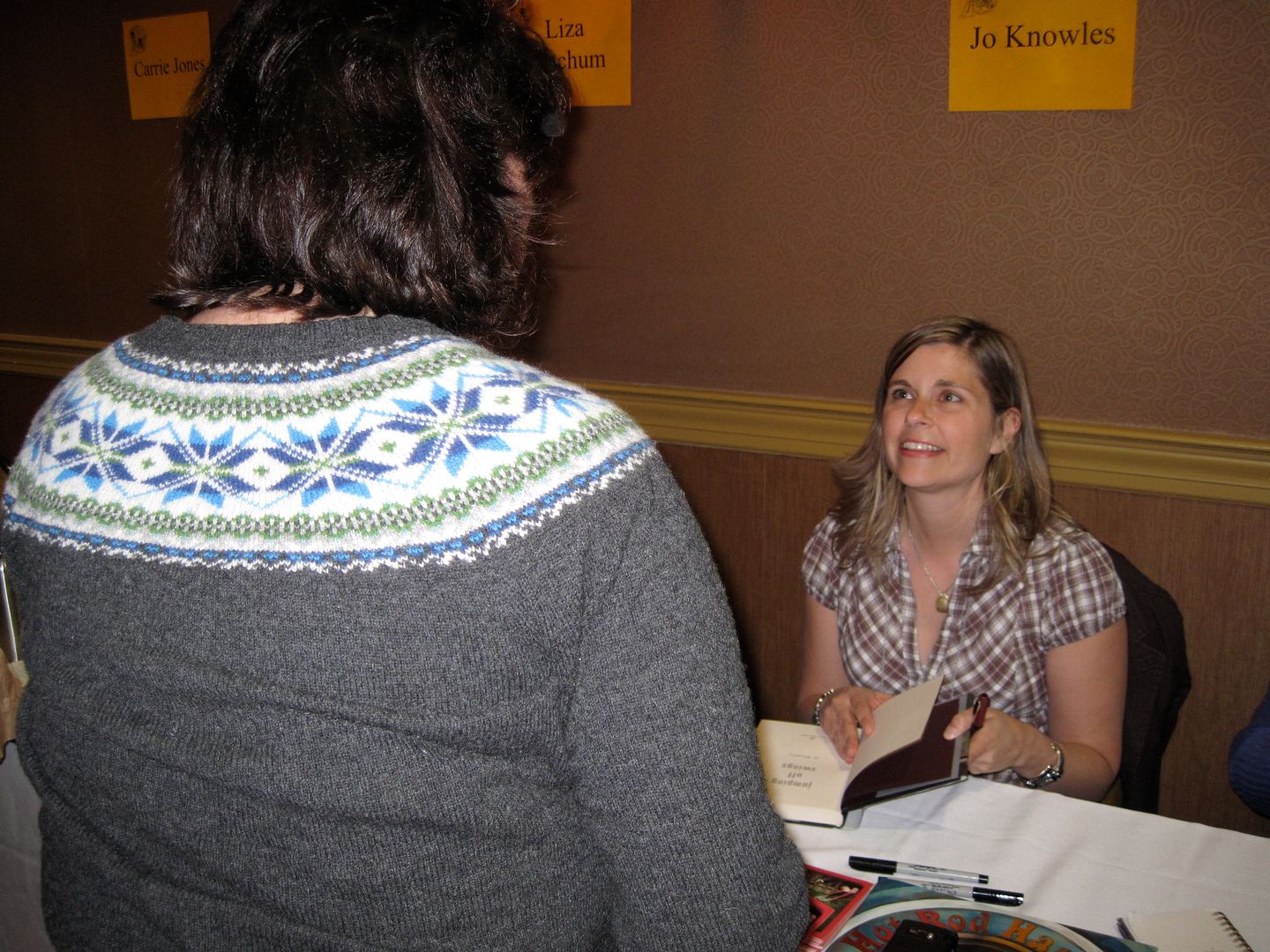 Here's Jo Knowles, signing a copy of JUMPING OFF SWINGS.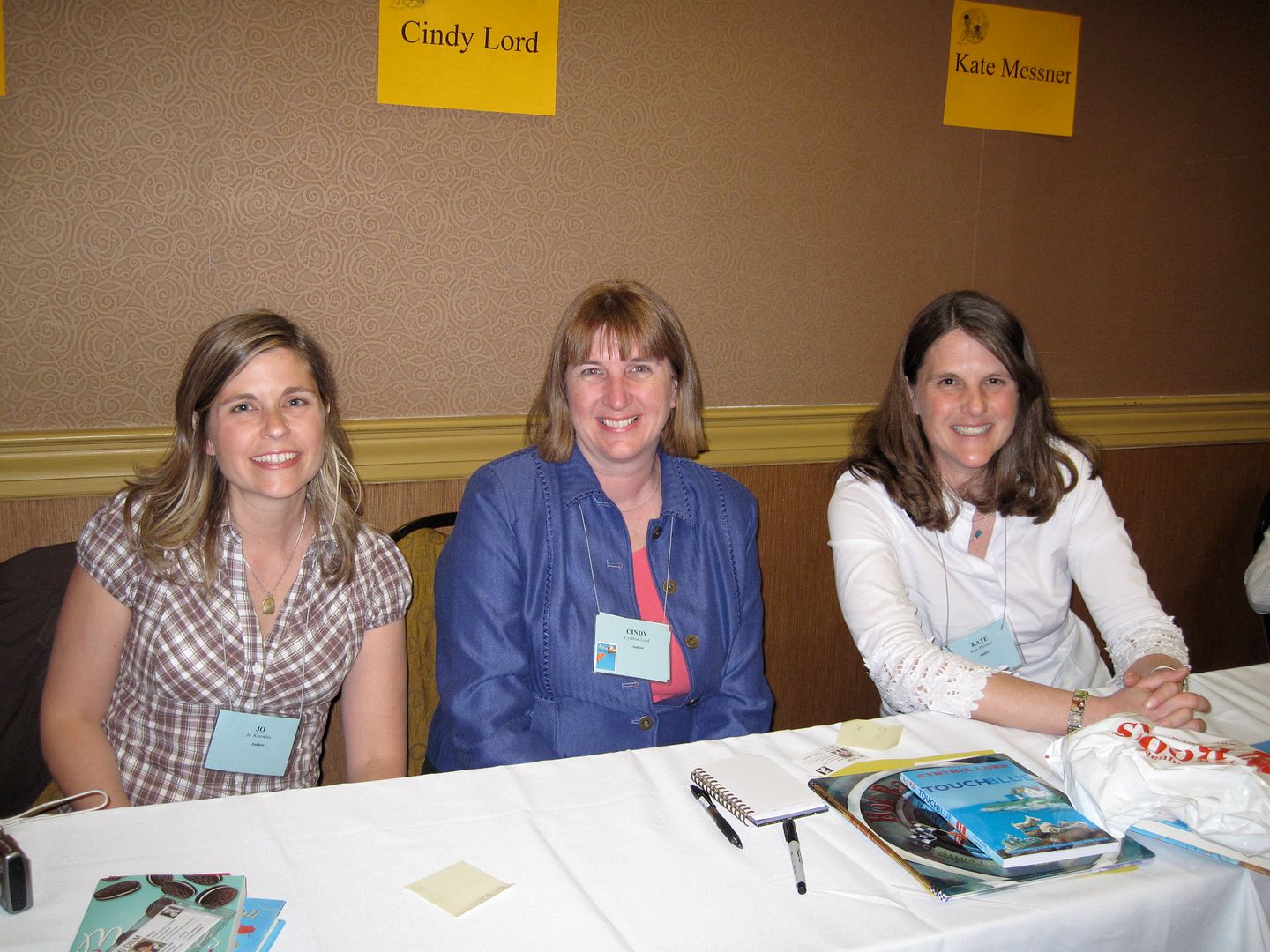 Here's Jo, Cynthia Lord, and me at our signing table. See the blue book between Cindy and me? It's an ARC of her upcoming novel TOUCH BLUE, a middle grade book set on an island in Maine, and I had a chance to read it recently. It's beautiful and full of heart, like her Newbery Honor Book RULES, but special in its own different ways, too. Look for it in August.
The photo that I don't have but wish I did?
Cindy crawling UNDER the table and emerging from beneath the white tablecloth so she could get over to a different table to have Matt Phelan sign a book. Our signing table was long and pushed back close to the wall, so in order to get out from behind it, you had to squeeze past the other people signing, stepping and tripping over bags and backpacks. Cindy's shortcut was much faster.
On the agenda today? A free verse poetry workshop with Kelly Fineman that I've had my eye on since the conference program was first released. Kelly is a gifted poet, and I'm looking forward to hearing her talk and taking some ideas back to my creative writing class, especially since a few of our kids are working on free verse novels as their extended projects. Then I'm talking about blogging on a panel with Jo Knowles and Carrie Jones.
I'll leave you with the question Linda Urban asked that got us all thinking at dinner last night… Is there a project that you've always wanted to do but don't feel ready to write yet?
Those of you who read this blog regularly know I'm a big fan of dystopian novels. I've always kind of wanted to write one, but I never felt like I had the right idea at the right time until this spring, when things came together in my head for an upper middle grade dystopian that I've been writing fast and furiously. My agent recently sent a proposal to my editor, so my fingers are crossed. And it turns out that a couple other people at our dinner table are in the same place…just beginning to work on that "someday project."
What about you? Is there a book that you've been waiting for the right time, the right inspiration to write?