Since THE BRILLIANT FALL OF GIANNA Z. was released, I've heard from a handful of parents, teachers, & librarians who have already tagged it as a choice for their book clubs. This thrills me to no end. Why? Because I love the sense of community and the conversations that book clubs create. So today, I'm announcing…
THE BRILLIANT FALL OF GIANNA Z. Book Club Contest!
Would you like to read THE BRILLIANT FALL OF GIANNA Z. with your book club? It can be a mother-daughter group, a class literature circle, an after-school book club…any situation where a group of kids (and maybe grownups, too!) get together to talk about books. In cooperation with my publisher, Walker Books for Young Readers, one book club will win all this: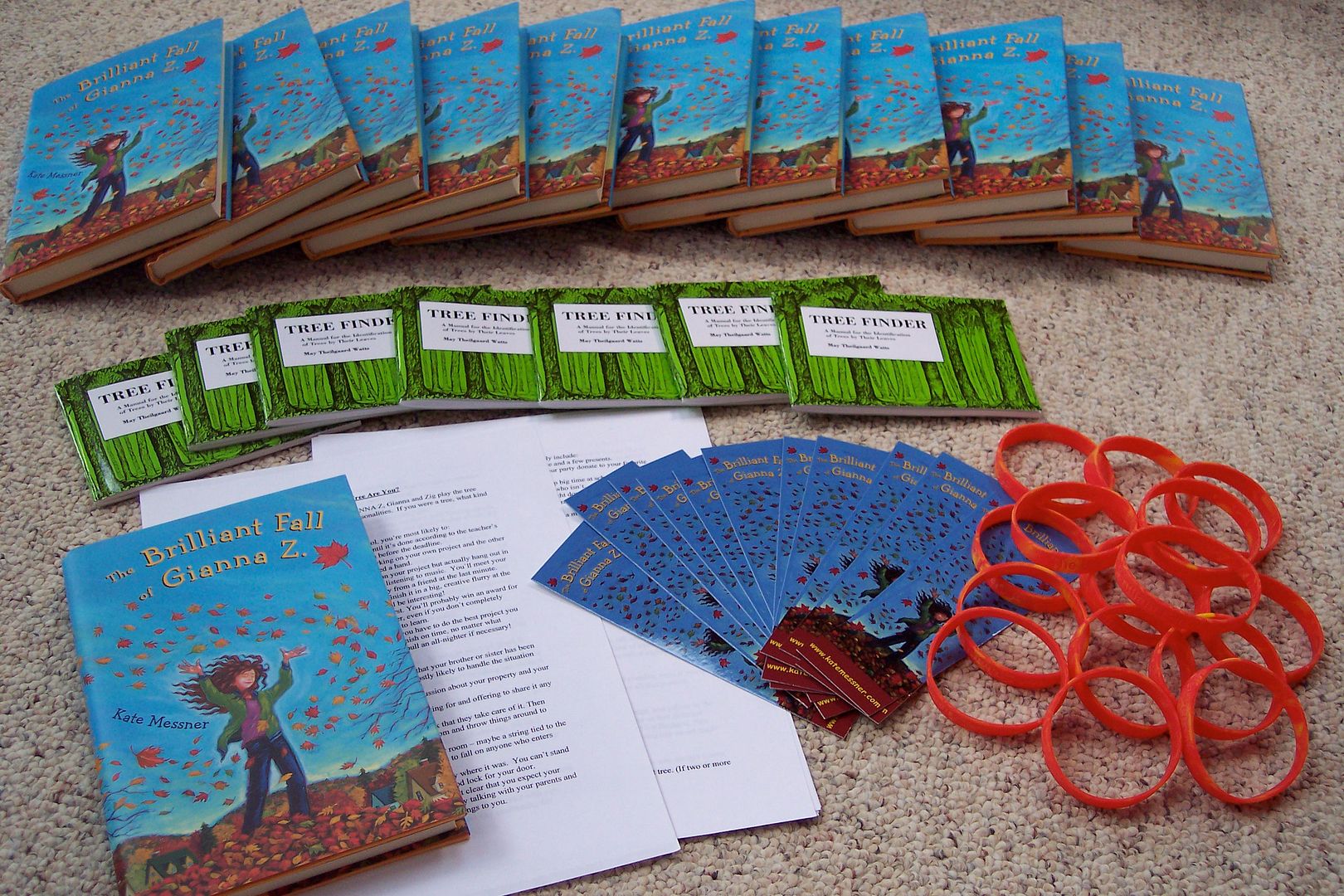 Hardcover copies of THE BRILLIANT FALL OF GIANNA Z. for your book club (up to 12 copies!)
Six copies of TREE FINDER: A MANUAL FOR THE IDENTIFICATION OF TREES BY THEIR LEAVES by May T. Watts, a great resource for creating your own leaf collections!
GIANNA Z. silicone bracelets and bookmarks for everyone in your book club
GIANNA Z. discussion guide, a recipe for Nonna's famous funeral cookies, and the "What Kind of Tree Are You?" quiz.
Me…at your book club meeting! If you live nearby, I'll try to come in person,and if you're far away, I'll be there via Skype videoconferencing software to tell you all the juicy stories behind the writing of GIANNA Z. and answer questions.
Here's how to enter.

Email me at this address: kmessner at kate messner dot com (with no spaces).
In the subject line, write BOOK CLUB CONTEST
In the body of your email, please include:
1. Your name
2. How many kids/adults in your book club?
3. Why would GIANNA Z. be a good choice for your book club? Just a sentence or two is fine. You can learn more about the book, view the trailer, and read reviews here.
4. City and state where you live
5. Your email address, where you'd like to be notified if you win
You must be over 13 to enter. If you're younger, please have a parent, teacher, or librarian enter for you.
All entries must be received via email by the end of the day on Thursday, October 15th. A winner will be drawn at random from all eligible entries and notified via email after the drawing.