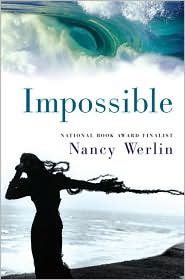 I've been wanting to read this book for a long time. Last week, amid my Christmas book-buying frenzy, I picked up Nancy Werlin's Impossible as a gift to myself, and what a gift it was.
Lucy, the 17-year-old main character, is fighting a centuries-old family curse based on the impossible tasks in the folk song "Scarborough Fair." She has nine months to solve the riddles of the ballad, to save herself and her unborn child. Unlike her mother and her mother's mother before her, Lucy has the support of a loving foster family and a devoted childhood friend, but still, she knows she's fighting a battle that her ancestors have all lost.
It's been a long time since I've rooted quite so hard for characters in a novel, but Lucy won my heart. I loved her, and I love the story Nancy Werlin wove around her. Impossible has it all — an impossible task (three, actually), a fantastically alluring villain, a brave heroine, a tension-filled plot, and one of the sweetest romances you'll ever encounter. As I write this review, the wind is whipping through the trees outside, transporting me back to that chapter where Lucy and Zach were — wait a minute…that would be a spoiler, and that's no good. I better just stop there. Trust me…you'll want to read every word of this gem yourself.
Kate's Holiday Book Review Note: I hope you're shopping with independent bookstores for the holidays! After all of my holiday season book reviews, I'll be posting a short note on how each title might fit into your gift list.
Suggested ages: 12+ (and this is one that older readers of YA will love!)
Buy it for readers who loved: Libba Bray's Gemma Doyle Trilogy, the Twilight series, Elizabeth Bunce's A Curse Dark as Gold. The mix of romance, suspense, folklore,and magic will make Impossible a sure bet with a wide range of readers.