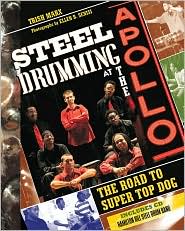 As an English teacher, I'm always looking for ways to bring nonfiction to my reluctant readers. These are kids who haven't discovered reading for pleasure, and many of them are boys. If I'm lucky, I can sell them on a novel by Walter Dean Myers, Joseph Bruchac, David Lubar, or Jack Gantos…but nonfiction? Good luck.
That's why I was so excited to see a review copy of Steel Drumming at the Apollo from Lee & Low Books. It's nonfiction, in the form of a photo essay that follows a group of high school musicians from Schenectady, NY as they compete in a series of Amateur Nights at the famed Apollo Theater in Harlem. As soon as I read the premise of this book, I was hooked — a group of city high school kids who get to play at a place so rich in history and so symbolic of the Harlem Renaissance. Text by Trish Marx and photographs by Ellen B. Sinisi tell the story in vivid color, featuring details of the competition and the kids' preparation for it, profiles of the young artists, and backstage snapshots at the Apollo. The photographs and text bring the young musicians' steel drumming to life.
The book even includes a cd of the band's music, tucked in a pocket inside the back cover. And these kids can play! Their story will be an inspiration to other city kids who dream of making it big. Steel Drumming at the Apollo is a terrific choice for kids who need a fun, accessible introduction to nonfiction. They'll be singing its praises and dancing along as they read.