May just might be my new favorite month. Not only are my tulips about to burst into bloom, but it's also Reading Celebration Month at Peru Intermediate School. I'm their guest author, which means I get to spend time talking books with a crew of excited kids who love to read.
This poster in the front hallway made me smile. I'm so glad I could visit on an outdoor recess day!
What could be better? More than 500 enthusiastic Peru kids were at the assembly where I spoke this afternoon to kick off their May reading extravaganza.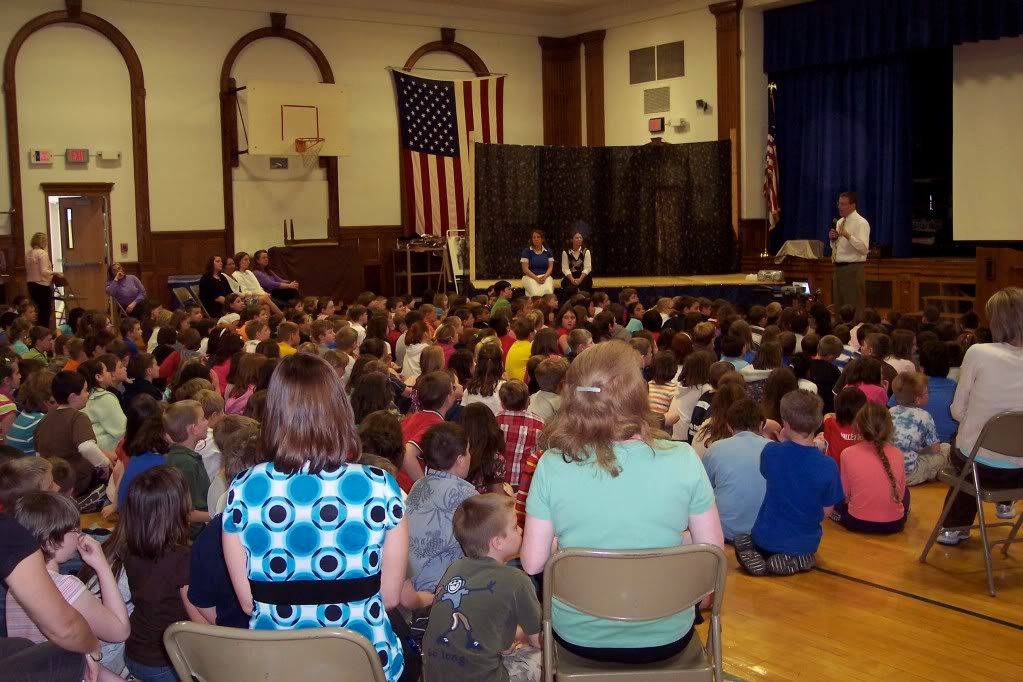 Note: That's not me up front. It's Mr. Storms, the principal of Peru Intermediate, who chose David Wisniewski's GOLEM as his favorite book for the faculty/staff slideshow. This is, in my book, solid evidence that he is a very cool principal.
I love how this school has set up its reading incentive program, making room for all kinds of readers. Students are meeting with their teachers to decide on their own individual reading goals. When they meet their goals, which they can choose to make public or keep private, they get to put their names up on one of these way-cool ships in the front entrance display.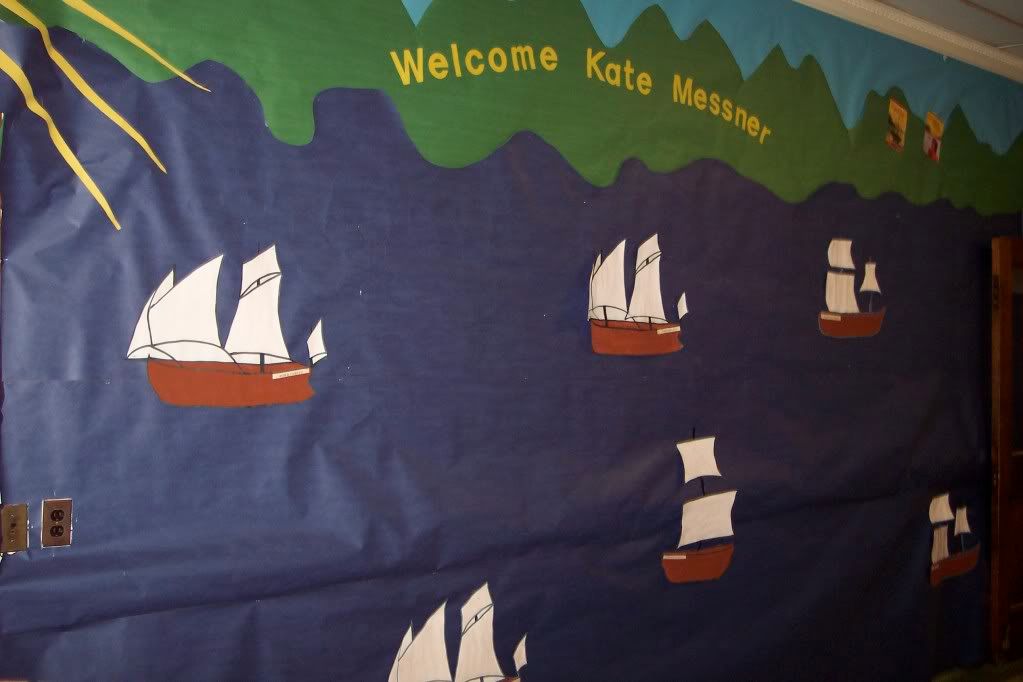 Why ships? The theme for this year's reading incentive program is Lake Champlain. Since my historical novels are set on the lake, all of the classes are reading at least one of them. I'll be spending a full day with the 3rd, 4th, and 5th graders later on this month to talk about the research and stories behind Spitfire and Champlain and the Silent One. They'll also get a super-sneak preview of my new book, The Brilliant Fall of Gianna Z (Walker, Fall '09), which is set near the lake in modern times.
Today, though, it was all about the reading. After a slideshow of their teachers' favorite books, I talked about some of my favorites, past and present. We talked about how books let us travel through time, show us ourselves, and bring us together. And I shared my own reading goals for the month of May. I'm planning to read a mix of picture books, poetry, novels for younger kids, high school novels, and books for adults.

Mary Anning and the Sea Dragon by Jeannine Atkins (I have a shiny new, signed copy from the NESCBWI Conference!)
Masterpiece by Elise Broach (I've been wanting to read this for ages – can't wait!)
Border Songs by Jim Lynch (I loved his novel The Highest Tide and was happy to pick up this advance copy of his latest.)
The Amaranth Enchantment by Julie Berry (I read an early draft of this book and can't wait to dig into the final version!)
Bug Boy by Eric Luper (Is it cheating that I've already started reading this ARC? I was going to save it, but it just didn't work out.)
Nine Horses by Billy Collins (This is the book of poetry that I was so excited to find on the library book sale cart for fifty cents.)
I'll be sure to post some thoughts as I finish each one. And if you're a Peru student reading this…know that as I work my way through my pile of books, I'm cheering for you to meet your goal, too!