If you're a regular reader of this blog, you probably know that MARTY MCGUIRE is the first in my new chapter book series with Scholastic, launching this spring.
Marty's a third grade girl who would rather catch frogs and crayfish in the pond than play dress up, so she's mortified when her teacher casts her as the princess in the school play. After a special lesson in improvisation, Marty finds a way to make the part all her own and discovers that perhaps a princess in muddy sneakers can live happily ever after, after all.
This has been an incredibly fun project for me to work on for a number of reasons. It's my first series (yay!) and it's illustrated by one of my favorite artists, Brian Floca (yay again!). It's also my first project to be produced as an audiobook. A while back, Scholastic sent me audio files of some auditions for the voice talent, and we all agreed that voice actress Cassandra Morris was perfect to narrate as Marty. She's a veteran of the audiobook world and has worked on projects such as Gossip Girls, Pretty Little Liars, Nancy Drew, and The Magic School Bus.
The producer has promised me an audio file to share soon, but for now, he's sent along some photos of the MARTY MCGUIRE audiobook recording in progress!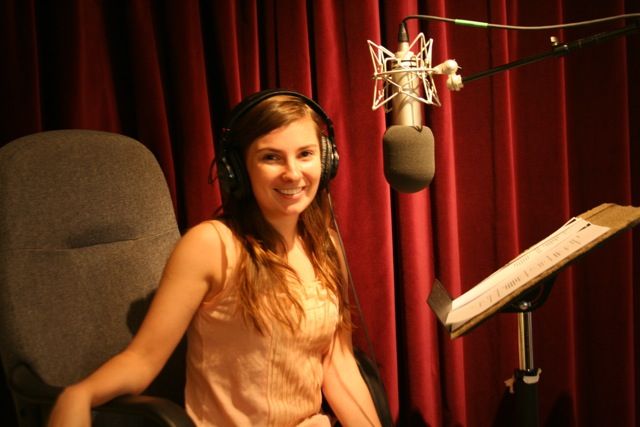 Cassandra, getting ready to read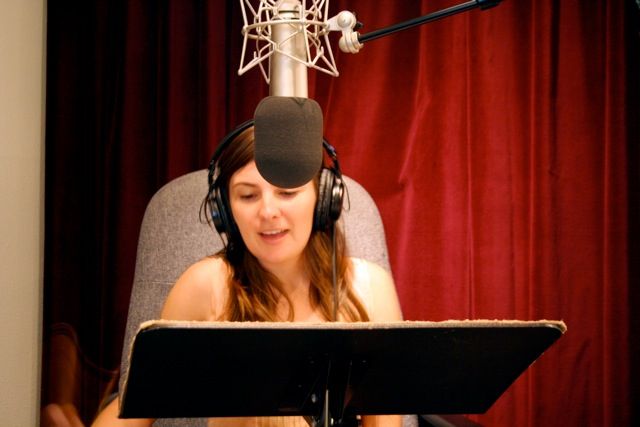 MARTY MCGUIRE is due out May 1st, a simultaneous hardcover/paperback/audiobook launch. I'll be doing a Skype tour with elementary school classrooms in May as well as speaking and signing at the International Reading Association Convention in Orlando on May 10th. And I just got word that Marty and I will also be at the Hudson Children's Book Festival on May 7th. Hope to see some of you this spring!