I've blogged several reviews of books that feature characters with autism. Cynthia Lord's Rules and Judith Mammay's Knowing Joseph are terrific titles that are out now. And I'm really looking forward to my agent-mate Tara Kelly's debut YA novel Harmonic Feedback (Henry Holt, 2010), which features a character with a form of autism called Asperger's Syndrome. My interest in these books is enhanced by a personal connection, since my 14-year-old nephew Danny is autistic.
Great strides have been made in autism research, but there is still so much work to be done. My brother, Tom Schirmer, is running in the Marine Corps Marathon – Run for Autism this October to raise money for the Organization for Autism Research. Autism affects so many families.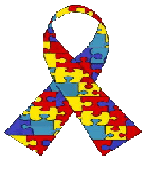 If this is a cause you'd like to support, please click on the ribbon to visit Tom's fund-raising page and learn more about how you can help.