Guess what? My book is on Amazon!
I've been visiting it online at least every few hours, but it probably gets lonely when I'm not there, so you can click on the image below if you'd like to visit it, too.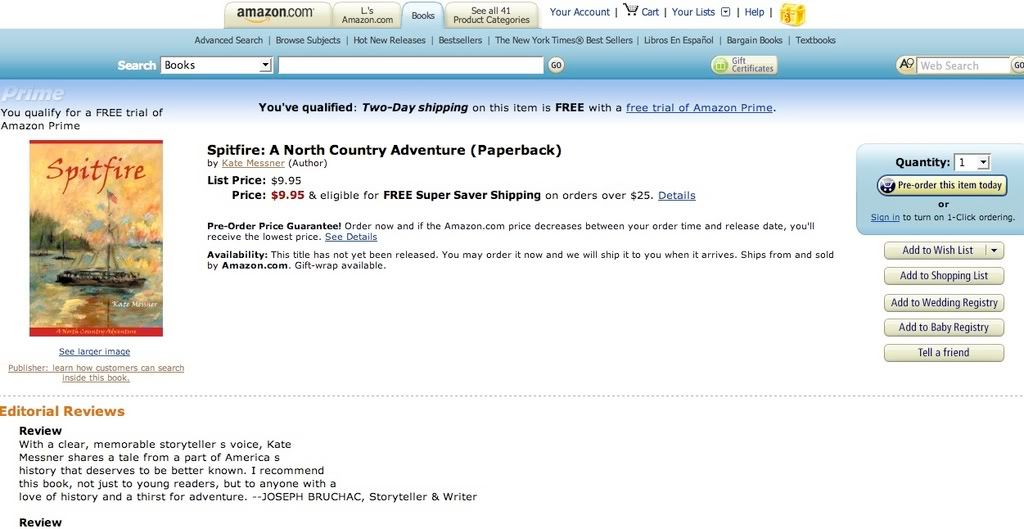 Fabulous Zach at North Country books emailed on Friday to let me know that SPITFIRE would be available for pre-order on Amazon within a few days. Sure enough, when I checked yesterday morning, there it was. My mom was visiting, so I got to show off like a kid who just finished a new craft project. I haven't seen her so proud since I made that clay pot in second grade.
SPITFIRE is available for pre-order and will be in stores on September 25th.
Note to friends who don't live near me…
North Country Books is a regional publisher, so you should find SPITFIRE in your local bookstore if you live in New York or Vermont. Otherwise, you can find it online or ask your local bookseller to order it through North Country Books.
And one more thing…. Don't forget to send your entry for the SPITFIRE writers & characters contest! If you've ever tried Lake Champlain chocolate, you know that it's well worth 300 words. Thanks for the entries so far — I'll start featuring some of them later this week!