Two kinds of SNOW news today!
First of all…it snowed in the Adirondacks Saturday night, so my drive down Interstate 87 to the Chronicle Book Fair in Glens Falls, NY was stunning — blazing red, orange, and yellow fall foliage, mixed with sugar-snow mountaintops in the distance. I arrived at the book fair content that the views alone were worth the two-hour drive. It was icing on the cake when the Dog Ate My Homework Bookstore sold out of SPITFIRE and then went on to sell a bunch of my backup copies, too. I loved signing books and chatting with all the kids, teachers, history lovers, and librarians who stopped by my table. Truth be told, though, I had two favorite guests…
One was the young man who bought SPITFIRE early in the day and had me sign it for him, then proceeded to settle down in the lobby to read, stopping back every hour or so to let me know where he was in the book. He made my day…
And so did the lady who stood by my table for a while, looking down at the cover of the book. Finally, she spoke.
"You know, they made a movie of that book," she said, pointing to it.
"Well, no," I told her, "They didn't, actually. This is a new book."
"Yes, they did," she insisted.
"Well, maybe they made a movie of another book with the same title," I said. "That could be…"
"Nope," she said, tapping the cover of SPITFIRE again. "It was that one. Katherine Hepburn starred in it. She was great."
How about that?? I am honored, to say the least.
I was solo for this book festival, since it was a long day for the family, so I don't have my usual photo album, but here are a couple pictures.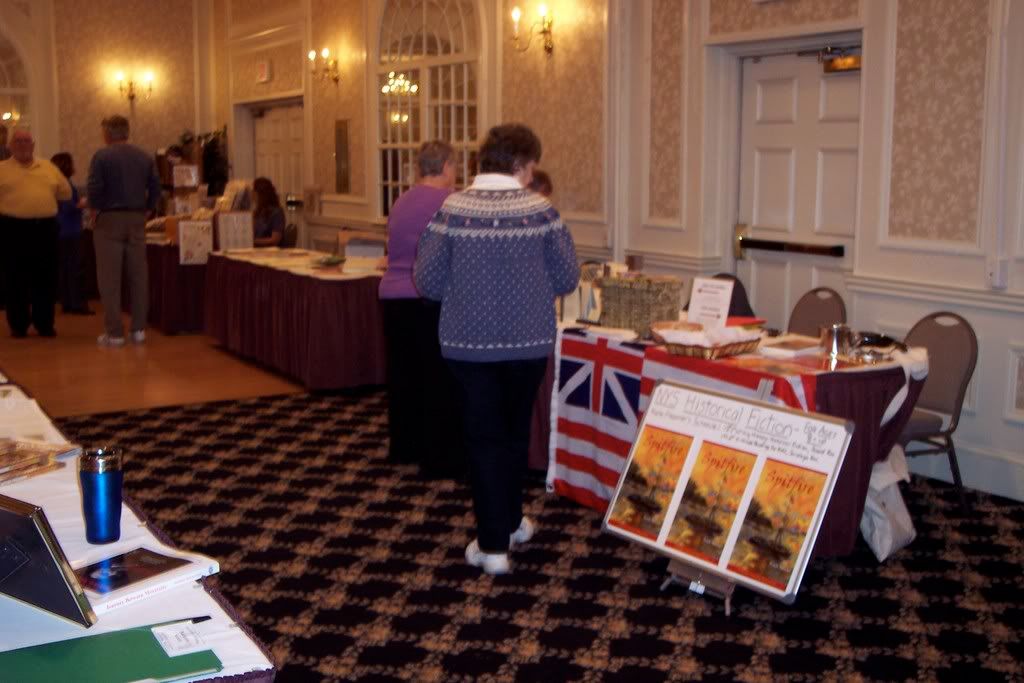 Here's my table (minus me…taking the photo). This was a HUGE book festival. Imagine 120 setups like this. That's how many authors were there!
And here I am with Joseph Bruchac, an author whose work has inspired me for a long time. Joe was kind enough to read SPITFIRE before it was a book and say the nice things about it that are now printed on the back cover. It was great to have his new books signed for J and E at today's festival.
And there's more SNOW news…. Robert's Snow: For Cancer's Cure officially kicks off this week! You can visit the participating bloggers listed below to read all about the children's book illustrators who have donated their time and talents to create incredible, original, wooden snowflake ornaments to raise money for the Dana Farber Cancer Institute. You can bid on your favorite snowflake, knowing that the funds raised will help to fight cancer. On Saturday, members of my middle school writers club and I will feature Judy Schachner, creator of the amazing SKIPPYJON JONES series! You'll even have a chance to win a signed copy of one of her books and a SKIPPYJON JONES doll! Be sure to stop by on Saturday to meet Judy and see her incredible snowflake.
Here's a schedule for the rest of this week's illustrator features & interviews:
Monday, October 15
Tuesday, October 16
Wednesday, October 17
Thursday, October 18
Friday, October 19
Saturday, October 20
Sunday, October 21