Over the past couple years, I've participated in quite a few bookstore events and children's book festivals. Sometimes, kids who aren't quite the right age for my books stop by my table. I've had three, four, and five-year-old kids pick up my middle grade novels, frown, and then look up at me with big eyes. "Do you have any books for me?"
The next time that happens, I'll be able to say, "Yes!! Yes, I do!"
My first picture book, SEA MONSTER'S FIRST DAY, is out today from Chronicle Books!
My editor there, Melissa Manlove, had an early draft of this book on her desk a long time and helped me realize that my original book about a sea monster's life in a lake full of fish (I think it was called CONFESSIONS OF A SEA MONSTER at the time) was really full of all the feelings a kid feels starting school.  Worries about fitting in. Building confidence to try new things.  She helped me shape this book into the first-day-of-school story it is now, and I'm so, so glad.
In the same email my editor Melissa wrote with her offer to buy this book, she told me that Chronicle already knew the perfect illustrator — Andy Rash.  I looked at his website and agreed that Andy's bright, funny style would be a great match for my enthusiastic little sea monster. You can see more of his work here.
And here's more about SEA MONSTER'S FIRST DAY:
Starting school is a big job, and it's an even bigger job when you're a sea monster! There are books to read, songs to sing, and field trips to take, but the biggest job can be making good friends. This funny, charming twist on the worries and joys of starting school will reassure and delight the smallest children and the biggest sea monsters alike.
Publishers Weekly called it "a splashy story about fitting in," which I love because when I signed an early copy of this book for Chloe, a soon-to-be-kindergartner at the Hudson Children's Book Festival this spring, I wrote, "Make a SPLASH in kindergarten!"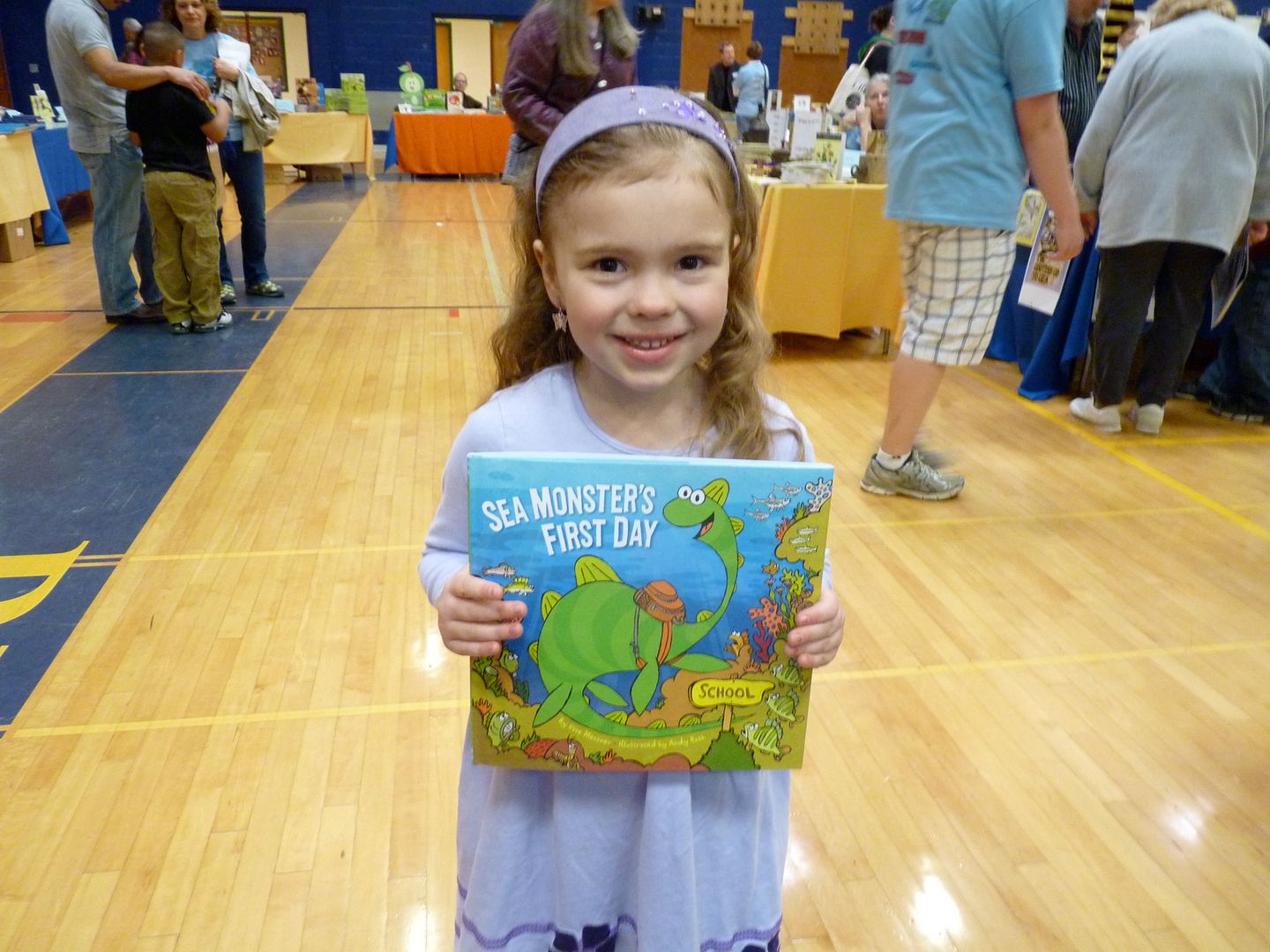 If you'd like a personalized, signed copy of SEA MONSTER'S FIRST DAY for your little sea monster, or kindergartner or preschooler, or a teacher you know… I'll be signing books at two great independent bookstores that have offered to host virtual signings, too!
You can call The Bookstore Plus in Lake Placid, NY at (518) 523-2950, no later than July 15th.  Or you can call Flying Pig Books in Shelburne, VT 802-985-3999 no later than July 8th. I'll sign your books during my July events, and then the stores will ship them to you.
Better yet, join me for one of the Sea Monster reading & signing events!
Flying Pig Bookstore in Shelburne, VT – Saturday, July 9th at 10am (with author Eric Luper signing JEREMY BENDER & THE CUPCAKE CADETS, too!)
The Bookstore Plus in Lake Placid, NY – Saturday, July 16 from 3-5 pm (with regional authors Jim Krause, Tal Birdsey, Jacqui Marty, & Wynant Vanderpoel)
If you'd like to read more about the inspiration for SEA MONSTER'S FIRST DAY, I talked all about it in this guest post with Amanda Hoving this week. Hint: yes, it's based on a real lake monster…and yes…I've seen it.  I think.
Hope you have a fantastic, splashy start to summer!