"Oh, I'm Skippyjon Jones, and I bounce on my bed; And one or six times, I land on my head!!!"
Today's illustrator feature for the Robert's Snow: For Cancer's Cure Fundraiser is none other than Judy Schachner, created of the beloved Skippyjon Jones series and many more fantastic books for kids and kids at heart.

Blogger's Note: I'm a children's author and a middle school English teacher, so my students are collaborating on our series of illustrator profiles! Today's feature is courtesy of the 6th, 7th, and 8th graders of the SMS Writers Club!
We were asked to feature writer/illustrator Judy Schachner here to help raise awareness of the Robert's Snow fundraiser. Robert's Snow raises money for cancer research at the Dana Farber Cancer Institute. Judy was kind enough to agree to an interview and has donated a signed copy of one of her books and a Skippyjon Jones doll to a lucky blog reader!
Thanks for joining us, Judy! We love Skippyjon Jones, so we were so happy that you created a snowflake. Why are you involved in the Robert's Snow fundraiser?
Because it feels good to give. And because I lost my mother to cancer when I was young and then later my stepmother.

Could you tell us about your snowflake for this year's auction?


This is the third snowflake I've painted. It's the second time I've painted my cat Skippyjon Jones (with mittens on his ears). It's done in acrylics.
What led you to become an author/illustrator?
A huge love of drawing, painting and storytelling that I've done since I was a very little girl.
What other career dreams did you have when you were younger?
I was too shy to star on Broadway, I didn't have the math grades for nursing, and too many bad habits to be a nun so a life in art was my only choice.

Many of your illustrations go along with stories that have some humor. How come?
I love "funny" but other books of mine are quite different – Yo Vikings, The Grannyman, Mr. Emerson's Cook, and Willy and May.
The Skippyjon Jones books are so popular, and we wonder if that's partly because the name is just so much fun to say. How did you come up with Skippyjon's name?
Cats should always have more than one name. SkippyjonJones is what my cat called himself.
We just learned that your real Skippyjon Jones, your own Siamese cat, passed away recently, and we're so sorry.

Skippyjon died in September. I can't tell you how sad I am. Here's a picture of him in his younger days.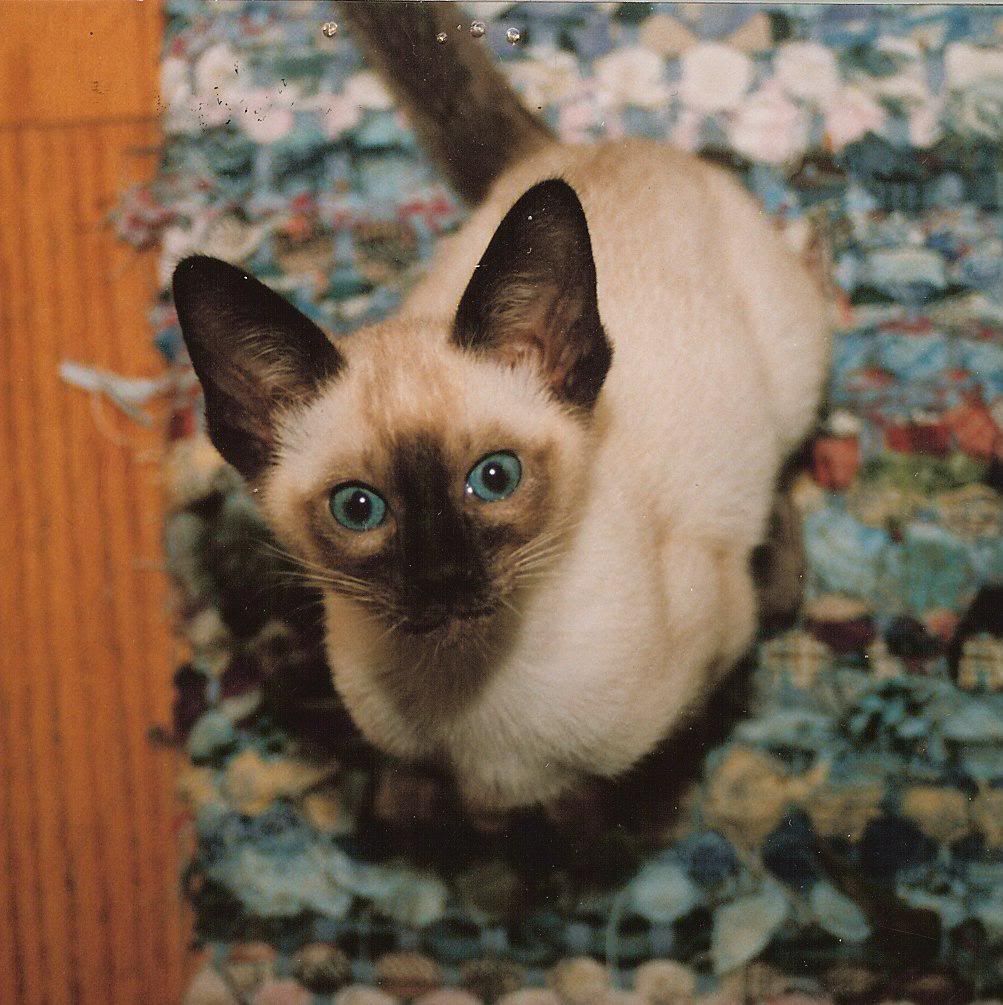 So he was the inspiration for the Skippyjon Jones books? How did you create the stories?
Skippyjon's character is like a good stew. You start with a big pot. Then add a very funny brother named Kevin, who was famous in our house for his over-active imagination. Add a handful of Siamese cat named Skippy, one basement with a bumblebee in it, and a tussle in the litterbox. Finally a dash of Antonio Banderas.
Which came first for this series of books — the story or the illustration ideas?
I like to work in dummy form right from the beginning. Pictures fill in the spaces where the words aren't working and vice-versa. I usually think of a title right away and almost always have my beginning sentence. It's the rest of the book that's a problem.
Of the books you've illustrated, do you have a favorite?
Yes, Yo Vikings, it's about my children and it's based on a true story.
Now a few rapid-fire questions…
If you had to choose a favorite author and a favorite book of all time, what
would they be?
To Kill a Mockingbird by Harper Lee.
Your favorite food?
Angel Food Cake
Favorite thing to do in your spare time?
Read, re-arrange the furniture, and kiss my cats.
Favorite time of year?
Give me snow!!
Bring on the snow! Judy Schachner's snowflake is featured in Auction #3, which runs from December 3-7. If you would like to bid on a snowflake for Robert's Snow, click here to check out Judy's creation and the others.
If you'd like to be entered in a drawing to win a signed copy of one of Judy's books AND a Skippyjon Jones doll, here's what you need to do. Simply visit Auction #3, and then come back here and leave us a comment to tell us about a snowflake that you love. We'll enter your name in the drawing, and a member of the Writers Club will draw one lucky winner out of a hat to win a signed book and doll. (Note: If you don't have an LJ account, please make sure you leave your name. It's tough to enter "anonymous" in a drawing and even tougher to track her down if she wins…)
Be sure to check out today's other Robert's Snow illustrator features…