If you're a regular reader of this blog, you know that my first book for teachers, REAL REVISION: AUTHORS' STRATEGIES TO SHARE WITH STUDENT WRITERS, was released from Stenhouse this summer. I'm celebrating with a series of author interviews on the topic of real revision…the nitty gritty, make-the-book-better strategies that some of my favorite authors use when they're revising a project. Today, I'm following up with one of the authors featured in the book, Karen Day.
First…a little about Karen's latest book, A MILLION MILES FROM BOSTON…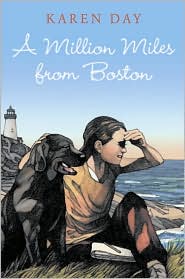 Sometimes, kids who read my novels write to me and ask what else I think they'd like – so I've started keeping a list of other books – stories about regular kids that feel right for 5th, 6th, and 7th graders who haven't made that leap to older young adult titles. Karen Day's A MILLION MILES FROM BOSTON is one of those books.
Lucy's excited about spending the summer before middle school at her family's cottage in Maine…until she gets there and realizes things are going to be different this summer. There's a new family (including the most annoying boy in her school at home), new plans for the community's Big House, and worst of all…a new woman in her dad's life, and this one looks like she's going to be around a while. It makes Lucy long for her mom, who died when she was six…and makes her wish things could go back to the way they were. But sometimes, getting older means looking at things a little differently, seeing the other side, and Lucy's summer in Maine, "a million miles from Boston," helps her do just that. This is a lovely, fun, and heartfelt book full of beautifully drawn characters that I think young readers are going to love as much as I did.
Karen talked about her revision process for this book in REAL REVISION, but I asked her if she'd elaborate a bit more, and share some additional details of her process. Here's what she had to say:
Once I have a rough draft (which to me is the most difficult aspect of writing), I always breathe a bit deeper. For me, revision is where the real work begins. And the fun. Over the years I've worked hard at developing my revision process. Sometimes I add to it or take away. Mostly it stays the same from book to book.
By far my favorite revision strategy is one that I learned at a NESCBWI conference 10 years ago. This is it: I tear apart the novel and look at it in pieces. First, I make a list of the threads and themes (I like to write with lots of themes). For example, one of the threads in A MILLION MILES FROM BOSTON is Lucy and the camp she runs. One of the themes is that people can "see" the same event but "view" it differently. Once I've made a list – which might add up to a dozen – I'll take the very first thread or theme and follow it – and only it! – from beginning to end. This way I can tell if I've repeated myself and/or I'm not moving the narrative forward. Then I go back and follow the next thread or theme. This process can take months, and it's a bit unnerving because you're constantly looking at your novel in such a narrow way. But after this process when I read straight through, I'm always amazed at how well it works!
Thanks, Karen! (Reading this made me smile because Lucy's camp was one of my favorite parts of the book – it made me want to open a summer camp of my own!)
If you love realistic middle grade novels and haven't read A MILLION MILES FROM BOSTON yet, it's one you'll definitely want to add to your to-read list!