I took a very quick research trip to Oklahoma this week, to take photographs and talk with an expert on tornadic storms as I revise my upcoming dystopian novel, currently titled EYE OF THE STORM.
When I say quick trip, I mean quick. My 14-year-old son came along, and we were in Oklahoma for all of 18 hours before flying back home. But it was long enough to see some pretty amazing things at the University of Oklahoma in Norman.
This building houses not only the University's meteorology department, but also the National Weather Service office in Norman, the National Severe Storms Laboratory, and NOAA's storm prediction center,where forecasters were busy watching the approach of Hurricane Earl.
We also toured the vehicle bay and saw some of the equipment used to gather data from tornadic storms in the VORTEX2 project this spring.

The mobil mesonet is a set of weather sensors that can be mounted on vehicles for storm chasing.

Radar dishes are often mounted on trucks & vans as well.

This balloon was launched into the heart of a thunderstorm with a long string of sensors attached to it. It's hanging here because it was badly damaged by a lightning strike!
Not all the researchers' equipment is so high-tech. Some is simply practical.
And do you remember the movie Twister? Remember the scenes where Helen Hunt and her costar were driving around in the red pickup truck trying to place their sensor equipment, nicknamed "Dorothy," in the path of a tornado?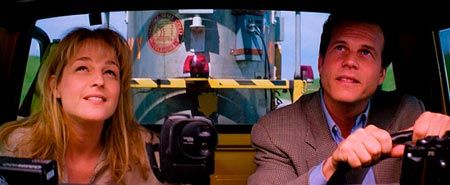 The Dorothy movie prop is on display at the University…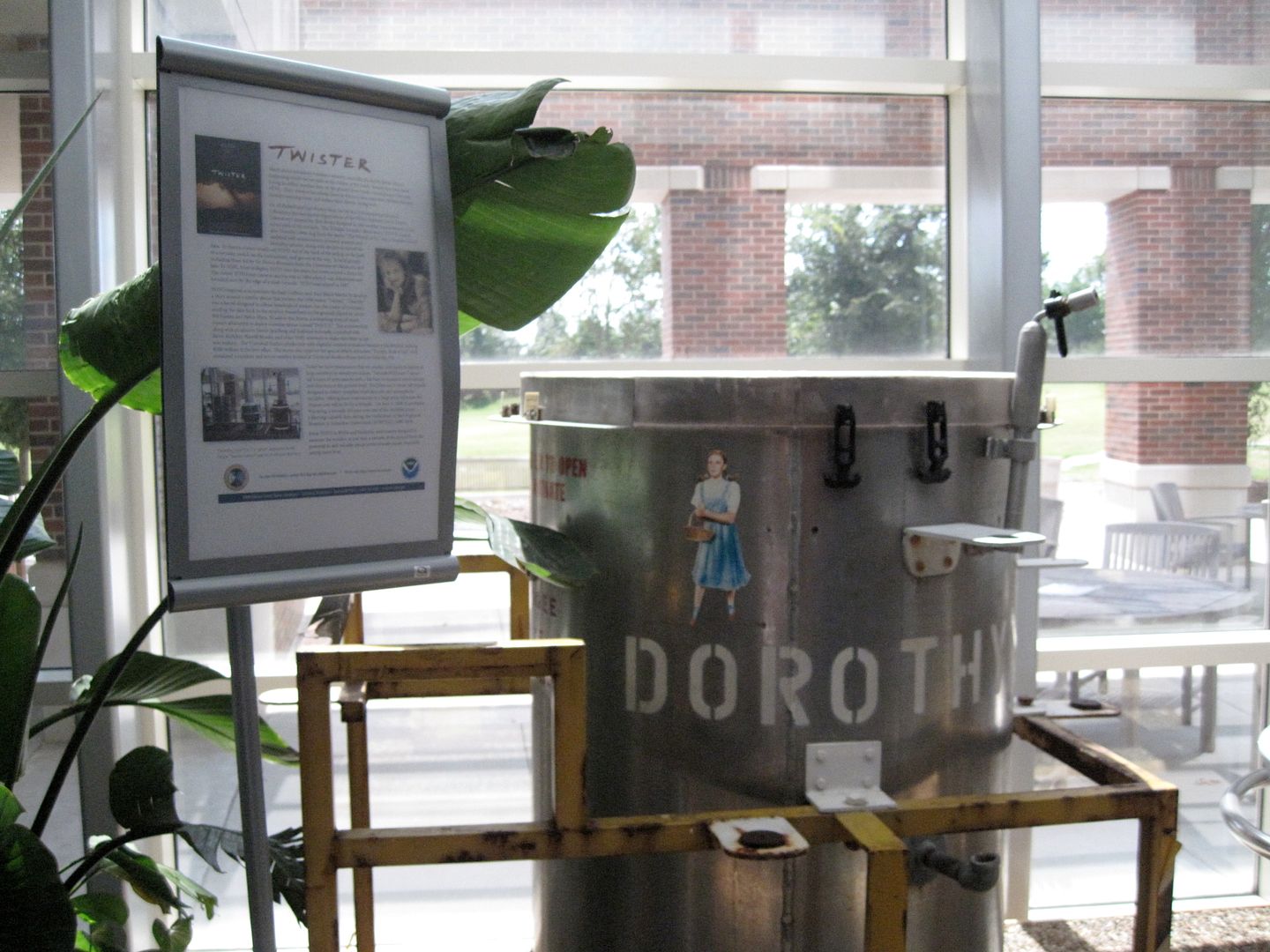 …along with a second prop (their rival stormchasers' device, called "DOT") and the actual meteorological tool that inspired this part of the film.
The real version, the one on the right, is much heavier — over 400 pounds — and was nicknamed Toto. The idea was indeed to put it into the path of a tornado so it could take a direct hit and gather data. But alas, real life is not the movies, and it never worked out perfectly, so eventually, this piece of equipment was put on display as storm chasers looked to other tools (unmanned drone planes are the latest!) in their quest to gather the data that will help them figure out how tornadoes work.
There is so much fascinating work being done by brilliant, passionate scientists at this site in Oklahoma — it was fantastic to spend an afternoon with them, and I can't wait to share more with readers when the book comes out in 2012. (I started working on the author's note on the plane ride home!)
I arrived home from the airport to find my meteorologist husband packing up his rain gear. His TV station sent him to Cape Cod late last night to cover Hurricane Earl. In addition to doing live shots for the evening news in Burlington/Plattsburgh, he's posting updates through WPTZ here if you'd like to check it out – and he's @tommessner on Twitter if you'd like to follow his adventures in the rain & wind of Earl.