This weekend's Books of Wonder signing in Manhattan was one of those author-moments I'll tuck away and keep for pretty much ever. It was just that special, in part because we made a family weekend of the event, driving down to New York Saturday afternoon. We actually stayed here…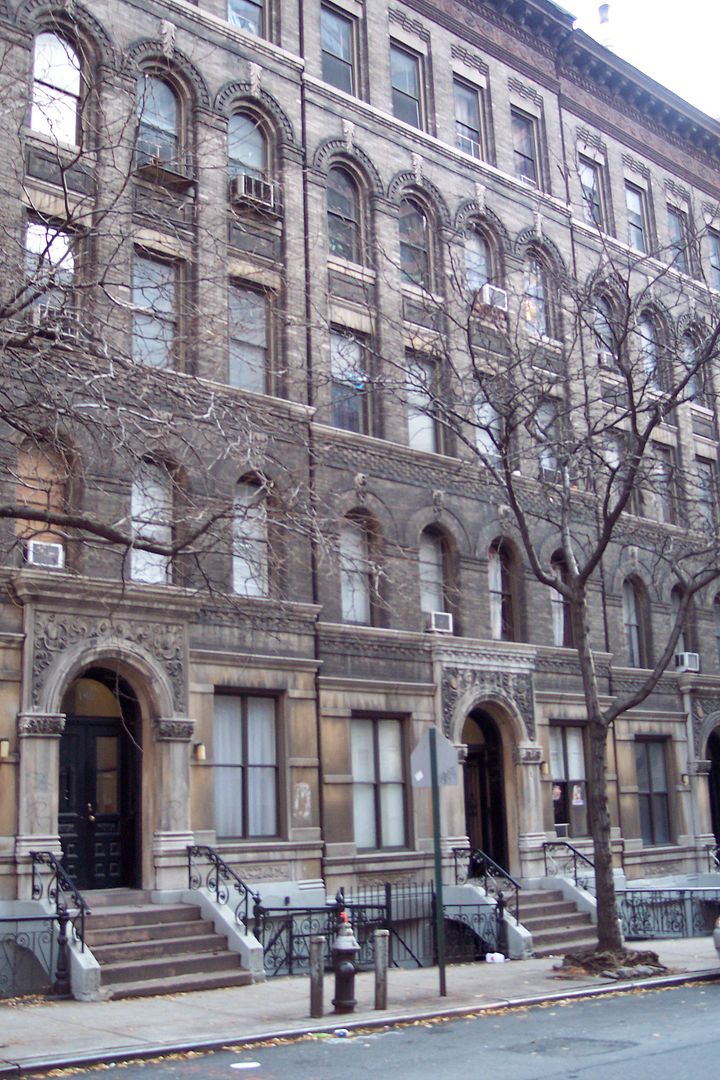 …in a tiny bed & breakfast that a delightful artist runs out of her three-bedroom apartment on the Upper East Side. The place was beautifully decorated, cost about a third of what a hotel room would have run on this busy weekend and gave us a view of city life that you don't get staying at a midtown high rise. Plus, it was only a block from the train, so right after we unloaded the car, we hopped on the subway and headed downtown to see the lights.
We walked to Rockefeller Center in the snow-sleet-rain-slush mix to see the Christmas tree.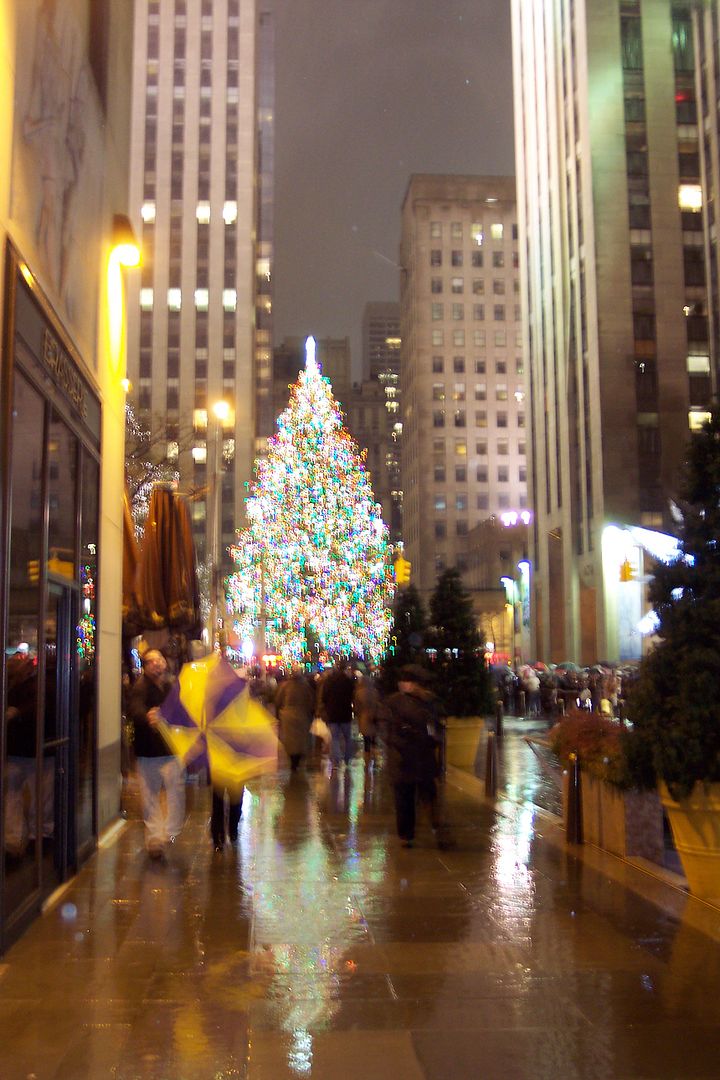 It's a little blurry because I was shivering.
So we hustled a few blocks over to Joe's Shanghai for some of these soup dumplings that I learned about from Alvina Ling on Twitter.
These are the crab soup dumplings. To eat them, you plop one in a big spoon and sort of nibble a bite out of the top to let the soup inside cool a little bit. Then you can slurp it out and eat the noodle and the rest of the filling. They were delicious and warmed us right up.
Sunday was a day of strolling along Fifth Avenue, checking out the window displays until we made it down to Books of Wonder on 18th Street, where I was signing THE BRILLIANT FALL OF GIANNA Z. along with seven other debut authors and their awesome books.
My family actually ran into Deva Fagan, the author of FORTUNE'S FOLLY, at City Bakery right before the event, so we walked over to the bookstore together and were greeted at the door with this big, beautiful display.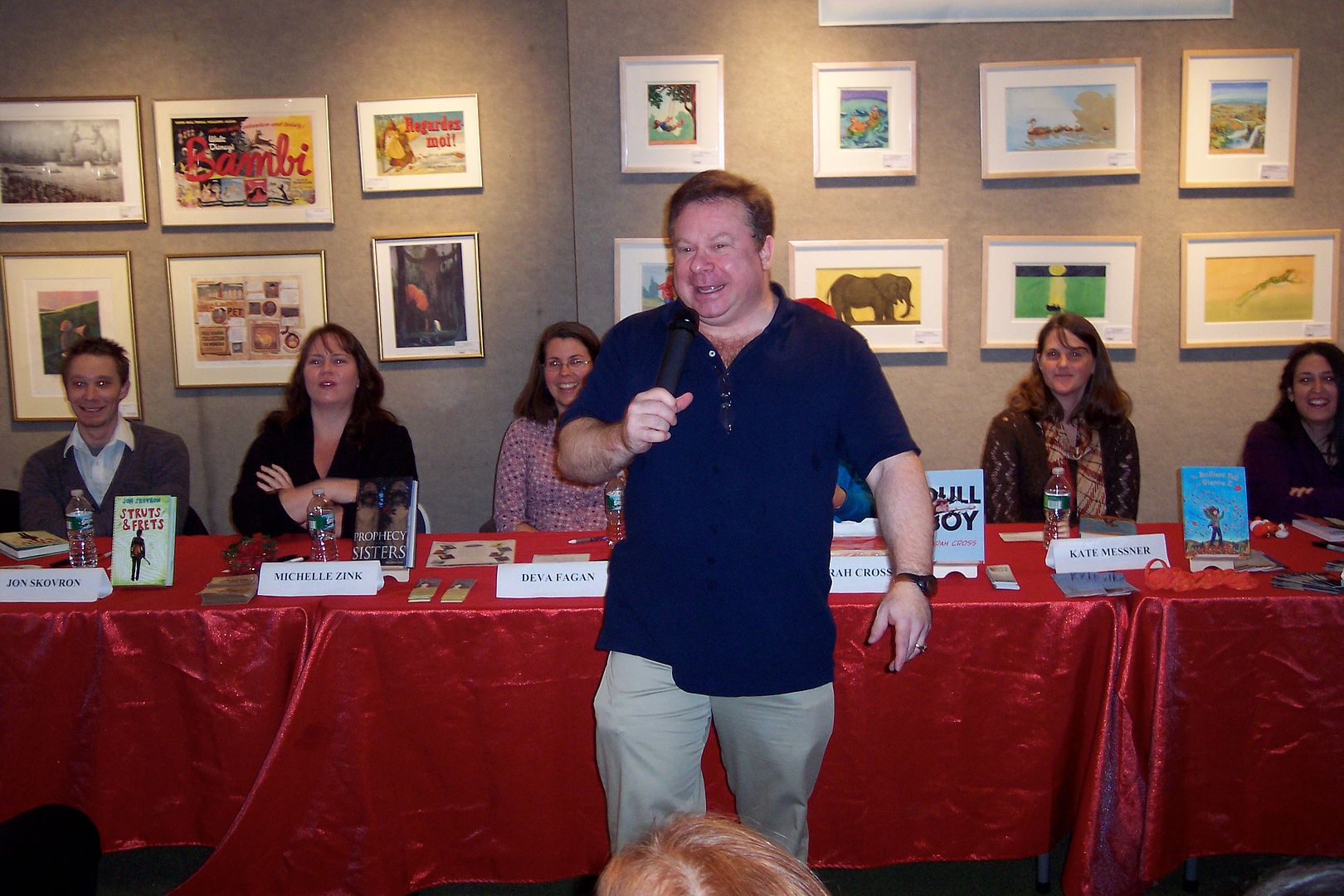 Here's Peter Glassman, the man behind the incredible Books of Wonder. He introduced our panel to the audience, and everyone gave a short reading before the Q and A session.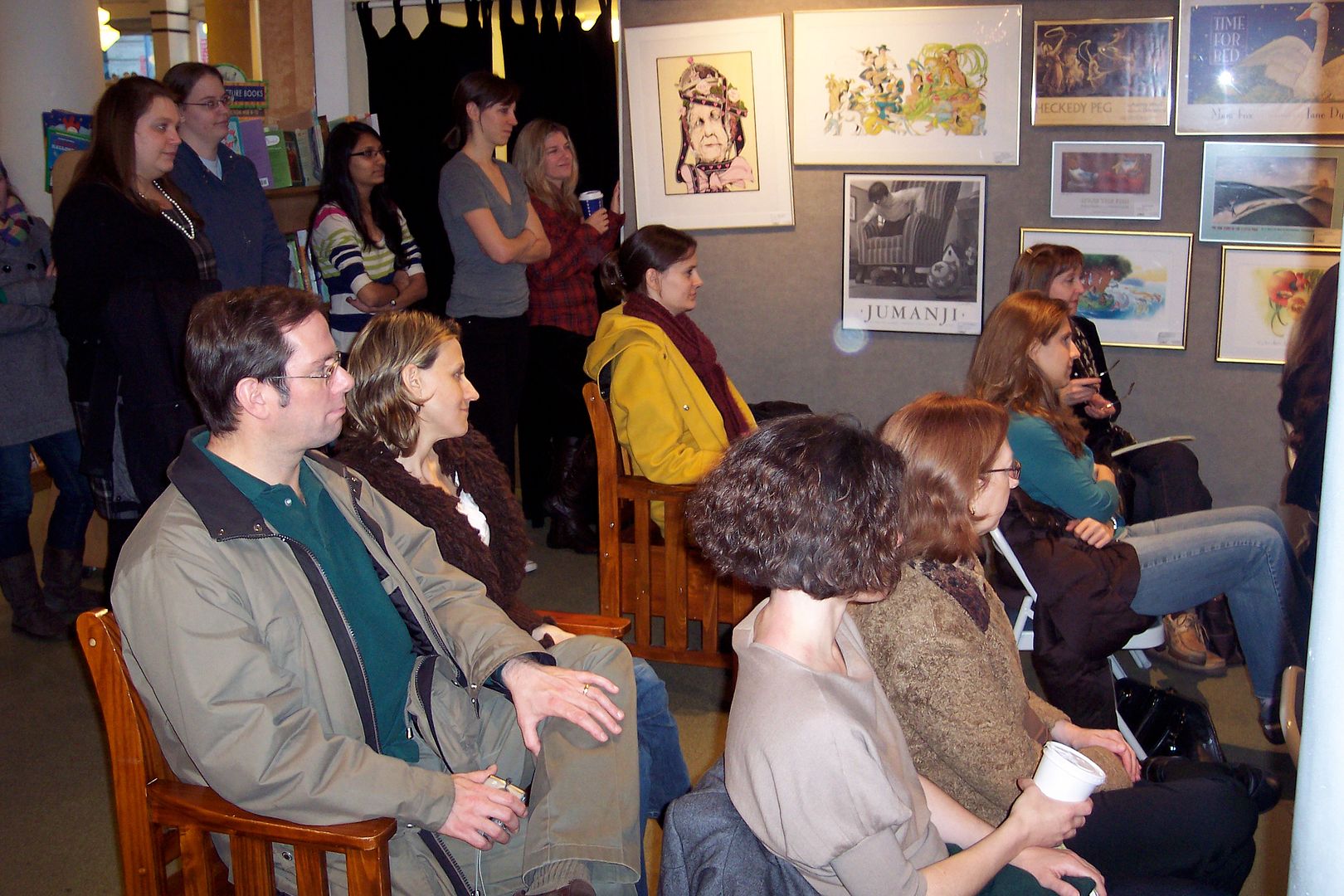 Here's part of the audience for the panel – and check out the cool children's book art on the walls!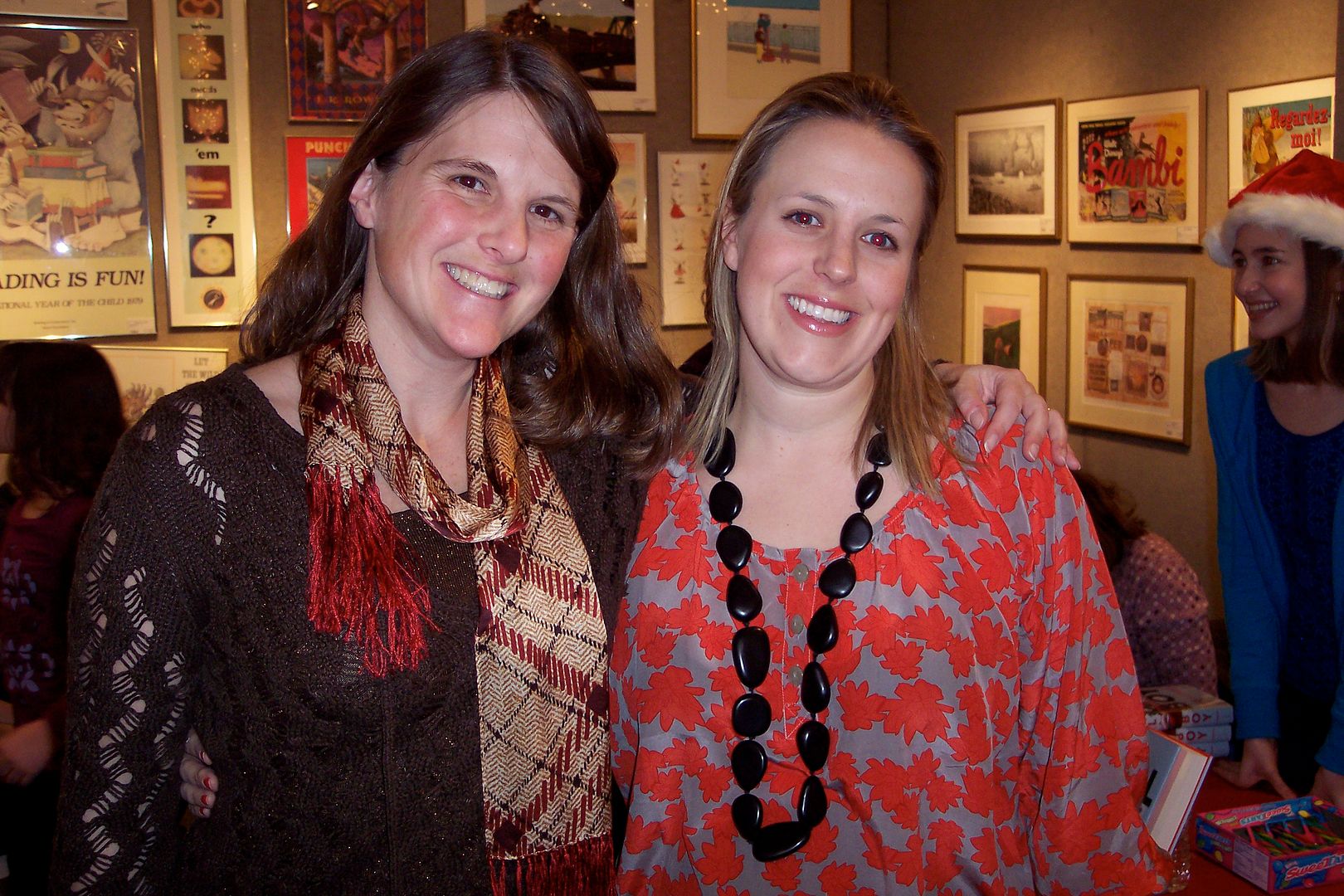 Here I am with Anna Dalziel, publicist for Bloomsbury/Walker, who wore her autumn leaves shirt just for the occasion. (Thanks, Anna, for coming out to the event on your day off!)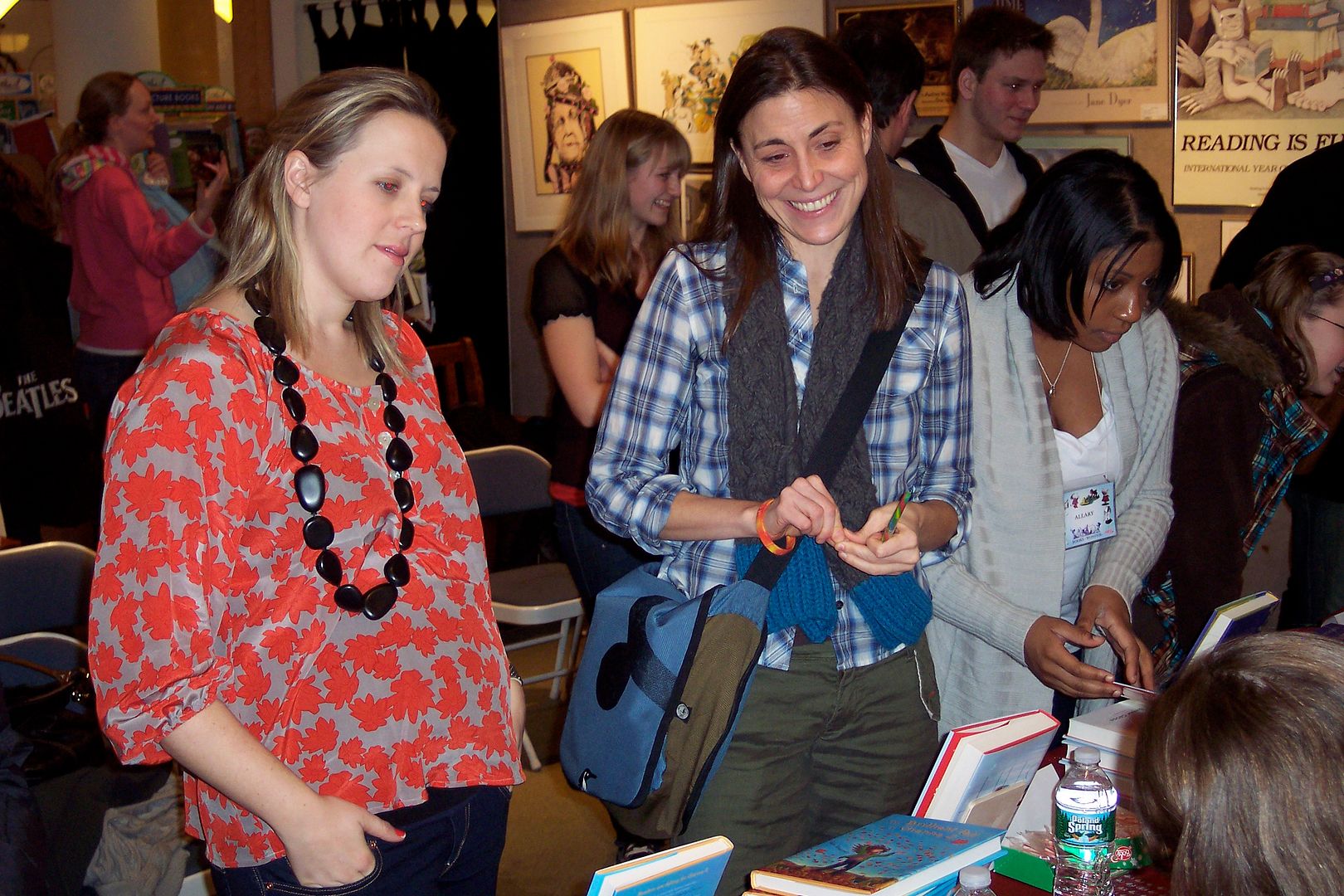 Here's Anna with Rebecca Stead, whose 2009 novel WHEN YOU REACH ME is one of my all-time favorites.
It was so great to see all the authors who came out for the event (wishing I'd taken more photos!) like Laurie Calkhoven and Heidi R. Kling. I also had a chance to chat with Barry Lyga, whose YA novels I've admired for a long time. I've said it before, and I thought it a million times this weekend… The people I've met through my books are truly one of the best gifts of writing.
Thanks so much to everyone who came out on a busy Sunday for our Books of Wonder event…and know that if you missed it but want a book signed by any of the authors, you can call Books of Wonder (212-989-3270) to order one, and they'll happily send it your way.
I have to mention two last things.
1. The Book

Books of Wonder has a big, beautiful book of author/illustrator autographs from its events over the years, and we all got to add our notes of thanks. It was pretty cool to be signing a book with Suzanne Collins and Ann Martin just a page or two away…
and 2. The Other Book

The one that my E had signed by Deva at the event. She read it all through dinner.
Thanks, Deva! And thanks to Sarah, Neesha, Michelle, Jon, Megan, Shani, Peter and all the other Books of Wonder people, and everyone who came out for our event. It was an afternoon to remember, for sure.