Memories for those who were present – a vicarious trip to Nashua, NH for those who weren't…
Friday supper company that made my son SO jealous… From left, Nancy Werlin, Peter and Jo Knowles
(
), Cindy Faughnan, and Cindy Lord (
) We had a terrific conversation about book covers and how they come to be, with PhotoShop, stock images, and chain store input. It was fascinating (and somewhat alarming for an author whose first title is coming out this fall, cover TBA!).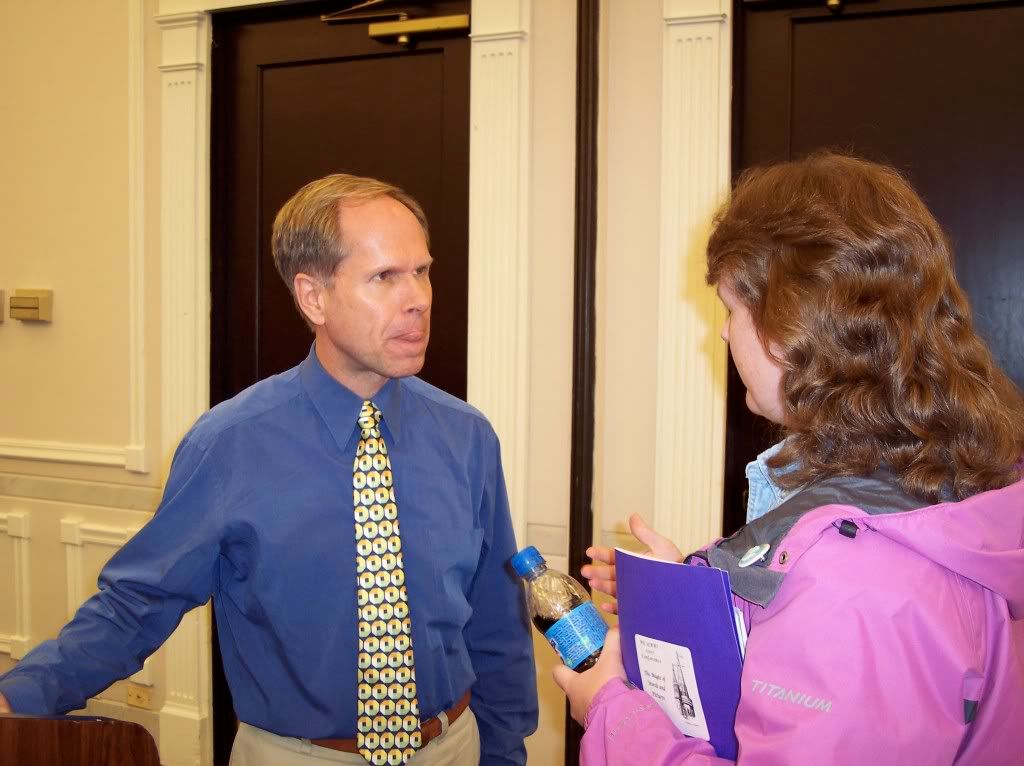 Stephen Fraser with the Jennifer DeChiara Literary Agency chats with a SCBWI conference goer.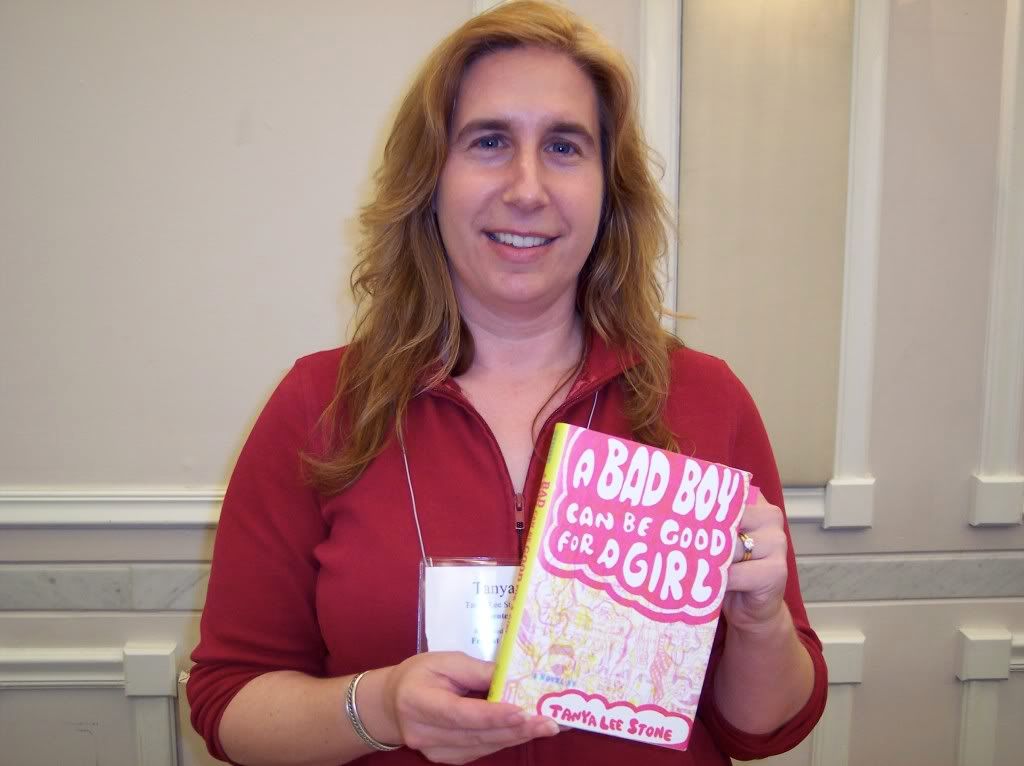 Tanya Lee Stone shows off her latest YA novel.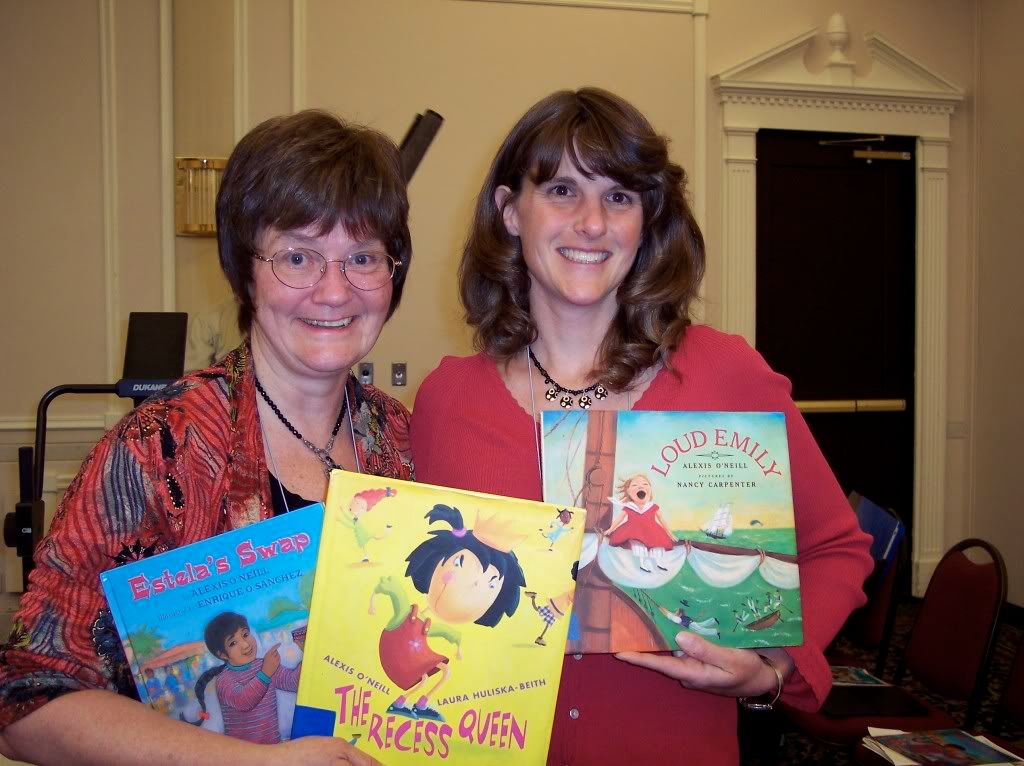 Alexis O'Neill (on the left… that's me helping her hold books) gave a terrific and energetic program on
school visits. I'd love to be a kid at one of her presentations!

From the "you-never-know-who-you'll-run-into" file…. Julie Berry, on the right, walked up to me at the conference to re-introduce herself. Her older sister Joanna Gardner, also a talented writer, was my best friend when we were kids. We lost touch after high school and reconnected just a few weeks ago when I found her website. Julie and her friend Ginger live and write in Massachusetts now, and Julie's "first line" won terrific praise from the editors and agent who responded to it. (Conference attendees, remember the one that started with the girl in the willow tree, saying "You didn't come…") Way to go, Julie! And way to go, Joanna, whose poetry is getting well-deserved attention. She was a great writer in 7th grade, too…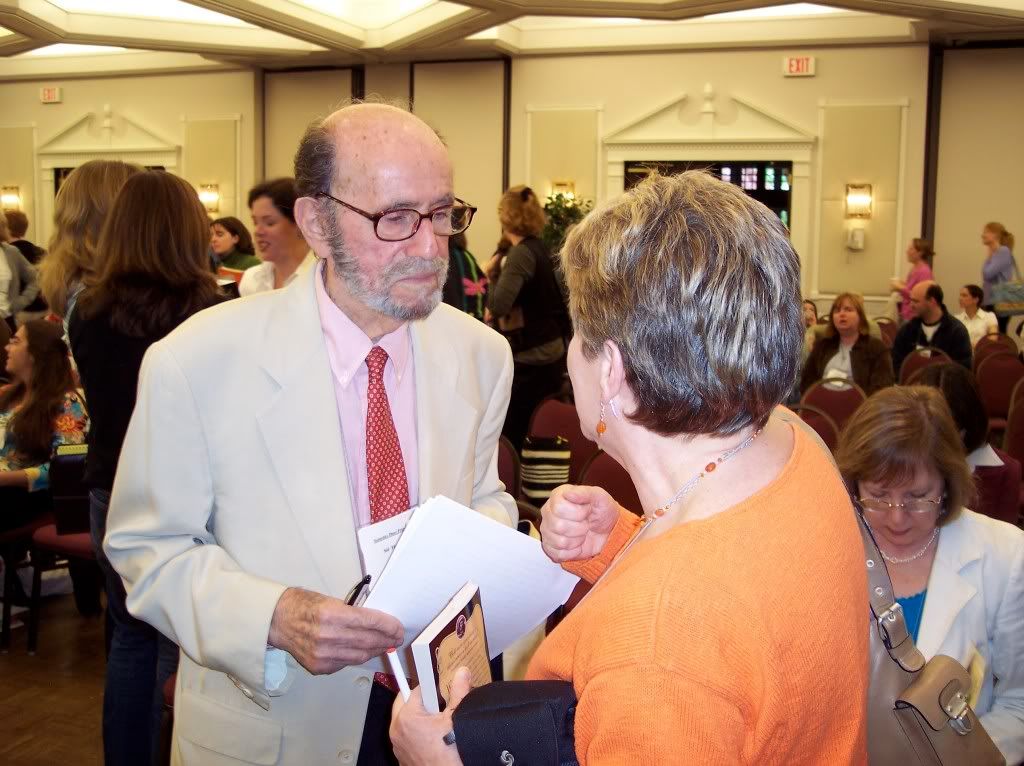 Sid Fleischman, a gifted writer AND magician, worked his magic on us at his Saturday keynote.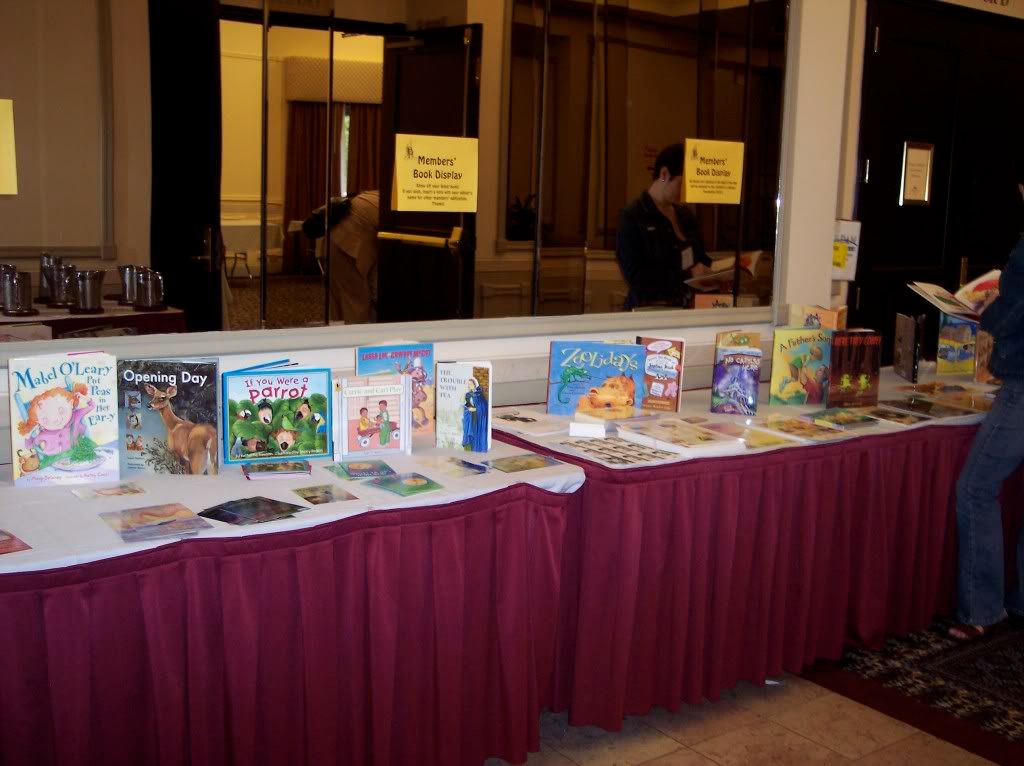 SCBWI members shared their new titles at the Members' Book Display outside the ballroom.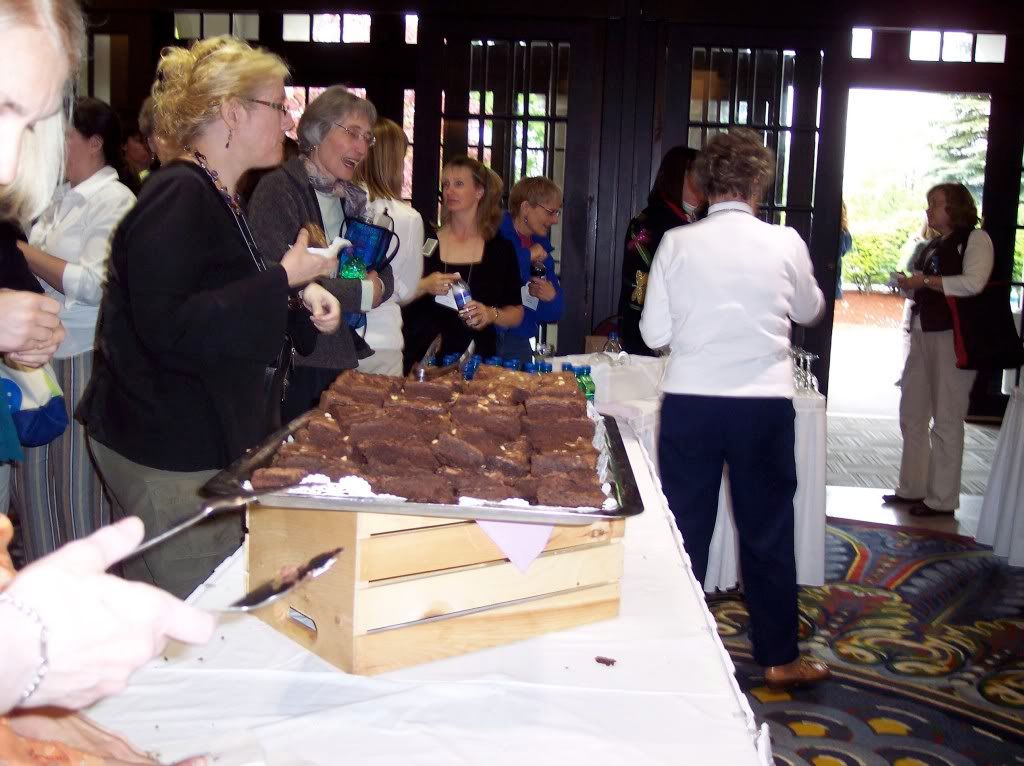 How cool is a conference that sets out a MOUNTAIN of brownies during the break?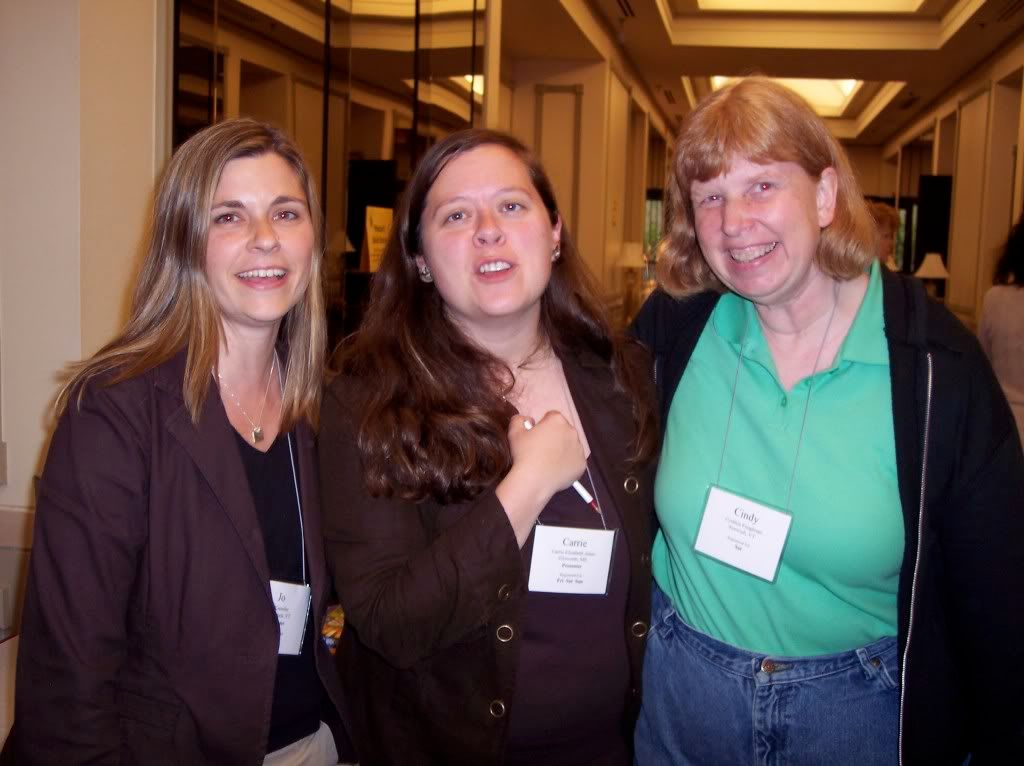 Jo Knowles, Carrie Jones, and Cindy Faughnan take time to catch up during a break.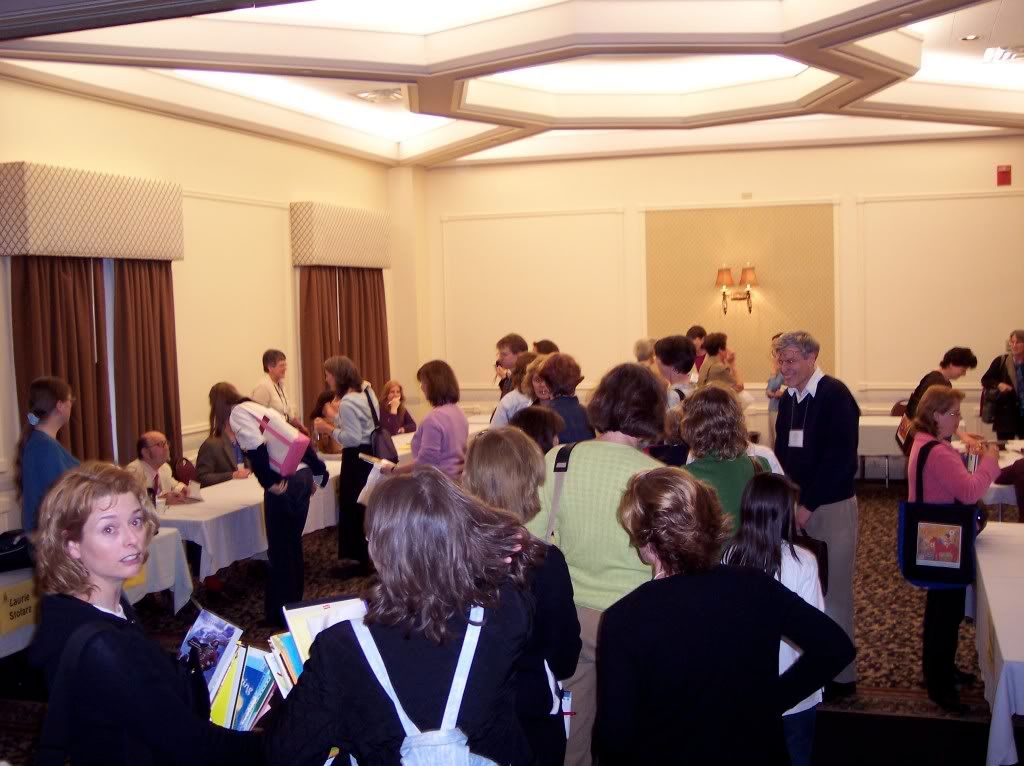 The book signing room was a busy place on Saturday afternoon!
It was AMAZING to meet so many LJ friends in person. Have a great writing week!