If I'm giving a talk about books & writing and I mention that I also teach and have a family, the adults in the audience always ask the same question. "When do you write?"
If you're a writer with a family or a day job or both, you already know the answer. "Whenever I can."
It's interesting to me, though, how I've changed as a writer over the past year or so. I used to think that I had to have at least two hours of uninterrupted time — either at my desk at home at night or at the library in my secret corner — when NO ONE would even say a word to me. Otherwise, I couldn't get deep enough into "the zone" and it wasn't even worth starting.
The new me thinks that old me was…well…maybe just a bit of a writing prima donna. For whatever reasons — revision deadlines, writing challenges made to myself — I've been learning to do things differently. I've figured out that I can write for ten or fifteen minutes. I actually can be interrupted and survive, and I can write in places that aren't peaceful and quiet. Which brings me to this…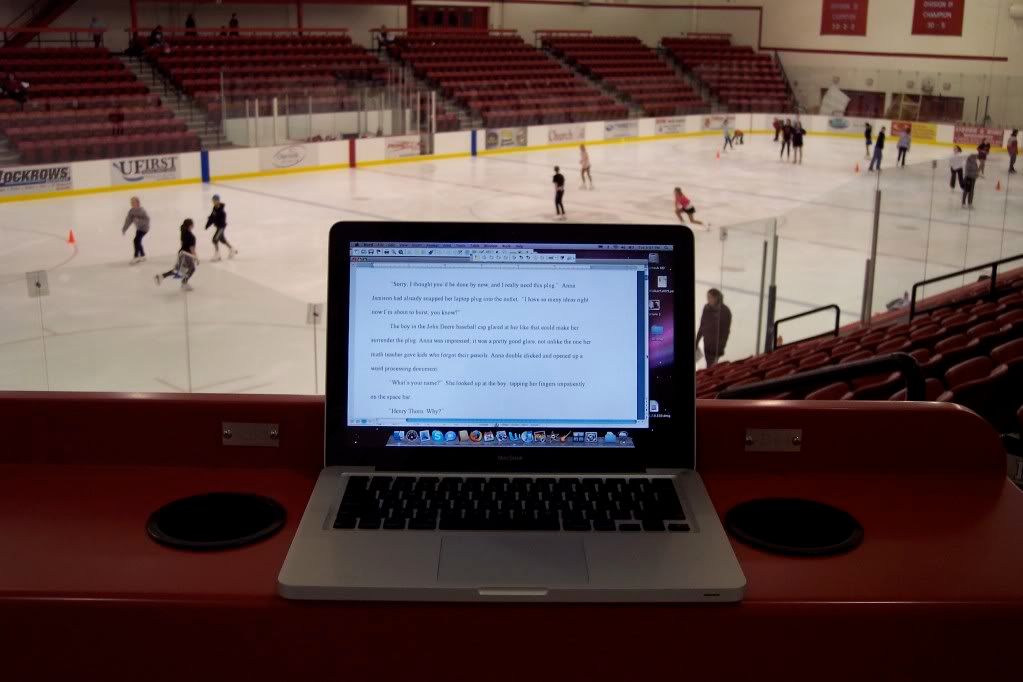 My evening office for the week.
My daughter is in a figure skating show on Saturday, with four-hour rehearsals scheduled every night until then. If you're looking for me, I'll be the one in the bleachers, tapping my foot to the "Grease" soundtrack and my fingers on the keyboard.