Sunday at NCTE started bright and early with a morning run, which…left a little to be desired. When I got down to the hotel lobby in my running clothes and asked about trails nearby, the hotel person said, "Yes, we have a running path. You can run on the boardwalk around the lake."
I looked out the window. The lake was more of a pond. "How far is that path?"
".8 miles," she said.
"Is there a longer route around anywhere?"
"Sure," she said. "You can run around the lake several times."
So I did. And I learned that Disney begins pumping "It's a Small World" music out of all the bushes at full blast at 7am. This may scar me for life. That and Mickey Mouse's face imprinted on every bar of soap, which sounds cute but is actually creepy when you notice it in the shower.
Then it was time for the Scholastic Literary Brunch, where I found my name tag at a table a few seats away from the delightful Kirby Larson, whom I'd met at a different conference last year. "Kate," she said, gesturing to another woman a couple seats over from me. "do you know Lois Lowry?"
I am pretty sure some actual squeaks came out of my mouth before I was able to articulate that we hadn't met, but that as a teacher, reader, and mom, I know and love her books very well. Here are some photos from the brunch.
Kirby Larson and Lois Lowry both read from their new DEAR AMERICA books with Scholastic; both sound like amazing additions to the series, which is being re-released.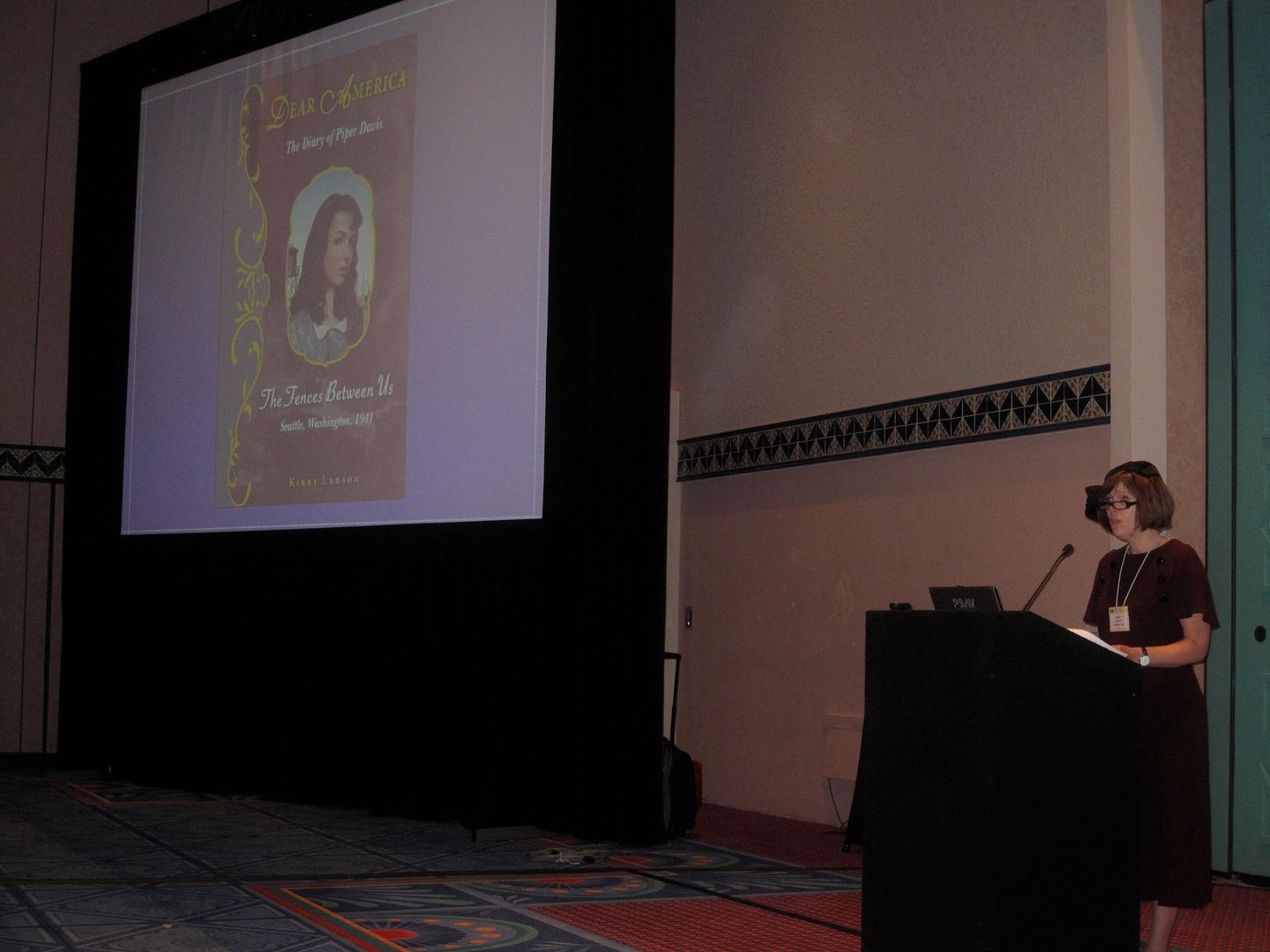 Kirby is wearing a 40s-inspired outfit to go along with THE DIARY OF PIPER DAVIS, which takes place in a Washington community during the internment of Japanese Americans during World War II.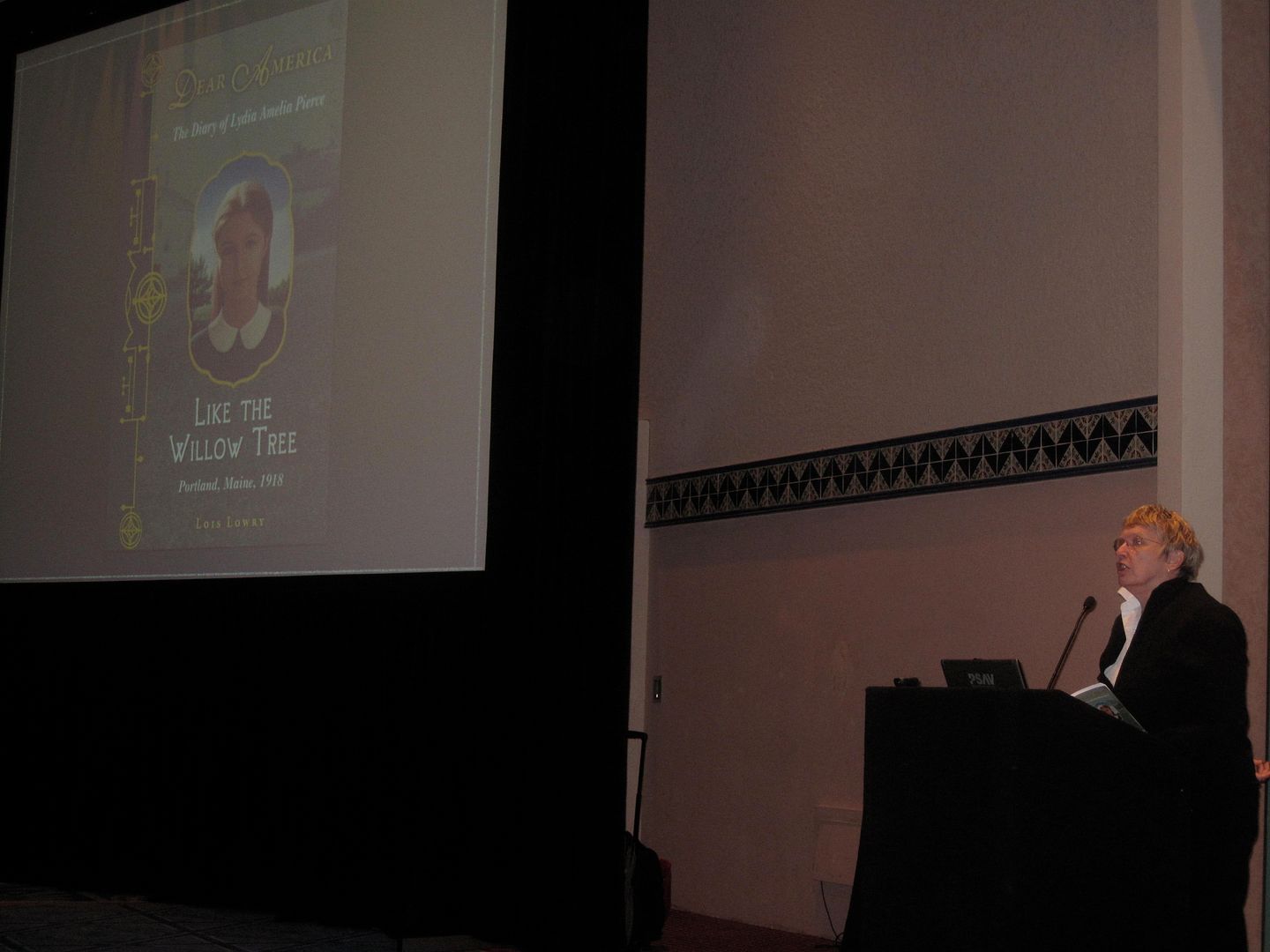 And Lois Lowry's THE DIARY OF LYDIA AMELIA PIERCE takes place during the 1918 influenza pandemic. I'm a huge fan of well-written historical fiction and just loved both of their readings.
Lisa Yee was up next…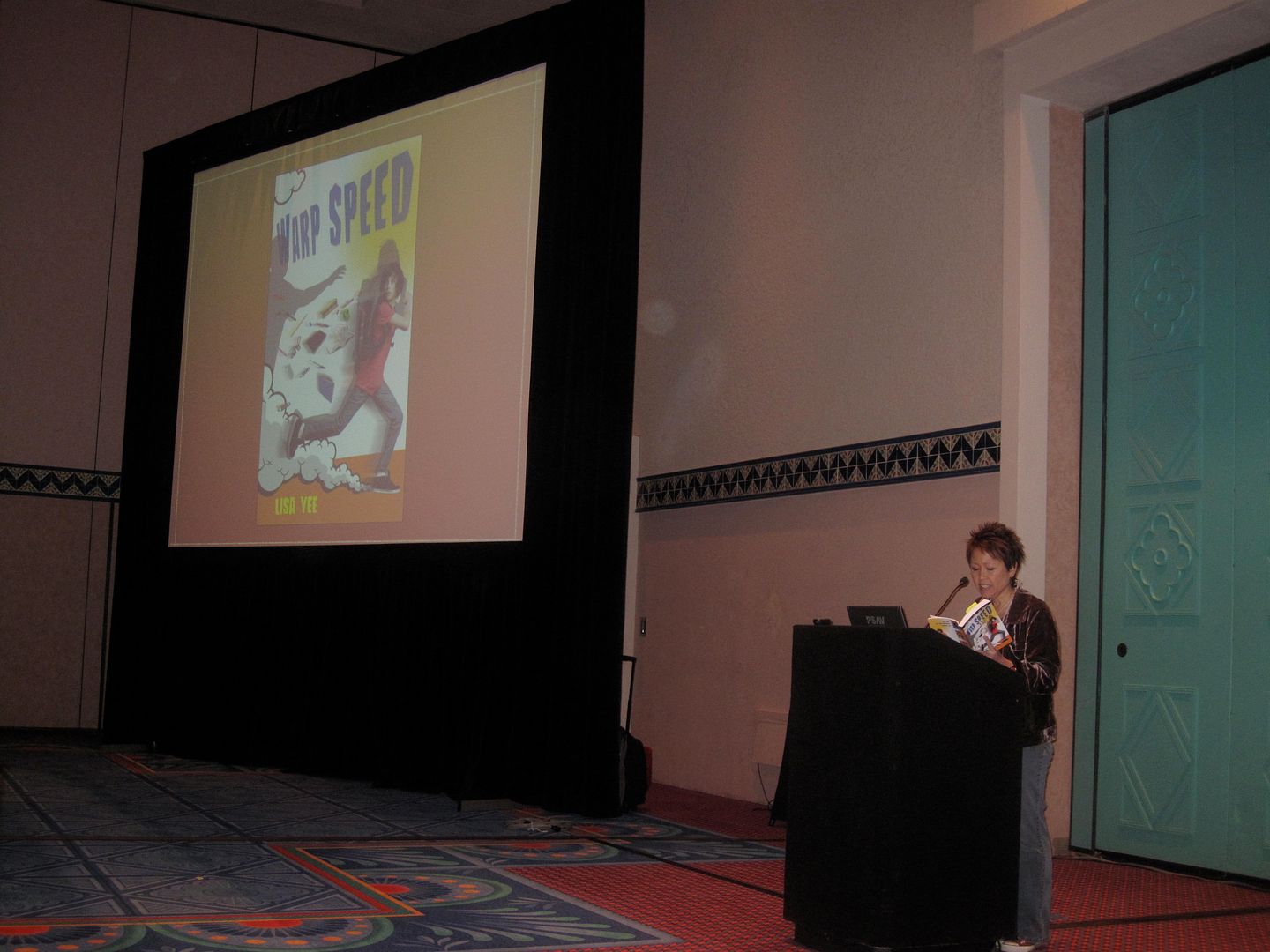 …reading from her upcoming middle grade novel WARP SPEED, which sounds funny and poignant. She read a passage that made me cry. Look for this one in March!
And here's Derrick Barnes, reading from WE COULD BE BROTHERS. He told us that he started writing this as a book for African American boys, but it turned into so much more — a novel about social responsibility and brotherhood. His reading was stunning, and I can already think of four or five kids in my class who are going to love this book.
Pam Munoz Ryan read from THE DREAMER and also shared a bit from her charming upcoming picture book, TONY BALONEY, about a young penguin who's the persecuted middle child in his family. She showed us some of the adorable illustrations by Edwin Fotheringham, and as I am easily distracted by shiny things, I completely forgot to take a picture. But the book looks funny and wonderful.
Sunday afternoon, I attended a fantastic session on reading workshop in the classroom with Franki Sibberson, Aimee Buckner, Mary Lee Hahn, and Donalyn Miller. Hahn talked about trusting the phases of reading workshop (and trusting your students), something that I am still thinking about and probably need to put in its own blog post one of these days.
Miller, who is the author of THE BOOK WHISPERER, one of my favorite books about teaching in a way that promotes reading, had great things to say about helping kids to plan their reading. She asked the audience, "How many of you know what you're going to read next?" Almost every hand went up, and Miller talked about how she encourages her students to plan their reading so there's no lull for them in between books — such a powerful idea when it comes to building lifelong literacy.
Aimee Buckner shared a Post-It note strategy she uses with readers in her classroom (and if you know me, you know that I was bouncing in my seat by then because I LOVE sticky notes so much I should buy stock in the Post-It company.) Students write notes while they're reading and then sort them later on — into ideas they want to think about more, ideas for writing, and ideas that no longer make sense and can be tossed out. I loved this strategy, since I often have students mark passages with sticky notes, but then I never know quite what to do with all those slips of colorful paper after our discussions. Mostly they end up on the floor and sticking to my shoes later on. So thanks, Aimee!
I couldn't stay for all of Sibberson's talk, but Elizabeth Rich posted a great overview on Teaching Now, her Education Week blog.
Lest you think the conference was all work and no play, I did take time out for a rather spectacular hot fudge sundae with my Bloomsbury publishing sister, Jackie Dolamore, who wrote MAGIC UNDER GLASS and the forthcoming BETWEEN THE SEA AND SKY (with mermaids!). Here's a picture of Jackie and me at the Middle Mosaic.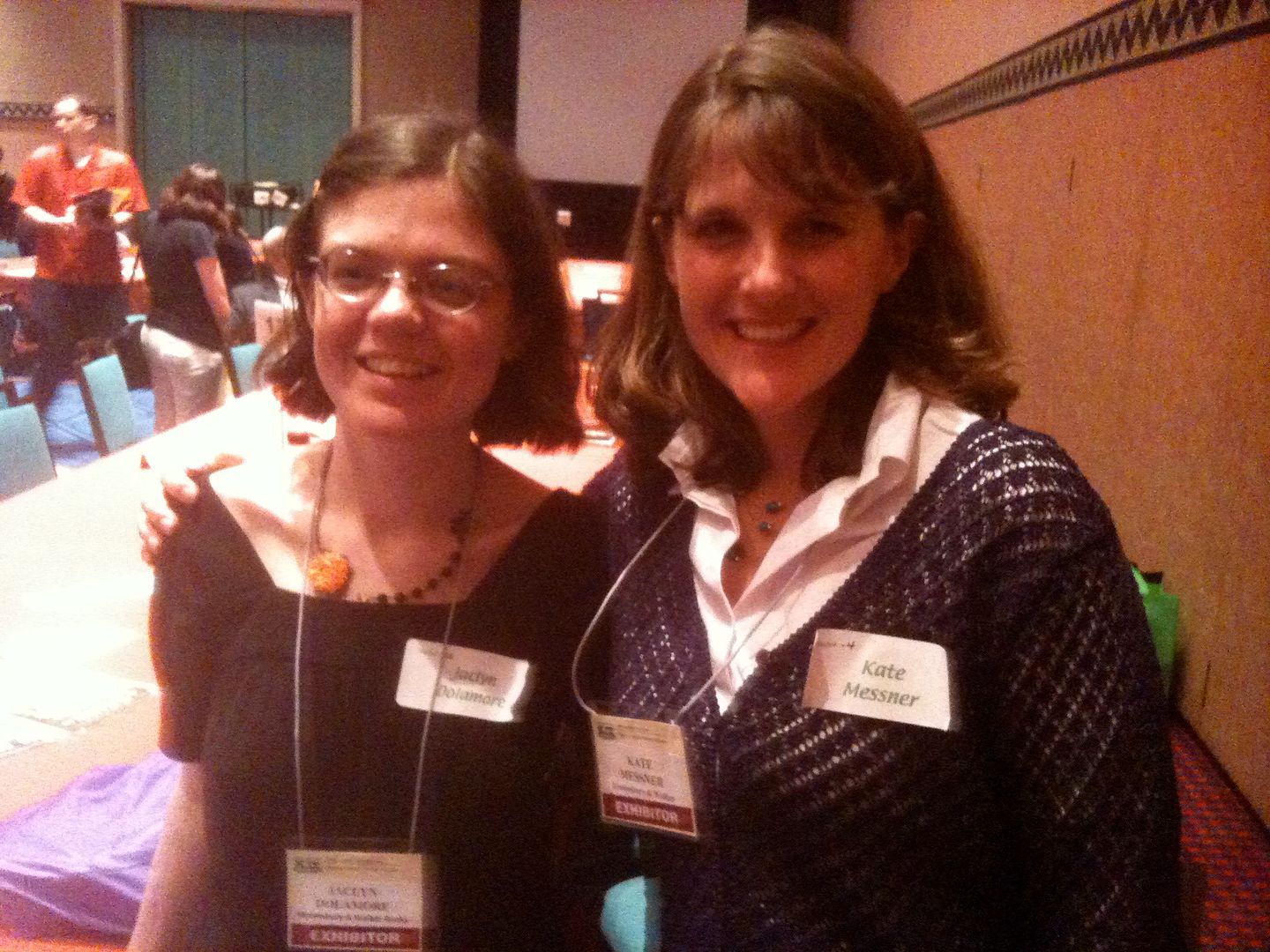 My Twitter-teacher-friend Jennifer Ansbach (@jenansbach) came to the Middle Mosaic, too! She told me she was already back at her hotel, but when someone tweeted that I was at the Mosaic, she hopped back on the shuttle to come say hi. (Thanks, Jennifer!)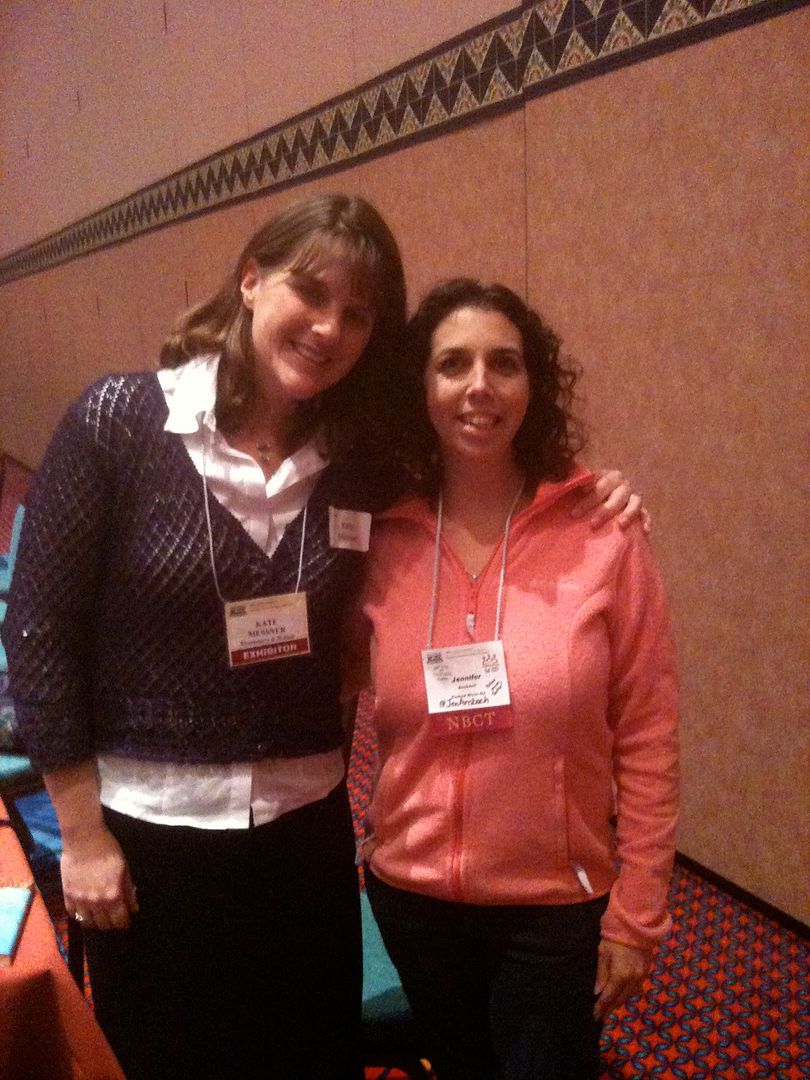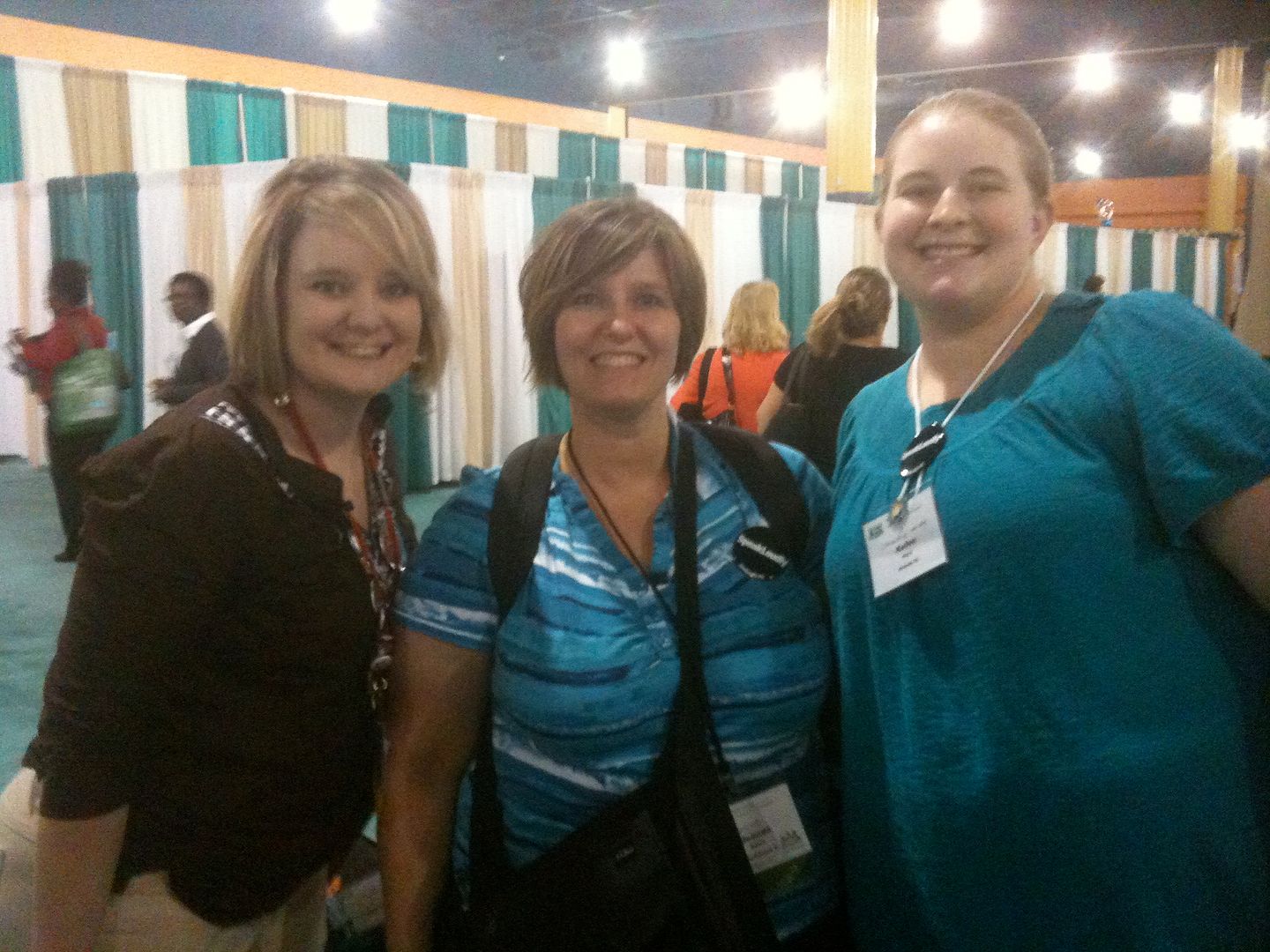 More Twitter-teacher friends who came by the Bloomsbury/Walker booth – @jenniesmith @mindi_r & @kelleemoye. Anyone who doesn't believe in the power of social media to connect like-minded people has never been hugged by a Twitter friend in the middle of a busy convention floor. It was great to meet so many online friends in person! I wish I'd been able to snap pictures of them all. (Great to see you, too, @RdngTeach!)
Sunday evening brought the ALAN cocktail party, where authors & teachers got a chance to meet before the Monday-Tuesday conference.
I met Gary Paulsen. (Gary Paulsen!!!!)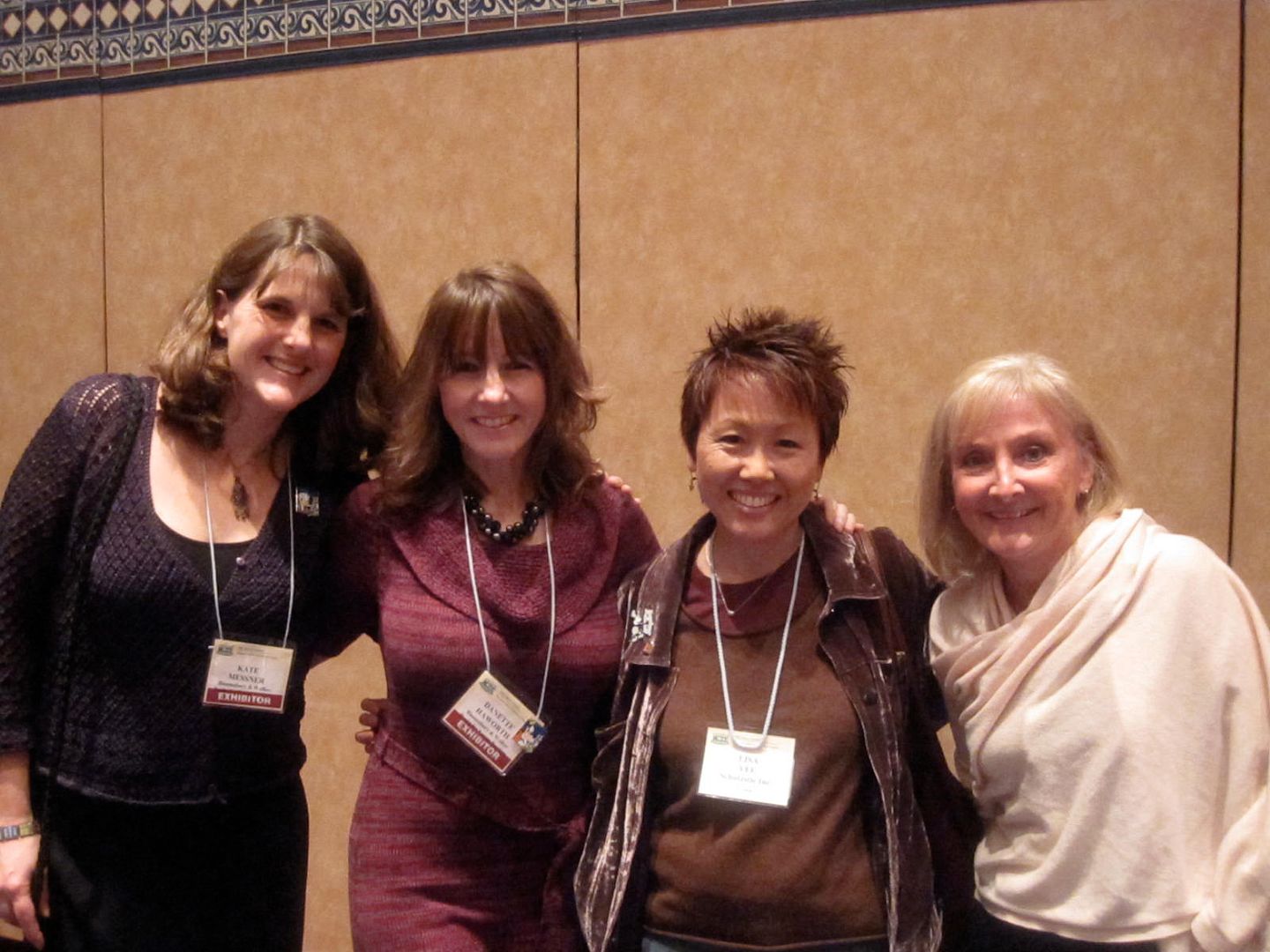 That's me, Danette Haworth, Lisa Yee, and Ann Angel.
And here is Lisa on a chair, taking a picture of Peepy with the ALAN crew.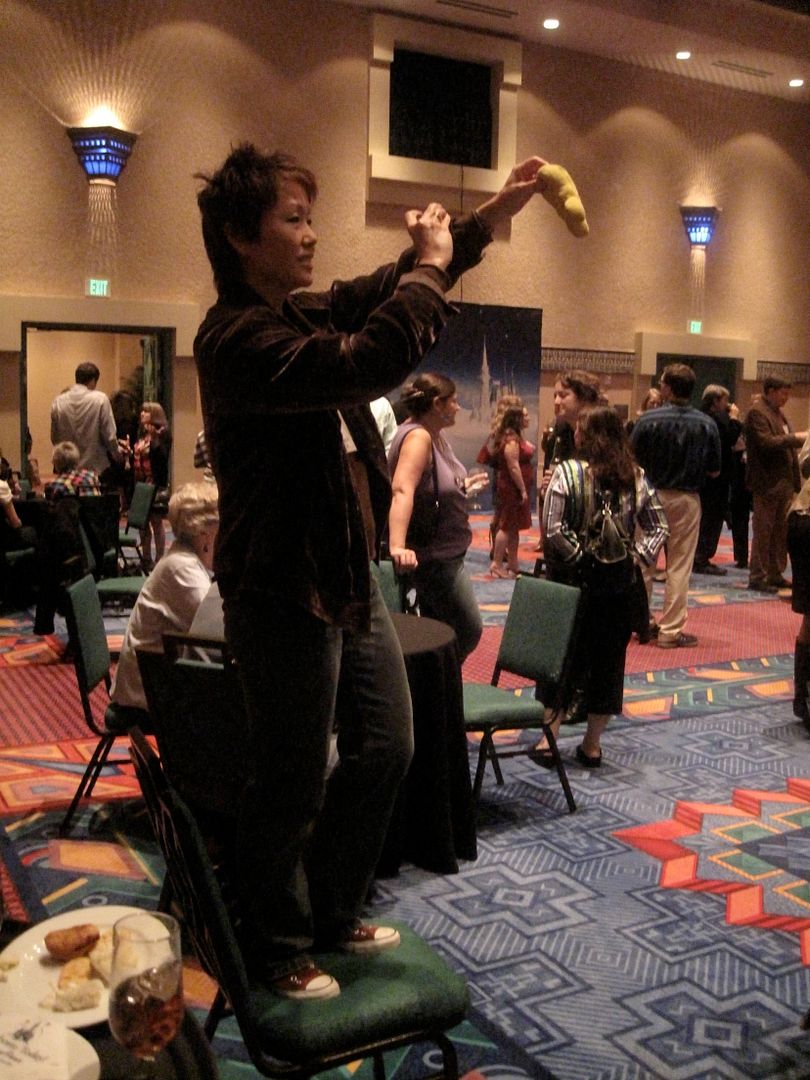 Lisa also posted a bazillion photos from NCTE/ALAN on her blog. She asked everyone to balance Peepy on their heads. I saw this happen a dozen or more times and was amazed that no one questioned or even hesitated. We all dutifully and carefully balanced her stuffed Easter candy on our heads and posed for photos. I think this speaks to the power of Lisa's charisma, and it makes me hope that she only uses her powers for good because seriously…imagine if she wanted to take over the world or something. Everyone would just say, "Okay!" and balance Peeps on their head, and follow her. Check out her blog…you'll see what I mean.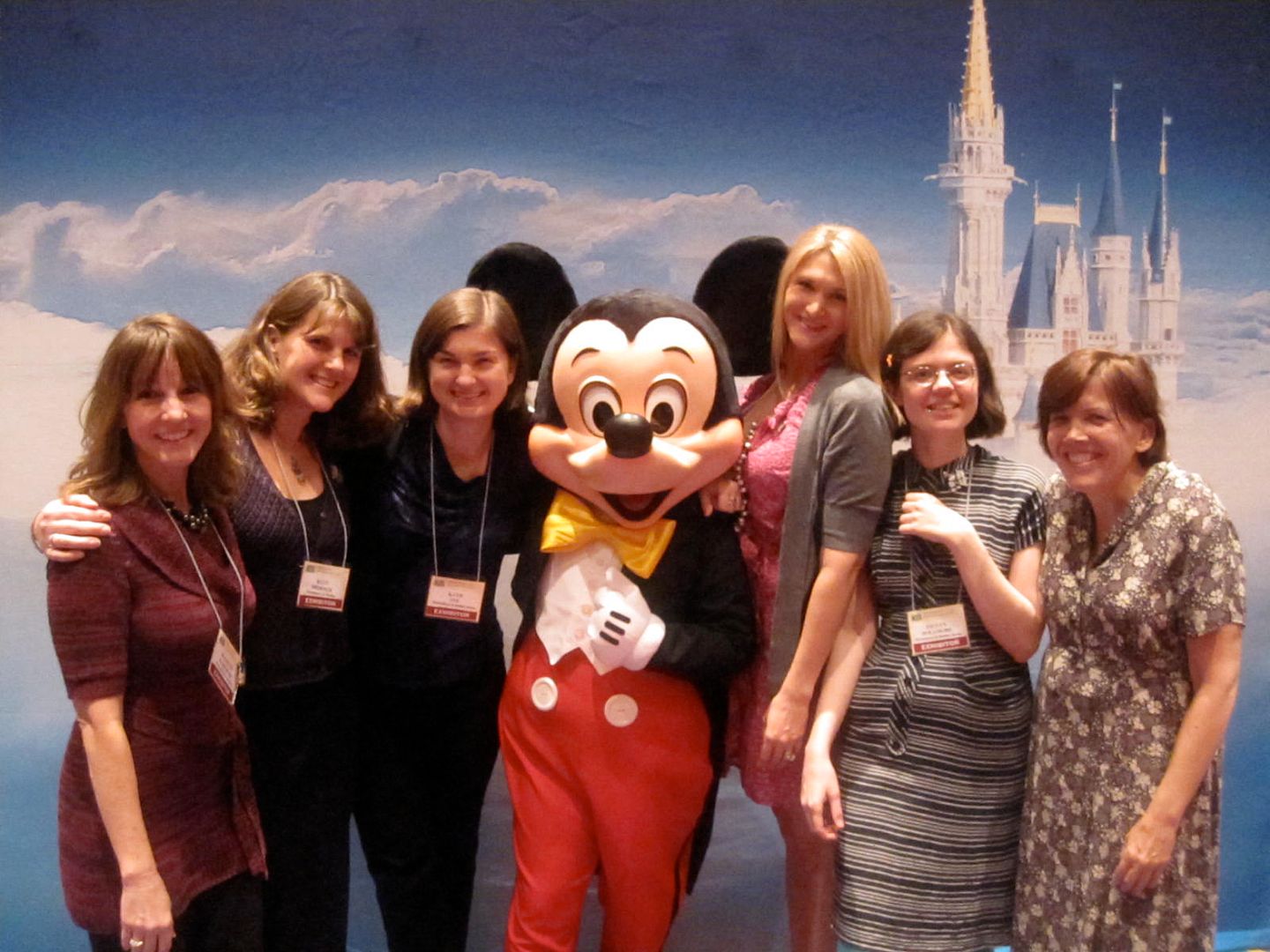 Here's the whole Walker/Bloomsbury crew with Mickey at the ALAN reception. From left to right, you'll see Danette Haworth, me, Katie Fee, the mouse, Jessica Warman, Jackie Dolamore, and Beth Eller. (Note that Jackie and I strategically placed ourselves a bit away from Mickey, as we had recently discussed the whole Mickey-on-the-soap creepiness.)
Monday morning, I sat in on the ALAN sessions & got to hear great authors like Rebecca Stead, David Levithan, Rachel Cohn, and Darren Shan, and that afternoon, I presented a breakout panel on helping young writers discover their voices, along with David Macinnis Gill, Jo Knowles, and Chris Crowe. Here's David, our fearless leader, getting ready for the workshop.
Here are my fantastic panel-mates…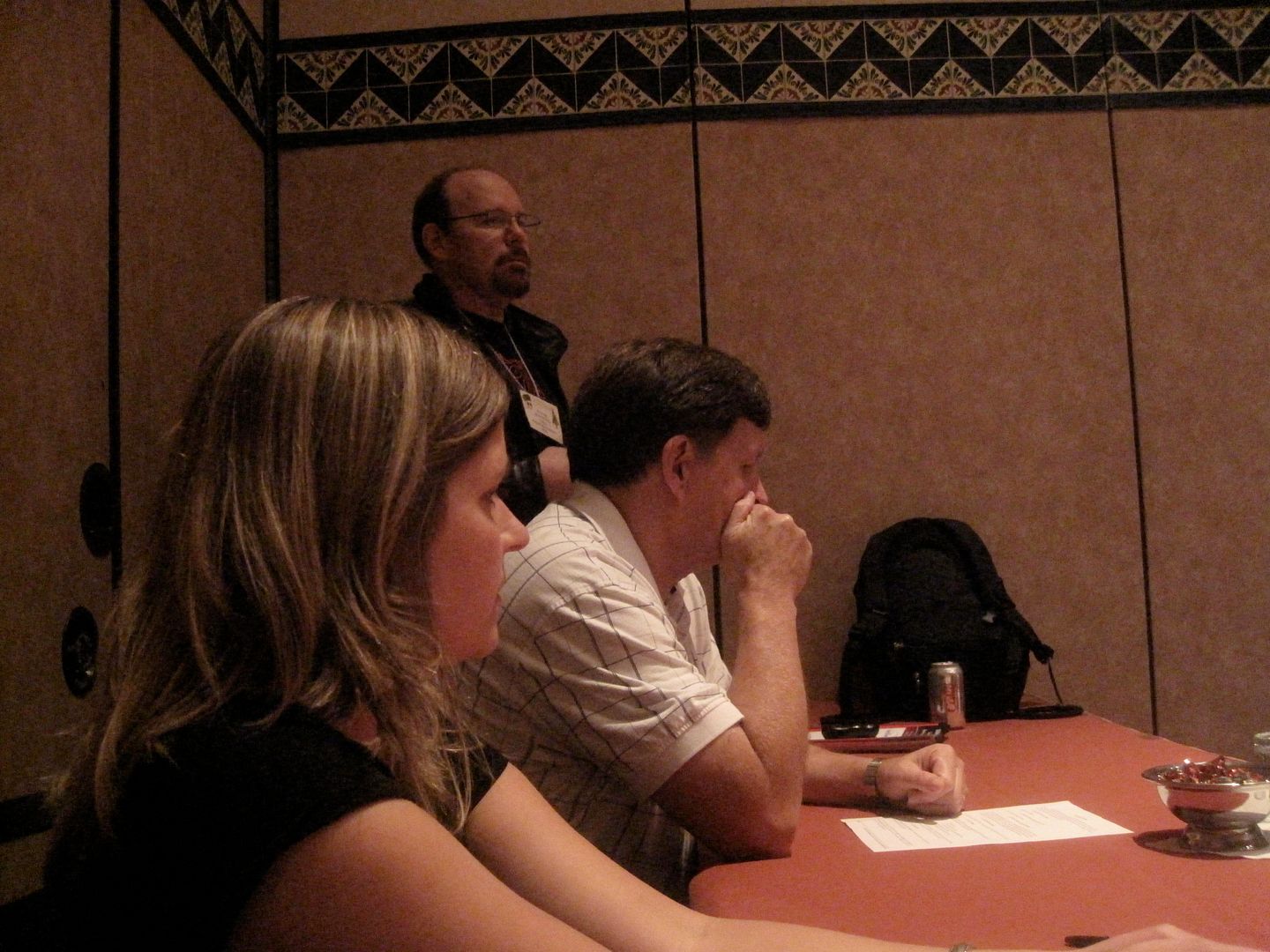 …and our fantastic audience. It was so nice to see 's face in the front row!
The panel went well, and I was thankful I spoke first so I could relax & learn from Jo, David, and Chris, all of whom shared great ideas that I'll be able to use in my classroom after the Thanksgiving break. After our panel, it was off to the airport (after a quick stop at FedEx to ship books home for my students. (Total cost of shipping? $78.49. But when my kids see those books Monday morning, the looks on their faces will be priceless.) And look what I saw on the way to the airport!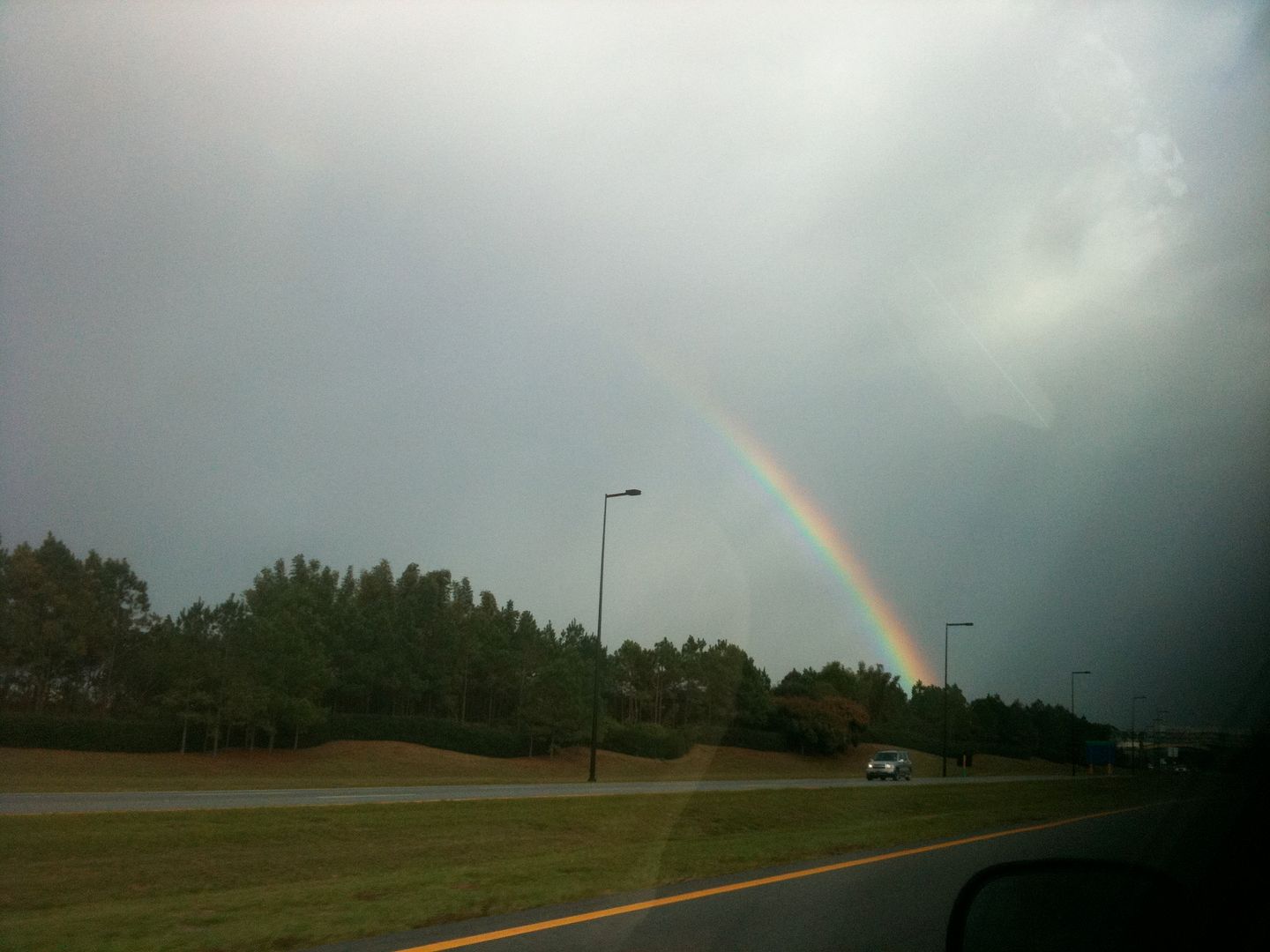 It actually turned into a much bigger double rainbow a few minutes later – just gorgeous! Then it was time to say goodbye to Orlando and head home to get ready for Thanksgiving. Thanks so much to everyone I met at NCTE/ALAN – old friends and new ones made the weekend so, so special. Hope everyone has a GREAT holiday!