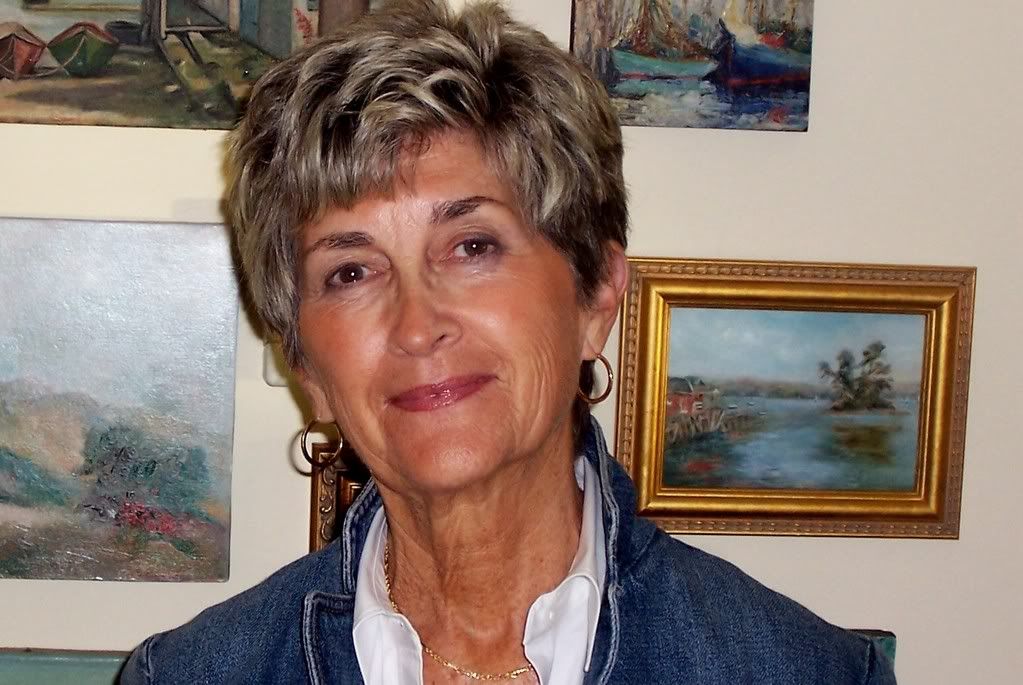 When people see the cover of Spitfire, their first question is often, "Who did the painting?"
My answer always comes along with an ear-to-ear grin. "My mom." In the credits, she's Gail Smith Schirmer.
Then people who know a thing or two about publishing ask, "How did that happen?" That's because usually, an author has very little say over what shows up on the cover of his or her book. In this case, I let my editor know early on that my mom was an artist and would be happy to do a painting for the cover. The people at North Country Books, who are very nice and patient , said okay…they'd take a look but they usually handled that on their own, so there were no guarantees.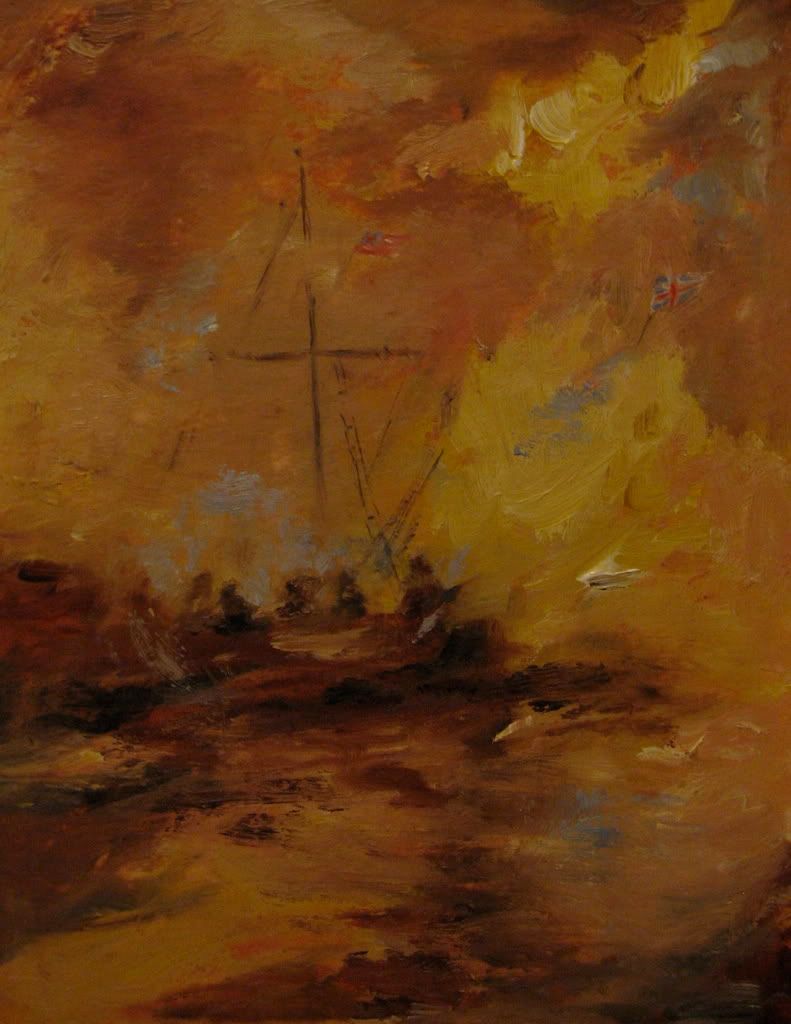 We sent a photo of this oil painting my mom had done of the battle scene in the book.
Patient publisher/editor man said, "That's a beautiful painting, but…"
Too abstract for a children's book. Too dark and foreboding. They decided they'd go in another direction.


Mom decided she'd try again, went back to her studio, and did another painting — a little less abstract and a lot brighter. The folks at North Country Books loved it, and so do I. It's the cover you see on the book today.
Mom laughed when I asked if I could interview her on my blog, but ever the good sport, she answered my questions anyway…


When your first painting was turned down, did you have second thoughts about whether you wanted to try again?

Yes, I did. This is a new field for me – a cover of a novel, particularly a children's novel – was something I'd n ever done before, and I wasn't sure how to approach it so that it would be fitting for a middle grade book cover and still reflect my personal style.
So how did you balance those two things?

I thought about the way I taught middle grade students when I was an art teacher. I always exposed my students to the masters. I met students on their level and encouraged them to reach higher.
So, I painted the battle as I pictured it, including Valcour Island in the painting but also considering the mandates for a children's book cover. I started out trying to make it appealing to children, and then I kind of put that in the background and made it a work of art, because I know that children can appreciate good art. It didn't have to be childlike to appeal to them.
When we showed it to my eleven-year old grandson for some feedback, he said he couldn't make out the American flag, and that was important. He was right. We needed to know that was an American gunboat. So I went back and fine-tuned the flag, making it sure it showed up and was historically accurate.
You read the manuscript more than once before tackling the cover painting. How did that influence your work?
It definitely influenced my work. I had to have the feeling of being there – the feeling of the battle, the feeling the children had and how they perceived it – how explosive and frightening it must have been. I had to be there.
You taught art to elementary school students for 25 years before retiring and really making way for your own painting. What was it like to start?
I was excited. I loved every minute of my teaching career, but when you teach, you don't often have time to create paintings for pleasure. I had an art teacher in college who said, "If you want to paint, don't teach because there won't be time for yourself." I wanted to teach, so I didn't paint for myself until I stopped that. For me, it takes total immersion.

And back then, you were busy helping the four of us with science projects and making jester costumes and wiping noses….
Right!
Even now, it's a balancing act sometimes, but I'm fortunate to have an amazing, supportive husband who lets me paint, fixes dinner, takes care of framing, and so much more. He lets me be me.
How about the fact that your painting is on thousands of book covers, bookmarks, and even some temporary tattoos now?

It's just really cool. It was an extremely exciting moment when I held the book for the first time. It had come full circle, and the painting was where it belonged. It's just been a trip – an amazing trip.
You and I have talked about how the creative process – whether it's writing or painting – requires special time and space. Can you describe your creative space?
My studio is very small, but looks out over Canandaigua Lake and has wonderful northern light. It's tiny, but it's really all the space that I need. I usually have three or four paintings going at once. And I have my music.

Which is…?
Which is usually, depending on my mood, opera or New Age.

What are you working on now?
I just completed some smaller paintings for a show called "Small Works…Small Wonders" at the Pat Rini Rohrer Gallery in Canandaigua. I had a dozen pieces in that show – a few have already sold – but the rest will be on display at the gallery from now through November 3rd.
One more question… Umm…. are you going make your chocolate chip cookies for this weekend?
I'm either going to make small ginger snaps or go to Wegmans and pick up something fancy that will look nice on the tables…
No, no… I don't mean for the gallery reception!
Oh, for you guys? Oh sure! Maybe an apple pie, too.
Thanks, Mom…
Here are a few other selected works of Gail Smith Schirmer (aka Mom).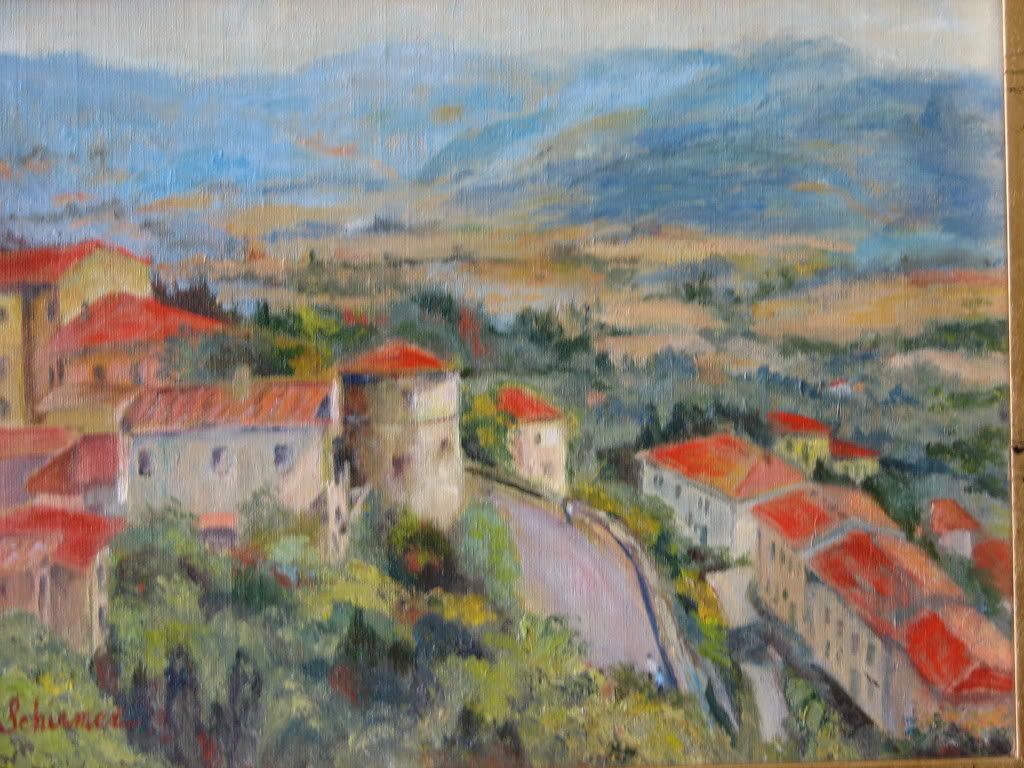 You can visit her LJ
, to see more.
Mom and I will be signing books at two Western NY events this Saturday, October 6, and if you live in that area, we'd love it if you'd stop by and say hello.
Lee Whedon Memorial Library, Medina, NY
Presentation for Kids & Families
11:00-12:00
Pat Rini Rohrer Gallery, South Main St. Canandaigua, NY
Book Signing, Display of the Spitfire cover painting, & Reception
3:00 – 5:00
And now that I've objectively asked all my questions and provided all my dates and times…
Let me just say that I'm posting this in time for Thankful Thursday for a reason. My mom is a warm, talented woman and a spitfire in the very finest sense of the word. I can't imagine a gift better than sitting next to her this weekend, signing books full of my words, with her painting on the cover.