Last spring, I was in line at my local coffee shop when my cell phone rang. It was Anamika, the editor of my MARTY MCGUIRE chapter book series with Scholastic, and when I answered, she had three words for me.
"He said yes!"
I screamed. And the whole coffee shop turned. One lady startled and spilled her tea. I apologized profusely, finished talking with Anamika, picked up my latte, and proceeded to my local SCBWI group meeting feeling as if I'd just swallowed fifteen canaries because I couldn't tell anybody the news about the project's illustrator just yet.
But now I can. You probably already know him…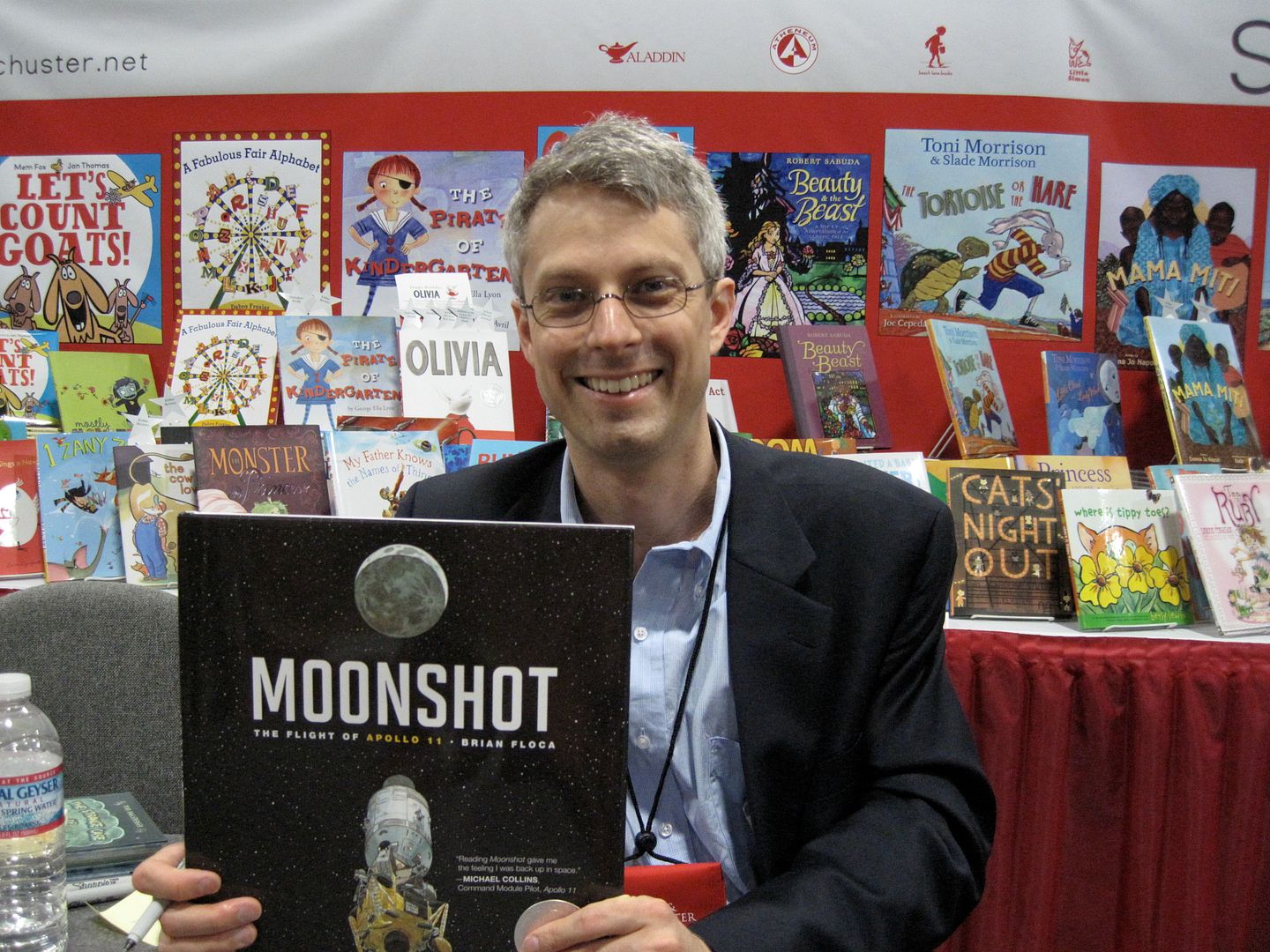 It's Brian Floca, the author/illustrator of Sibert Honor books MOONSHOT and LIGHTSHIP and the illustrator of this year's incredible BALLET FOR MARTHA: MAKING APPALACHIAN SPRING, which I just bought last week at Flying Pig Books, and it's absolutely stunning. I was a fan of Brian's work long before his name rose to the top of our Marty illustrator wish-list, so I am just over-the-moon to share this news.
At one point while I was waiting for news, Editor Anamika emailed me: "He's reading the manuscript this weekend!" I cheered. Then I spent the entire weekend asking my husband, "What page do you think Brian is on now? How about now? Do you think he likes it?"
I am so very glad that he did. MARTY MCGUIRE, the first book in the series, comes out in May 2011.
I took my daughter to Brian's ALA conference signing back in June, introduced myself,and snapped the photo you see up there. I also bought a copy of MOONSHOT for Brian to sign as a giveaway on my blog for the day I was able to share the good news about Marty.
We'll have a drawing next weekend, okay? To enter, just leave a comment by midnight Friday night. If you are under 13, please have an adult enter for you. On Saturday (10/9) I'll draw a name – so be sure I have a way to get in touch with you if you're not on LJ.