I'll be out and about signing books around the Adirondacks this weekend and would love to see you if you're in the Plattsburgh or Glens Falls area.

Plattsburgh – Borders at Champlain Center Mall
Friday, October 2nd – 4-6 pm
Glens Falls – Dog Ate My Homework Bookstore on Glen St.- Joint signing with
!
Saturday, October 3rd – 4-6 pm
I'm particularly excited about this event because I get to hang out with my critique buddy Eric Luper, author of the gritty, action-packed YA novel BUG BOY, set in 1934 Saratoga. The Glens Falls Post Star just ran a feature on our upcoming event with articles about both of our new books.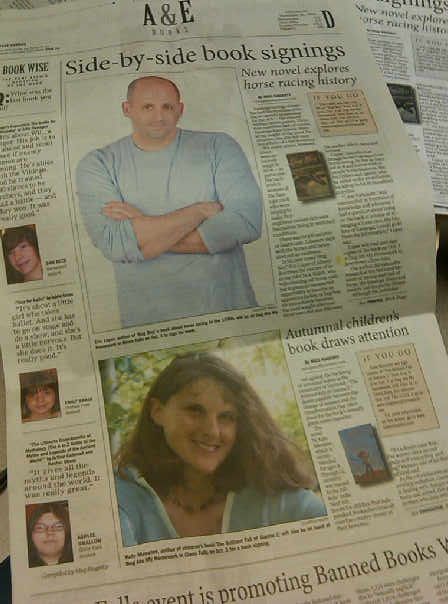 You can read the digital version here (Eric's article) and here (mine).
I love this review of THE BRILLIANT FALL OF GIANNA Z. from The Reading Zone, a blog written by a sixth grade teacher whose ideas I've followed and appreciated for a long time. Reviews from teachers who are sharing my books with readers in their classrooms are extra special to me.
A reminder for teachers, librarians, & book club parents… Have you entered THE BRILLIANT FALL OF GIANNA Z. book club giveaway yet? If not, you can read all about it and enter here. We'll be drawing a winner for a complete GIANNA Z. book club package, including up to twelve copies of the novel, some tree identification guides, bracelets, bookmarks, & more. The deadline is October 15th.
Some more great contests going on in the kidlitosphere right now…
L.K. Madigan is having a photography contest to promote her amazing YA debut FLASH BURNOUT. It's coming out in a month, and it's right up there with some of my favorites. Funny…poignant…and with a great teen voice. Anyway…look for the book at your favorite indie in October, and check out the contest while you wait.

Jo Knowles is having a contest on her blog to celebrate Banned Books Week. Write a haiku about your feelings on censorship and banned books, and you'll be entered to win a signed first edition of Jo's recently challenged (and beautifully written) YA novel LESSONS FROM A DEAD GIRL.
I hope you read whatever you want this week – and celebrate your freedom to do so.