What do you get when you take 75 people who care passionately about writing, illustrating, and editing children's books, put them together for four days, feed them a lot, and build a blazing fire on a cold January night?
Magic.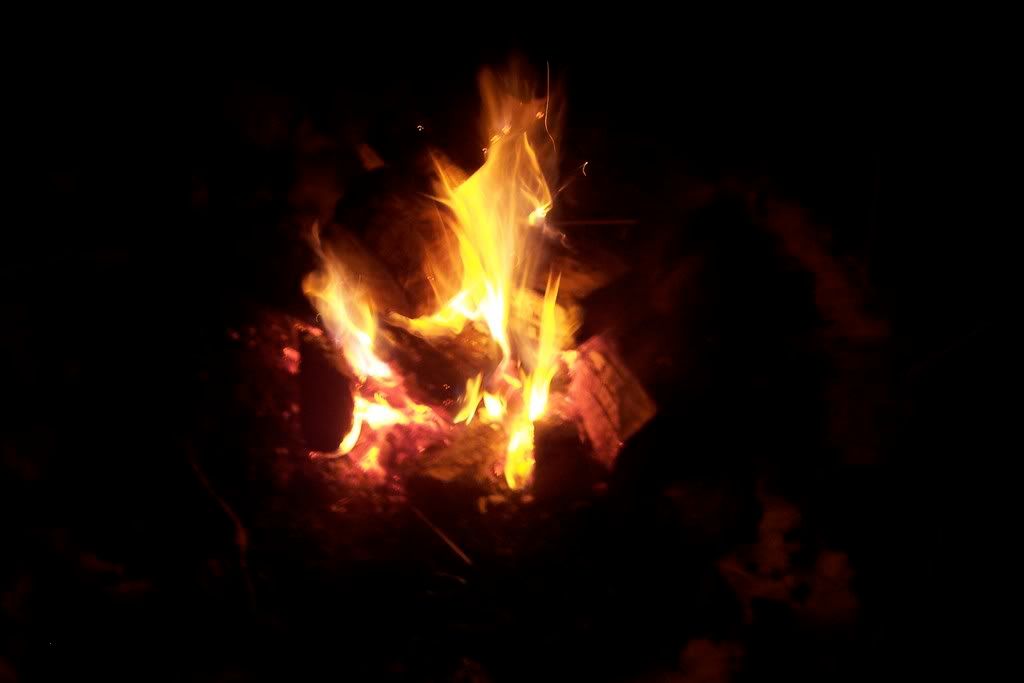 I'm home from Kindling Words, full of inspiration, ideas, new friendships, and rich desserts. Homemade ice cream and pastries aside, this was an amazing weekend.
Laurie Halse Anderson's author strand on character and plot and Linda Sue Park's talk on scene as the bedrock for story were inspirational and immediately practical. When I sat down to write after each session, it felt like Laurie and Linda Sue were there over my shoulder, whispering in my ear, "Remember, make him uncomfortable…" and "Do you really want all that internal monologue?" (Linda-Sue-Over-My-Shoulder thought not, so I cut a lot of it.)
The retreat also left room for informal "white space" discussions, and I had the chance to connect with friends and meet so many amazing, talented writers, illustrators, and editors whose work I've admired for so long.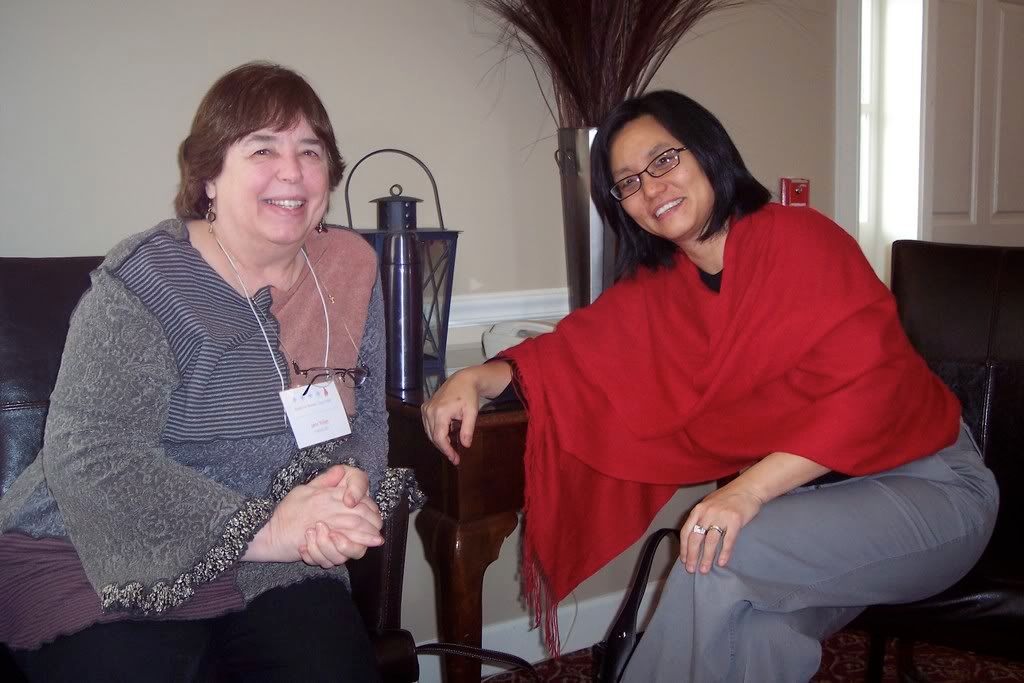 Jane Yolen and Linda Sue Park catching up in the lobby…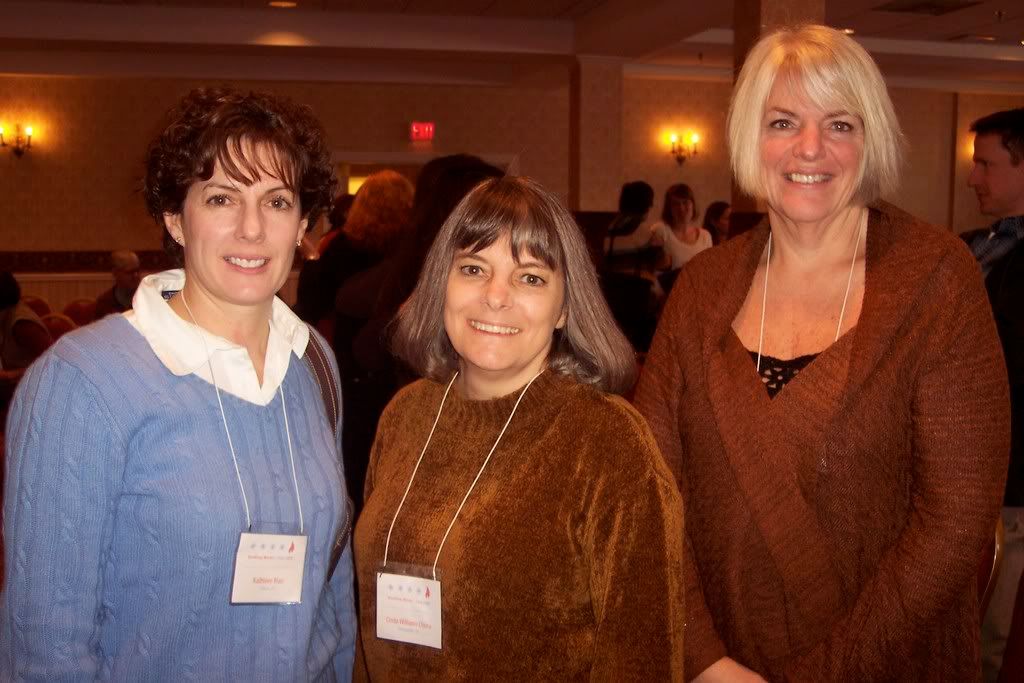 I was thrilled to see Rochester Book Festival pals Kathleen Blasi (left) and Sibby Falk (right), and just as excited to meet Cinda Williams Chima (center), who not only writes but sings beautifully, too.
Hey,
… Look who else I met!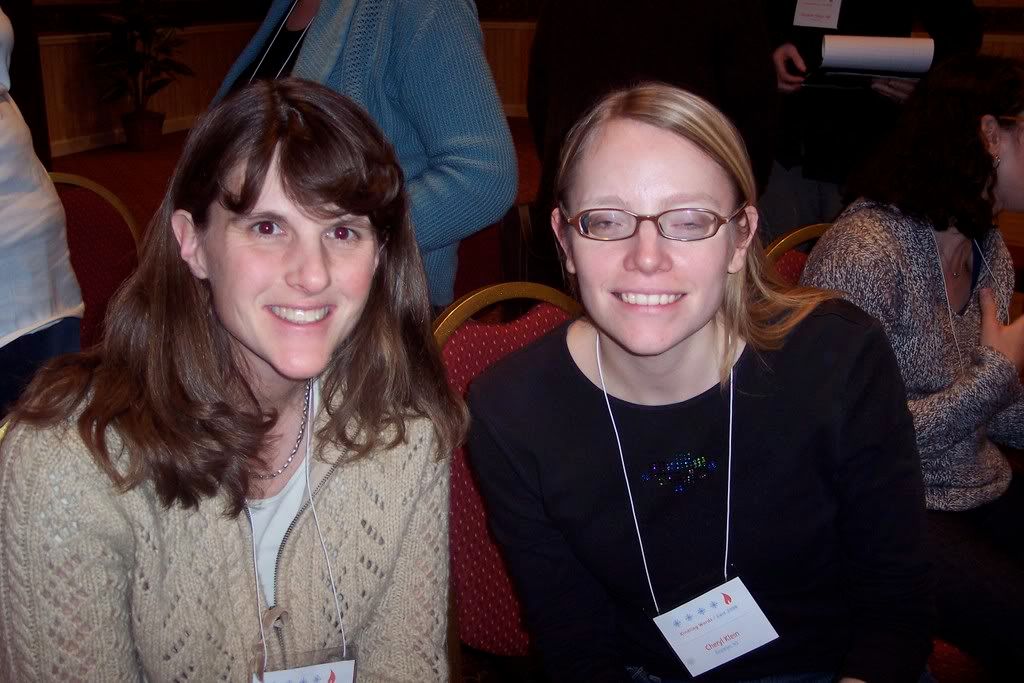 That's me on the left, next to Cheryl Klein, Elizabeth's editor for A Curse Dark As Gold, which comes out in March. I enjoyed chatting with Cheryl because we discussed weighty matters like books and whether chocolate or caramel sauce would be better on the brownie sundaes.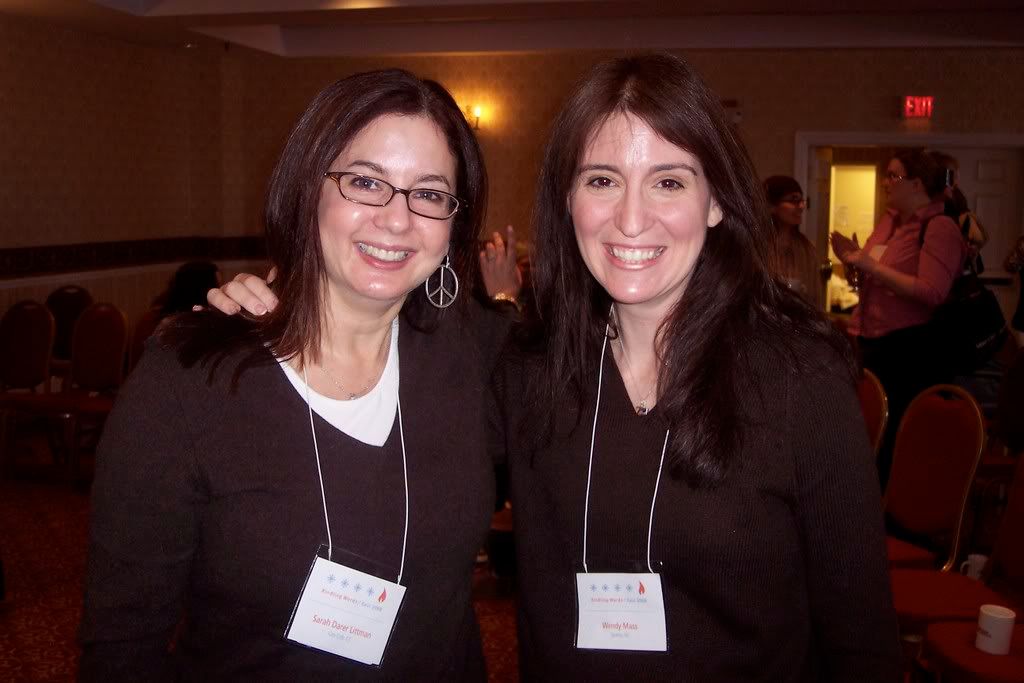 Here's LJ pal Sarah Darer Littman (
) with Wendy Mass…
…along with Laurie Halse Anderson, Linda Sue Park, and Gregory McGuire.
Patricia Thomas (left) celebrated her birthday at KW on Sunday. That's Michelle Edwards in the middle and Janni Lee Simner (
) on the right. Janni's stories about Iceland make me want to book a flight there immediately.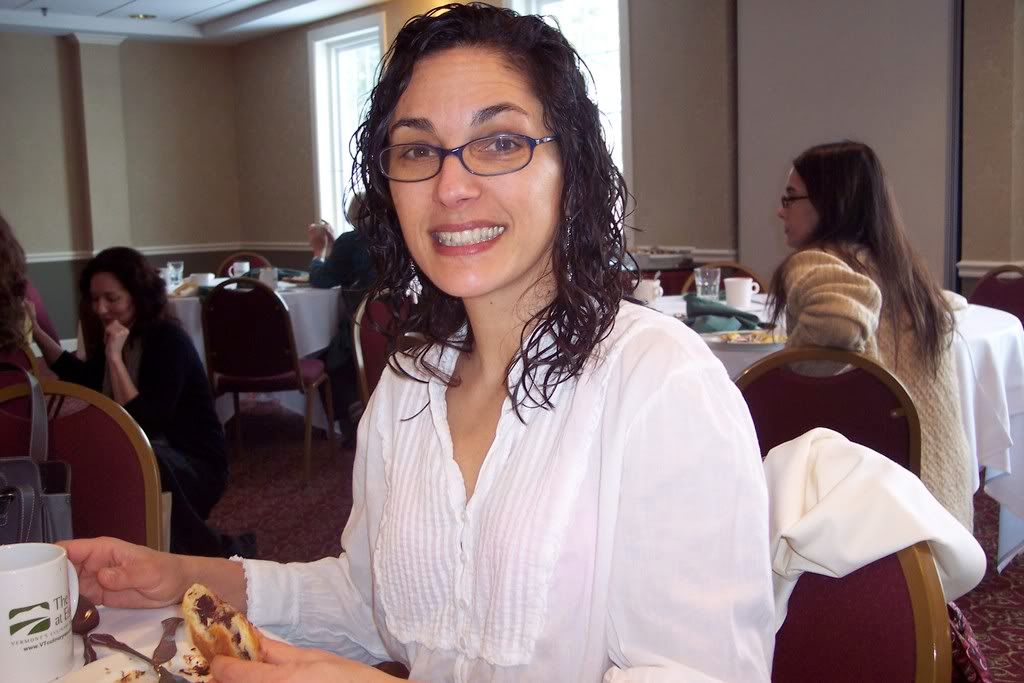 I also met Katie Davis for the first time and was in awe of her energy. I've been called hyperactive. Katie makes me look like I'm standing still.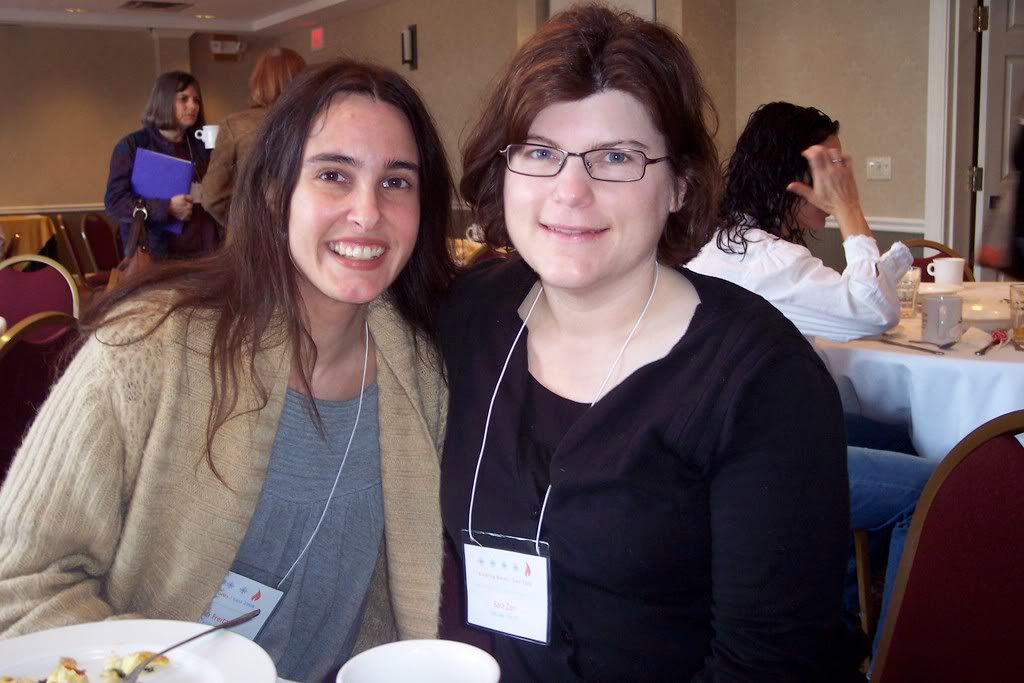 And here's Donna Freitas with Sara Zarr. I emailed Sara back and forth a couple times this month because I'm hosting a stop on her blog tour, but it was just last week that we figured out we were both going to the same retreat. It was fantastic to chat with her in person.
It might sound sappy to say it, but everyone was nice here. And interesting. And talented. Everyone. I wish I had photos of each person whose path crossed mine over the past four days. (If you're a fellow retreater and I didn't catch you before the blog-cam ran out of batteries, please know that I loved meeting you, too!)
Here's a huge group shot from the Kindling Words Caravan at Phoenix Books. More than 40 authors & illustrators signed books for kids and their families Thursday night.
Super thanks to Natacha, Renee, & Mike at Phoenix for taking on this enormous event!
I made one more cold and shaky attempt at a group photo during the actual retreat. (Be gentle with the photography criticism. It was dark and I had climbed onto a big slippery rock.)
Here we are, all bundled up for the traditional KW bonfire. There's a longstanding tradition here that retreat-goers write down something on a piece of paper — something they need to let go of, or a wish — and then drop it into the flames.
On the way to the fire, one author worried aloud about people putting them both in the same fire. What if you wrote the title of your novel on the paper as a wish that it would sell, but the Universe thought you wanted it gone and erased your hard drive while you were off roasting marshmallows? I suggested that the bad things would all filter quietly down into the ashes, while the good things were carried off on the smoke to the writing goddesses. Maybe, she said. Then she labeled her paper WISH, with an arrow pointing to it. Just in case.
Here's my wish on its way to the flames…
I won't tell you what it said, but I'll let you know at the end of 2008 if it came true.
I'll share some other wishes, though — staying in touch with the wonderful people I met this week and returning to fan the flames at Kindling Words again. It was truly a magical gathering of wisdom, wishes, and words.