I spent much of last week traveling, hitting the road to talk with readers, teachers, and librarians about a third grade scientist named Marty McGuire and an optimistic Sea Monster named Ernest on his first day of school.
First up was the Hudson Children's Book Festival on Saturday. This is an amazing festival held each year in Hudson, NY, with thousands of readers and a hundred authors and illustrators. It was also the first event where I had a chance to sign my two newest books, MARTY MCGUIRE, the first in my new chapter book series with Scholastic, and SEA MONSTER'S FIRST DAY, which is a first for me, too…my first picture book with Chronicle Books.
And here was my first customer of the festival.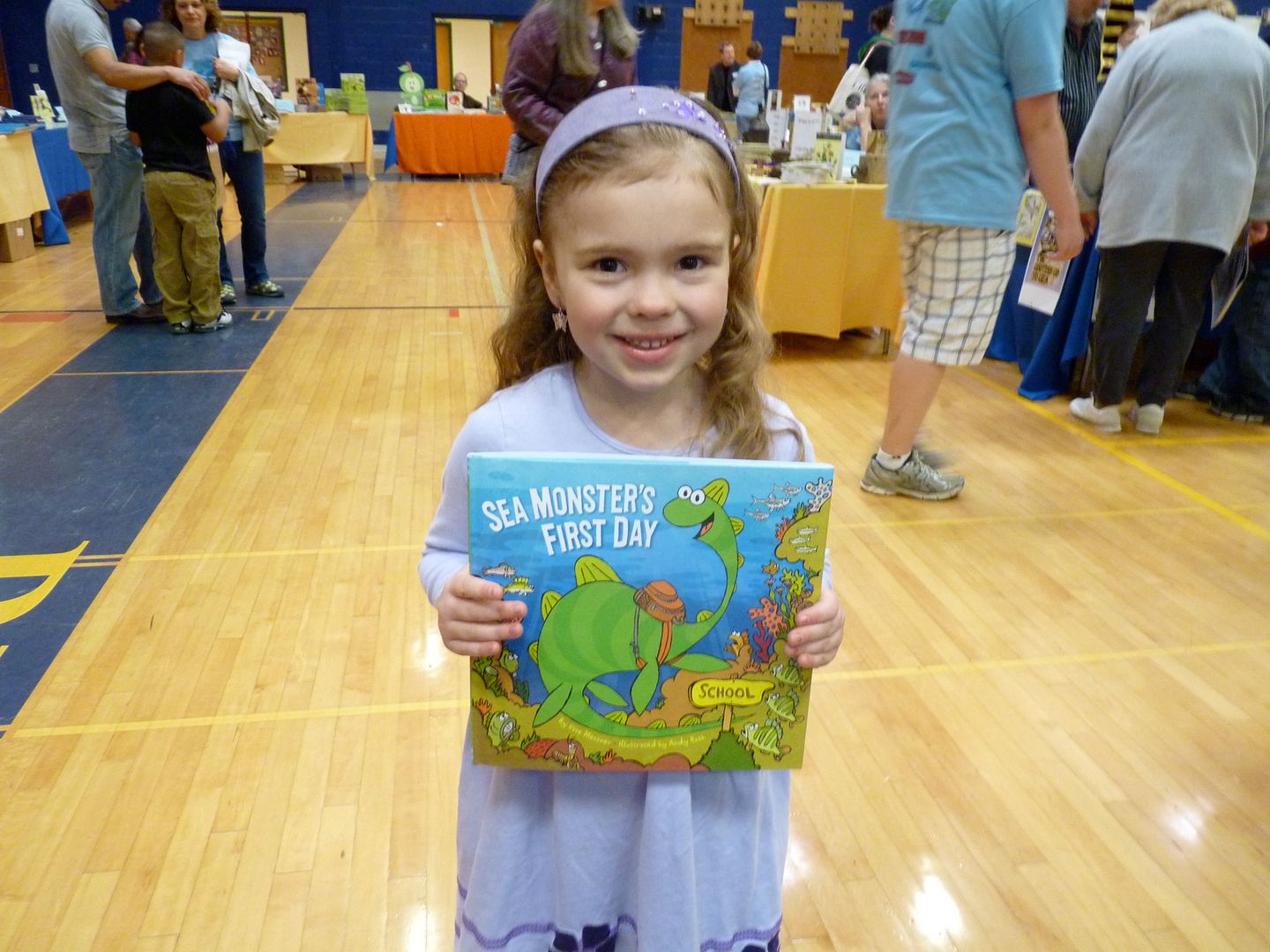 Chloe is five and will start kindergarten in September, so she's the perfect reader for SEA MONSTER'S FIRST DAY.  Her parents gave me permissions to share her photo with her new book, since she's the first to have a signed copy of this one!
I got to spend Sunday at home with my family for Mother's Day, and then Monday morning, it was off to the International Reading Association Annual Convention in Orlando — simply an amazing place to be a reader.
When I checked into my hotel room, my Chronicle editor and publicist had left a surprise for me – a super-early hardcover of OVER AND UNDER THE SNOW, my Fall '11 picture book illustrated by Christopher Silas Neal.
I sat in my room and paged through it three times before I packed up my bag for a signing at Scholastic and then an author/educator dinner with Chronicle.  The other author at the dinner was Lola Schafer, who was so much fun to spend time with because she's kind and funny and smart, and is interested in all the same stuff I am!  We had a great time talking about picture book ideas (when they come and when they don't!) and how much we loooove research. If you haven't seen her awesome (and enormous!) NF picture book JUST ONE BITE, you're missing out.
On Tuesday, I started the day recording a video interview for the Stenhouse Publishers website.  Nate, who was behind the camera, came up with some great questions that made the whole thing easy.  He had quite the impressive studio set up, with lights and reflectors and the whole nine yards – but  made me laugh out loud when we were getting ready to start and he looked around. "I kind of figured you'd have handlers."  Umm…no.
Then it was off to the Stenhouse booth to chat with teachers who came by for a sneak preview of REAL REVISION (which will be out next month!)
I met some great teachers at the Stenhouse booth, including Benetta Caston…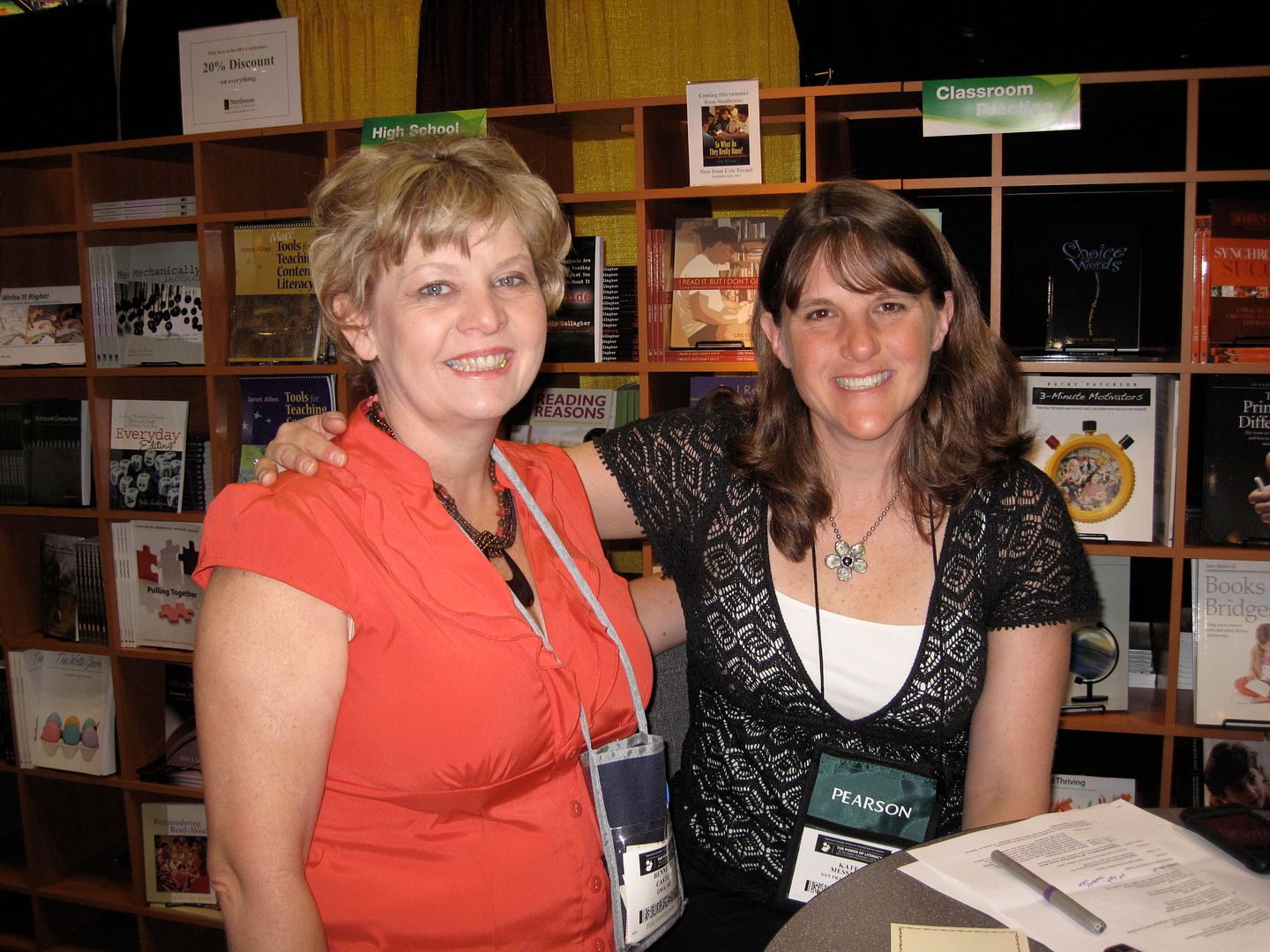 Bennetta came by to tell me how she uses Gianna's snowy-morning run in THE BRILLIANT FALL OF GIANNA Z. to teach her students about word choice. Talk about a story that makes an author-teacher's day!
After my Stenhouse signing, I moderated an author panel on Engaging Readers K-5, along with Laurie Friedman, Gail Carson Levine, Ethan Long, and Kristin Clark Venuti.  We all shared a favorite classroom strategy for getting kids motivated to read and write. I talked about my Skype visit/writing workshops and three-column story brainstorming. Laurie talked about the lists & journals in her Mallory books.  Ethan shared the live sketching activity he does when he visits schools; he invites kids to list a person, a place, and a problem – and then he draws and talks the kids through the creation of a story.  The piece he drew on our Mac camera involved a Ninja in the shower who got locked in somehow. (Don't worry…the Ninja was fully clothed in Ninja gear…)  Gail talked about the writing workshop she runs at her local library for kids in Brewster, NY, and I was immediately jealous of all those kids!  And Kristin wrapped things up for us with a song about onomatopoeia (she is a darn good ukelele player!)
Then it was time to sign SEA MONSTER'S FIRST DAY at the Chronicle Booth.  It was so much fun for me to hear about Addison and Mose and Alexander and all the other young readers who would be getting the books when someone got home from the conference!  Here's my editor, Melissa Manlove, with our Sea Monster!
Another highlight… I finally got to meet Laurel Snyder and Christina Diaz Gonzalez, online author friends whose work I've admired for a long time.  They are even lovelier and nicer and funnier in real life than on Twitter. I love when that happens!
Christina (left) & Laurel (right) threatening to run off from the Chronicle Booth with the one copy of my fall book that was on display.
Then it was off to the Walker/Bloomsbury booth to sign SUGAR AND ICE, and finally one last hour at Anderson's Bookshop. Tuesday evening's dinner was with the Walker/Bloomsbury crew and some amazing teachers.  Here we are with our books, after consuming vast amounts of really pretty food.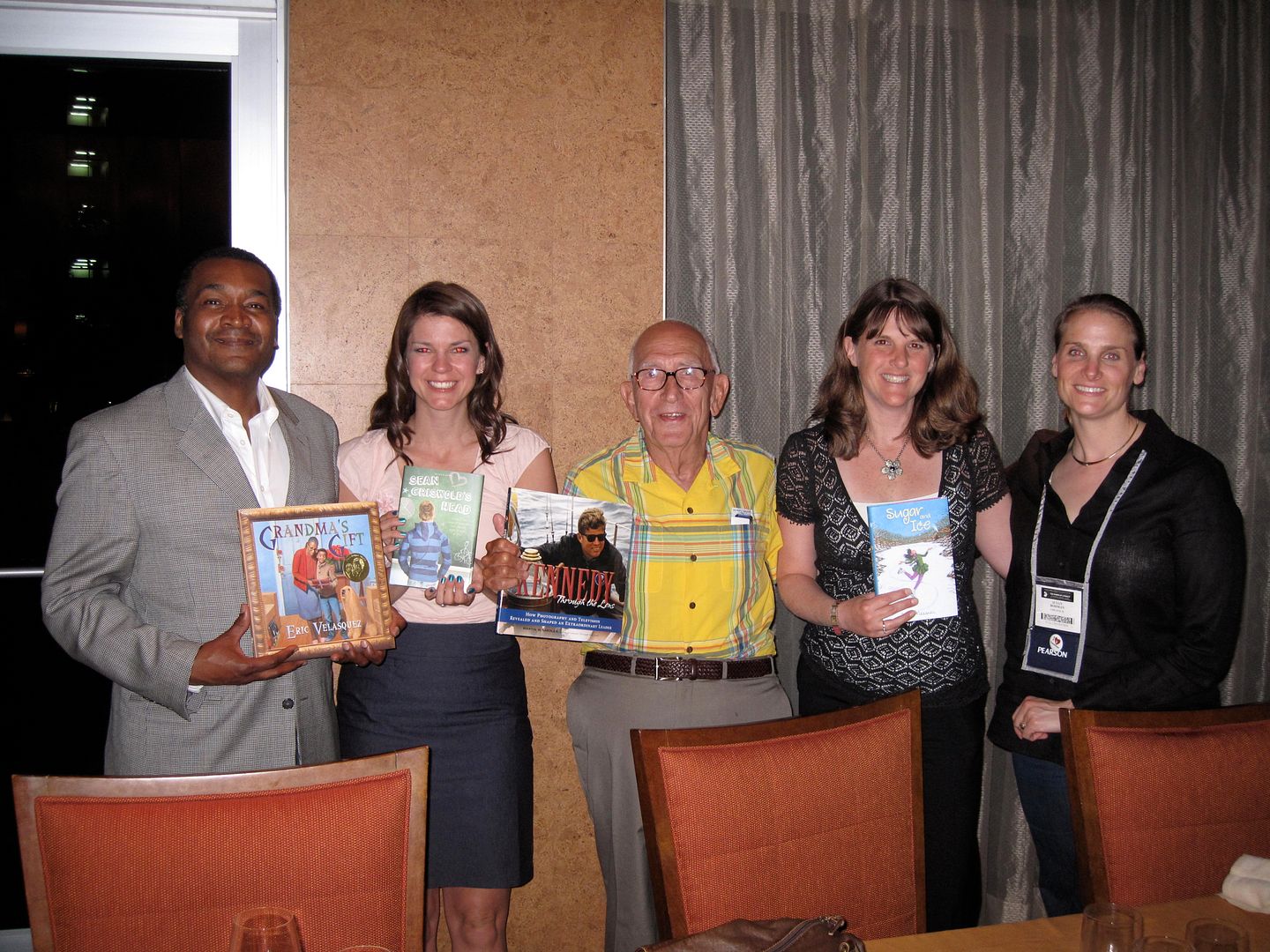 Authors/Illustrators Eric Velasquez, Lindsey Leavitt, Martin Sandler, and me, and fantastic Chicago teacher Susan Bohman, who gave me a great idea about mapping out plot elements in tape on the classroom floor.

It seems impossible to me that all that fun and learning fit into two days, but it did. And there was still one more day of convention! Later on…IRA Part II.