This post is part of a year-long series of blog interviews I'll be hosting with my fellow 2009 Debut Authors, called "How They Got Here."
It should be an especially helpful series for teens who write, teachers, and anyone who wants to write for kids. 2009 debut authors will be dropping by to talk about how their writing in school shaped the authors they are today, what teachers can do to make a difference, how they revise, and how they found their agents and editors. (You'll even be able to read some successful query letters!) If you know a teacher or two who might be interested, please share the link!

Today… Cynthea Liu, author of PARIS PAN TAKES THE DARE!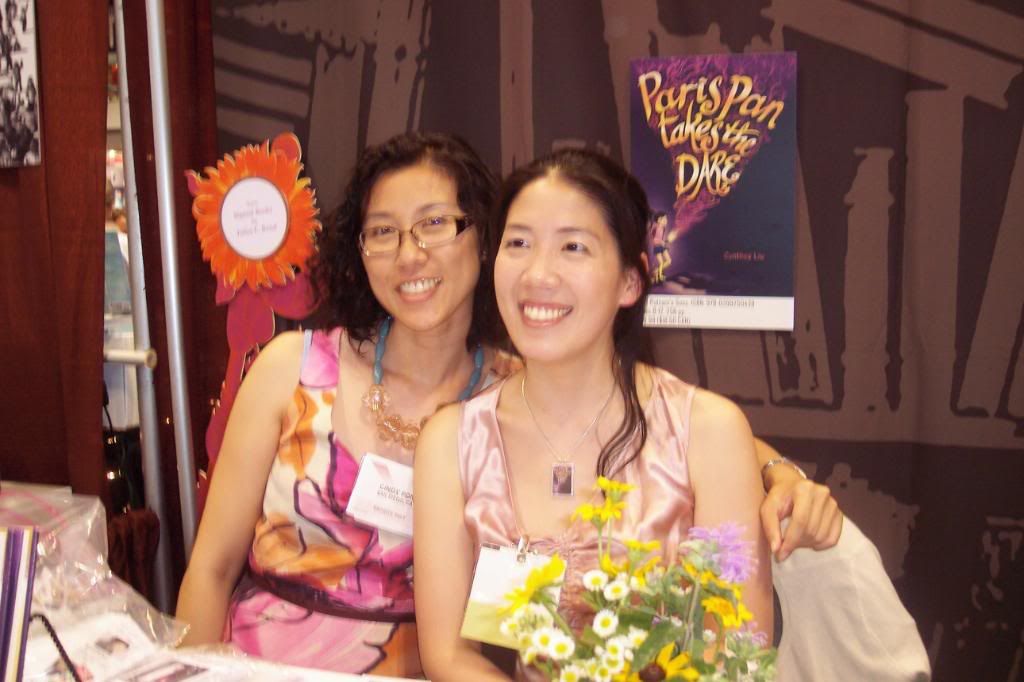 A photo from ALA: That's Cynthea Liu on the right, along with her fellow debut author Cindy Pon (SILVER PHOENIX) on the left!


Twelve-year-old Paris Pan's life is a mess. She's just moved to a tiny town in Nowheresville, Oklahoma; her family life is a comical disaster; her new friends are more like frenemies; and the boy she has a crush on is a dork. Things couldn't possibly get worse, until she discovers that a girl mysteriously died years ago while taking a seventh-grade rite of passage–the Dare– right near Paris's new house. So when Paris starts hearing strange noises coming from the creepy run-down shed in her backyard, she thinks they could be a message from the ghost of a girl. But while she has no plans to make contact with the great beyond, her two new friends have other thoughts. Everyone who's anyone takes the Dare, and now it's Paris's turn.

Welcome, Cynthea! Tell us about the first thing you ever wrote that made you think maybe you were a writer.
One of the first things was my first query letter, but if I go back even further, really, the first thing I DREW when I was in college (sketches of animals), later became the impetus for my full children's book novel. A novel that barely got subbed and is now sitting quietly on my hard drive, waiting for me to come back to it again when I'm ready.
Unlike a lot of writers, I never thought I'd be one when I was younger. Seriously, if you had asked me in high school or junior high, I would have rolled my eyes and said, "WHY WOULD I EVER WANT TO DO THAT?!"
Even when teachers and college professors encouraged me to pursue it, I just laughed them off. I had no idea that what I wrote was actually readable and interesting to people. I just thought, "well, that's how I talk. That's not real writing."
Now I know, that being authentic – expressing yourself as a "real" person is exactly how writing should work. Why hadn't someone said that to me earlier? I could have fifteen novels under my belt by now. 🙂

What books did you love when you were a kid?
I was a freak for animal stories. Talking animals, nontalking animals, animals that played instruments, animals that saved lives, animals that got lost, animals, animals, animals!
RATS OF NIMH
TRUMPET OF THE SWAN
BLACK BEAUTY
MISTY OF CHINCOTEAGUE
WATERSHIP DOWN
I gobbled them all up. And of course, I had to have an animal in PARIS PAN TAKES THE DARE. Go, the dog, is one of my favorite characters.
Is there a particular teacher or librarian who was a mentor for you in your reading and writing life?
Yes, my algebra teacher. Yes, my ALGEBRA teacher left a lasting memory for me about books. I had complained to her one day that I couldn't find anything to read anymore. I'd read it all. She said, "Well, have you tried some adult books?" She handed me my first DEAN KOONTZ book. Which I LOVED. Of course, now she'd probably be jailed for giving me an adult book, complete with a racy scene, to read. But man, thank you, Mrs. M for saving my reading life when I was in 8th grade.

Moving on to the here and now, most writers admit that making time to write can sometimes be a challenge. When and where do you write? Do you have any special rituals?

These days, I've been extremely swamped with my book launches BUT when I do write, it is heaven. I've got my Diet Dr. Pepper at my side, my laptop, and my critique partner, the fabulous Tammi Sauer, at the ready, online. I work for at least four straight hours, either laughing my head off or banging my head against the computer. It's such great fun. And I mean that!

Your favorite strategy for revision?
My strategy for revision these days is to keep going back to the beginning and rereading it as I build each new chapter. This helps me check story flow and work out any kinks before I end up with a huge plot disaster on my hands. Nothing worse than a huge plot disaster.
Best advice for young writers?
BELIEVE that you can do it. START NOW. You're a hot commodity. Publishers LOVE young writers. When you're old like me, no one cares. But your YOUNG and cool and so talented. So get crackin' on that book! Nancy Fan was 12 or 13 when she got her first book published. Christopher Paolini was 15 when he started his book Eragon.
YOUR AGE IS A PLUS in the book publishing industry. So stop worrying about how long it'll be before you are 5 feet tall or when you'll get your driver's license. You can get a book written and published NOW. That's definitely cooler than getting behind the wheel so you can cart your younger sister around.

What's special about your novel?
PARIS PAN TAKES THE DARE is actually my first novel. I started it before THE GREAT CALL OF CHINA so it'll always hold a special place in my heart. There is so much of me and my family experiences in the book, that I feel like the book is actually a "part" of me. So don't rest a pop can on it or anything. Let's show some respect for the Pans!

What were the best and worst parts of writing it?
The best parts of the book are the most difficult parts of the book to write. I try very hard to strike an emotional chord with the reader, and doing that is no easy task. So if you ever feel yourself getting scared, laughing out loud, getting angrey, tearing up even, that scene right there was one of the hardest parts to write.

How did you find your agent and/or editor?
Finding an agent and an editor was like courting this cute guy who has no idea what you look like or what your personality is like. All you can do is hand him your book and hope THAT does the trick. Fortunately for me, I nabbed my agent fairly early in my writing process but getting an editor to fall in love was not as quick. I had to give the editors several different versions of my book before they fell for my wiley ways. Hard work, man!

And here's Cynthea's successful pitch for PARIS PAN:
Twelve-year-old Paris Pan has moved to a small town where she has a real shot at making friends. But that friendship comes at a price. She must take The Dare, something that killed a girl on the very property she now resides. To make matters worse, Paris must play basketball against her will, eradicate a crush on the least desirable boy in sixth grade, and cope with a family crisis that was possibly caused by a chili dog.

Thanks for sharing your journey, Cynthea!
You can read more about Cynthea at her website, and of course, you can ask for PARIS PAN TAKES THE DARE at your local independent bookseller. You can also order it through one of my favorite indies, Flying Pig Bookstore (they ship!), or find an indie near you by checking out IndieBound!