I am declaring today Good News Tuesday. (Blogs are lovely that way, aren't they? You can just decide on such things late in the day, and even if no one's reading, it feels official.) Here's my thought…
Good news comes in all kinds of shapes and sizes, and sometimes, we forget to celebrate the small stuff. So this is an invitation to do that. If you have some good news to share -any kind of good news – post it in the comments, okay? Here's my contribution:
Good News Item #1. The tulips waited.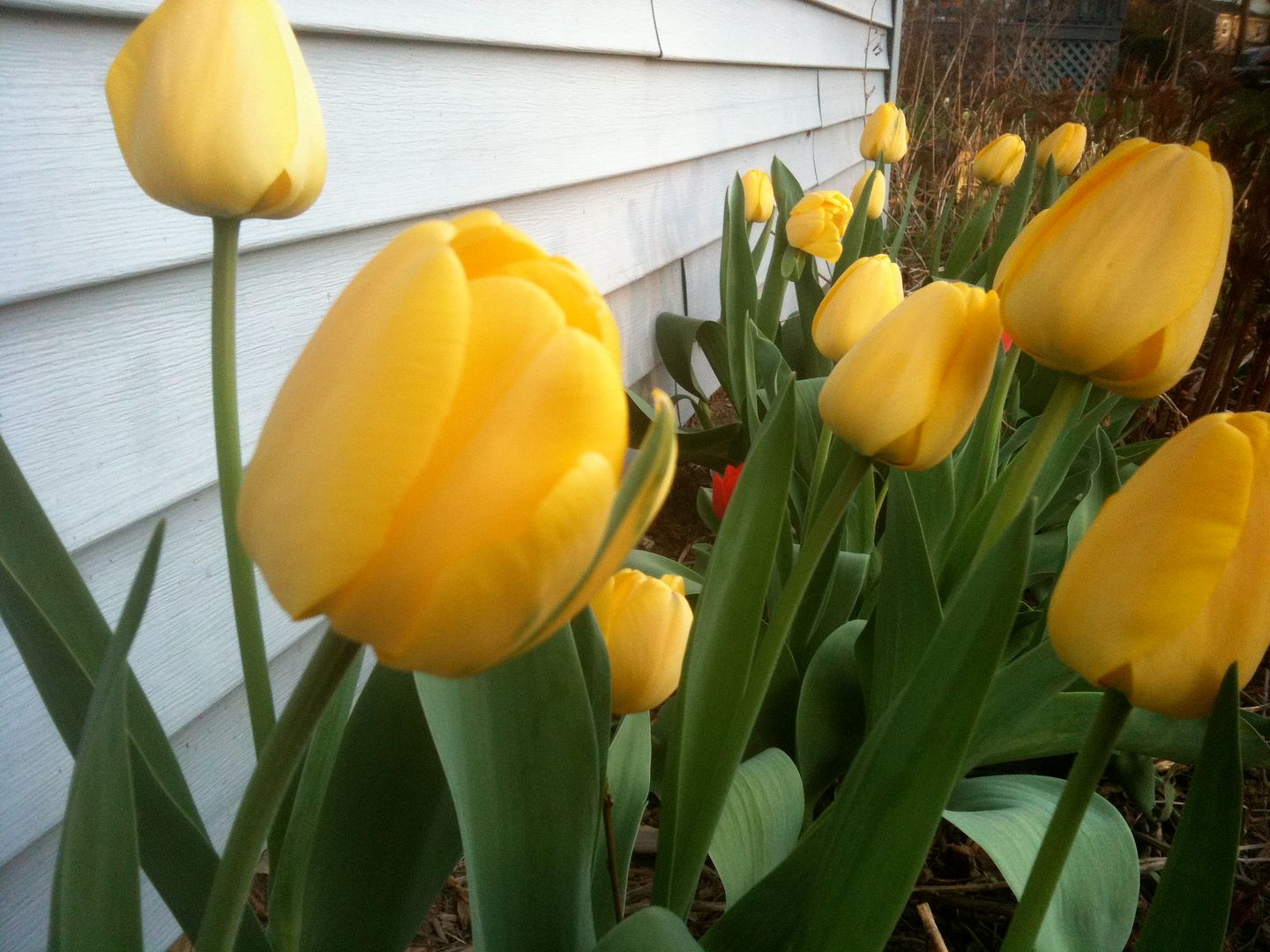 I was afraid they'd bloom while we were away last week and we'd miss them, but here they are.
Good News Item #2. Donalyn Miller is working on a new book about reading for teachers! If you don't know her name yet and you work with kids and care about reading, you might want to grab a pen… Her first book, THE BOOK WHISPERER, is an incredible resource for teachers and librarians (parents, too) who want to help kids become lifelong readers. Happy news came via the Twitterverse today that she's working on a new book called FOREVER READERS, due out in Spring 2011.
Good News Item #3. Bonnie Shimko's new middle grade novel THE PRIVATE THOUGHTS OF AMELIA E. RYE just got a starred review from Booklist! And it's out now – I loved this ARC so much that I shared my thoughts here right after I finished reading. You can have your very own copy now. It's amazing, so that's good news indeed.
Good News Item #4. I'm getting ready to go to the International Reading Association Conference in Chicago, and I couldn't be more excited. I'm talking about Skype author visits as part of a panel, along with Shannon Hale, Kathy Erskine, Kate Klimo, and members of the IRA Teachers' Choice Committee. I'll be signing THE BRILLIANT FALL OF GIANNA Z. and ARCs of SUGAR AND ICE at the Walker/Bloomsbury booth from 2-3 on Monday, attending a couple publisher dinners (where I finally get to meet fellow Walker author Danette Haworth!), and visiting with middle school kids before my flight home on Tuesday. If you'll be at IRA, too, would you include that in your comment? I'd love to find time to say hi!
What else can we celebrate along with the tulips today? Good news of all shapes & sizes welcome!