I just got the coolest note from my talented and kind friend, – "Did you see that one of the Scholastic Book Clubs has your book in it for September?"
No!!! I hadn't seen that! I knew that Scholastic had picked up The Brilliant Fall of Gianna Z. as a book clubs & book fairs selection for this fall, but I didn't realize that it was actually out. So I raced over to the Scholastic site and found the Arrow flyer for September. And then I got a little bit teary.
I've always been a big reader. The youngest of four kids by a long shot, I spent a lot of time with my parents and my books when everyone else was off at school. And I grew up in a small town – Medina, NY. It has a great indie bookstore now, but The Book Shoppe wasn't around yet when I was a kid, and so the nearest place to buy books was a chain store at the mall half an hour away. But every month, my teachers would pass out the Scholastic Book Club flyers, and I'd take them home and circle the books I wanted. I'd use magic marker, even though I knew it would bleed through those thin pages, and sometimes I couldn't even tell which book I meant to circle.
So the thought of kids taking home this flyer…
…and maybe drawing a fat magic marker circle around my book?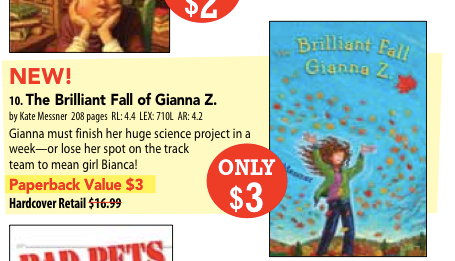 Pretty amazing.