1. My 7th graders are doing nonfiction literature circles discussions right now, with sets of the Scientists in the Field books from Houghton Mifflin Harcourt. They are loving these titles — the stunning photography, fascinating stories, and all the connections between the work of the experts in the books and what they're learning about the scientific method in science class.  I learned about this series from writer-friend Loree Griffin Burns, who penned two of its best books (and soon a third!) — TRACKING TRASH and THE HIVE DETECTIVES.  Since the books arrived at school for this literature circles project, I've been on a big SITF reading binge. More favorites include THE SNAKE SCIENTISTS, THE TARANTULA SCIENTISTS, KAKAPO RESCUE, and THE GORILLA SCIENTISTS.
2. Next weekend – Saturday, November 5th, is one of my favorite events of the year — the Rochester Children's Book Festival.  It's an amazing, super-charged celebration of books and reading. Check out this line-up! If you're in the area, please come by and say hello!
3. I picked up another copy of HARRY POTTER AND THE HALF-BLOOD PRINCE at our library's book sale this week, despite the fact that we already have at least one copy of this in the house, and possibly two. I have a bad habit of buying the same book over and over again at places like this – as if leaving a favorite title in a box at a garage sale would be like stranding a friend. Does anyone else do this?  There are two copies of Lev Grossman's THE MAGICIANS in my closet right now because I couldn't bear to leave them in the mess that was the Borders closing sale…
4. Sometimes in publishing, things have a way of dragging on and on, and then happening all at once…which is why I have news of two new upcoming picture books to share today, both with my much-loved editor Melissa at Chronicle Books.
The first is called THIS TREE IS HOME, about the animals (more than a thousand!) that rely on the giant Almendro tree that towers above the rainforests of Costa Rica, from spider monkeys and sloths, to the Great Green Macaw, to smaller creatures like this poison dart frog that carries its babies up the tree on its back to be sheltered in the rainwater pools of its bromeliads.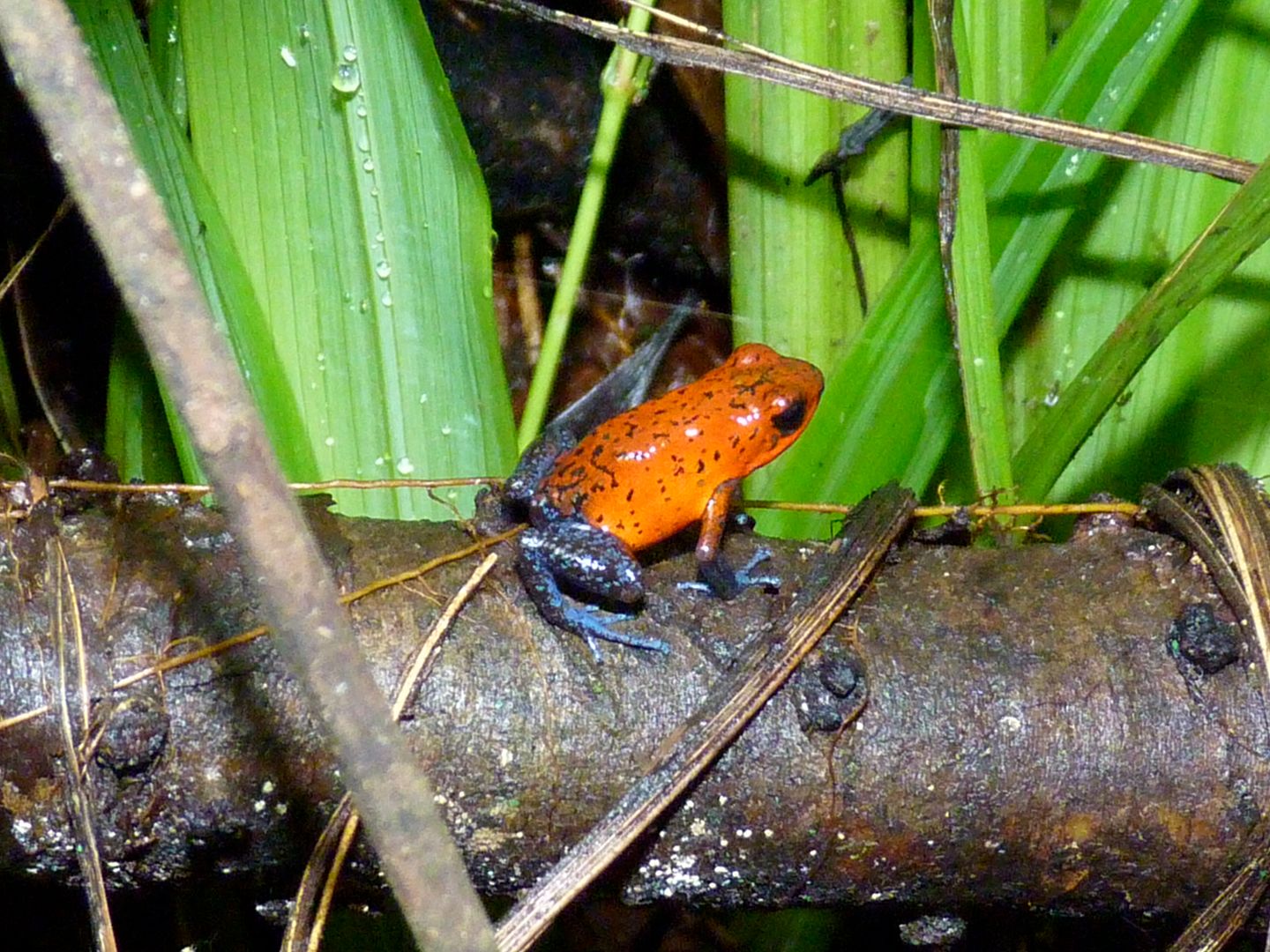 As some of you remember, I spent time in Costa Rica last summer and fell in love with the rainforest, so I'm super excited about this book!
5.  The second picture book is hard to explain without giving away secrets – so for now, I'll just share that it's about the care and keeping of stories.  I love this one, too, and have been hoping and hoping that it would end up with Melissa, so there were cheers all around when I got her recent email about the book. It had a one-word subject line: "YES!"
Hope everyone has a terrific weekend!