1. Beautiful weather makes it hard to get work done. Has anyone else noticed that? Last night, the kids had friends over for swimming and a campfire and s'mores, so my writing had to wait until well after dark. So, so worth it.
2. I am still not very good at golf. I discovered this on yesterday's all-four-of-us family golf outing. On the plus side, though, my nine-year-old discovered she is very good at driving golf carts and enjoys this immensely. Plus we saw a great blue heron eat a frog on the 5th hole.
3. It's still blueberry season here in Northern NY, which means blueberry pancakes this morning for the sleepy kids who are just starting to stir.
4. My revision book for teachers is coming along (in spite of the whole call-of-the-campfire issue) and has been so much fun to research. Talking with middle grade authors about their revision processes has been more of a blessing than I could have imagined when I agreed to write this book.
5. I have been stepping over a cardboard box in the garage for two days, assuming it was an empty one that needed to be recycled. (If you have ever been in my garage, you understand exactly how this could happen.) But last night, I tripped over it and it didn't bounce lightly out of the way like empty boxes do. So I picked it up — it was heavy — and brought it inside. And look!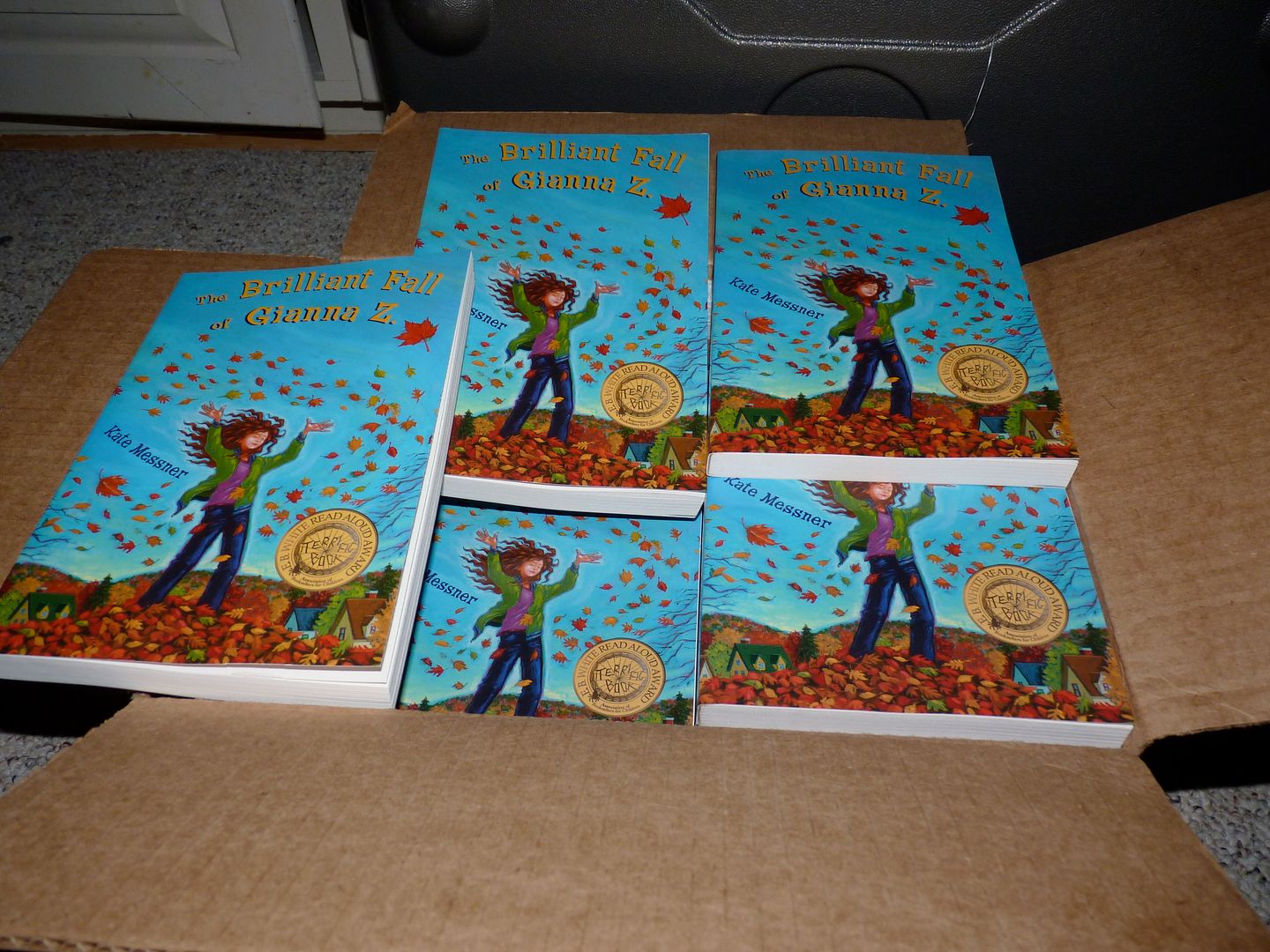 A box of paperback copies of THE BRILLIANT FALL OF GIANNA Z!! The UPS guy must have left it there while we were out.
The announcement of the E.B. White Read Aloud Award in May came down just in time for my publisher to get it onto the paperback cover. I love that the medal includes Charlotte and her web!
The paperback officially releases next month, and I am so excited that Gianna and Zig and all their friends will be available to kids at a more affordable price. I love the care my publisher took with this edition, too. There are a whole bunch of extras in the back, including Nonna's funeral cookie recipe, a discussion guide for classes and book clubs, and an excerpt from SUGAR AND ICE (coming in December!). I should clean out the garage more often.