Look what the UPS guy brought this week!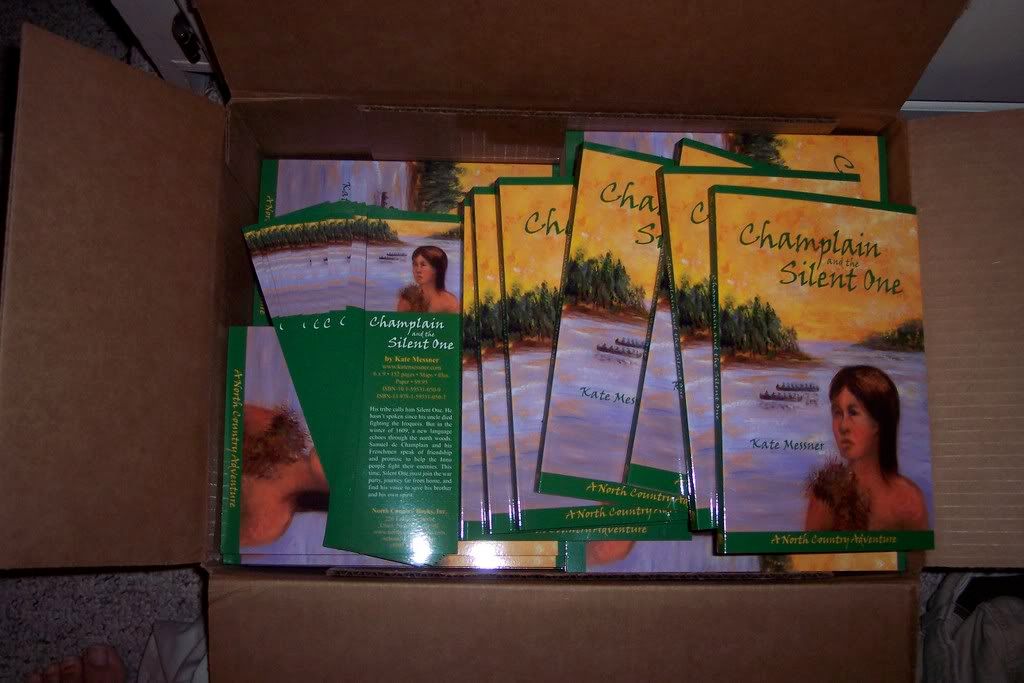 He looked at me a little funny when I hugged him. Do you suppose most people don't do that?

Champlain and the Silent One, my historical novel about an Innu boy who travels with Samuel de Champlain on his 1609 voyage to encounter the Iroquois, is officially out and actually available now. Here's the back cover copy:
His tribe calls him Silent One. He hasn't spoken since his uncle died fighting the Iroquois. But in the winter of 1609, a new language echoes through the north woods. Samuel de Champlain and his Frenchmen speak of friendship and promise to help the Innu people fight their enemies. This time, Silent One must join the war party, journey far from home, and find his voice to save his brother and his own spirit.
"Kate Messner's sense of American history and human nature is as strong as her clear, evocative prose. Her multicultural cast of characters truly comes alive in this wonderful little novel that gives one of the best pictures I've yet seen of that period of early contact."

–Joseph Bruchac, Storyteller and Writer

I'll be signing books at three different festivals in Northern NY and Vermont this weekend:
Battle of Plattsburgh Celebration
Saturday, September 13
12:30-12:50 (right before the battle!)
Kids Area outside City Hall
Crown Point Historic Site Festival of Nations
Saturday, September 13
Presentation from 6:45-7:30pm
Burlington Book Festival
Sunday, September 14
Presentation from 11:00-12:00
Lake & College Performing Arts Center
(and tanyaleestone presents at 12:30, in the next room over!)
And here's the rest of my September/October schedule:
Canandaigua, NY
Saturday, September 27
Book signing from 2-4
(and artwork by my made-of-awesome mom, Gail Smith Schirmer!)
Pat Rini Rohrer Gallery, South Main St.
Plattsburgh, NY – Borders Books & Music
Saturday, October 4
Educators Weekend Book Signing 12-4
Shelburne, VT – Flying Pig Bookstore
Saturday, October 18
Presentation & Signing – 11-12
…and for teachers, I'll also be presenting two workshops, serving on an authors' panel, and signing at the NYS English Council Conference in Albany on Thursday, October 23.
If you're near any of those places, I'd love it if you'd stop by so I can give you one of my shiny new bookmarks and say hello!