The sky was sunny, and the air was crisp and Septembery yesterday, and so I was already in a happy mood when we got to the Burlington Book Festival. This was my first real presentation for SPITFIRE, so I was just a little nervous (okay…scared, for those of you keeping score), but as I was setting up,
and
and my old neighbor Kim walked in with smiles and hugs and "You go, girl!" kinds of sentiments, and all was well.
The nice woman who read my introduction (I'm not sure who wrote it) told the audience that my presentation would be interesting, but gross. (I'm thinking she must have found out about the part where I talk about the flesh-eating bugs on my roof that helped me clean my cow horns for powder horns.)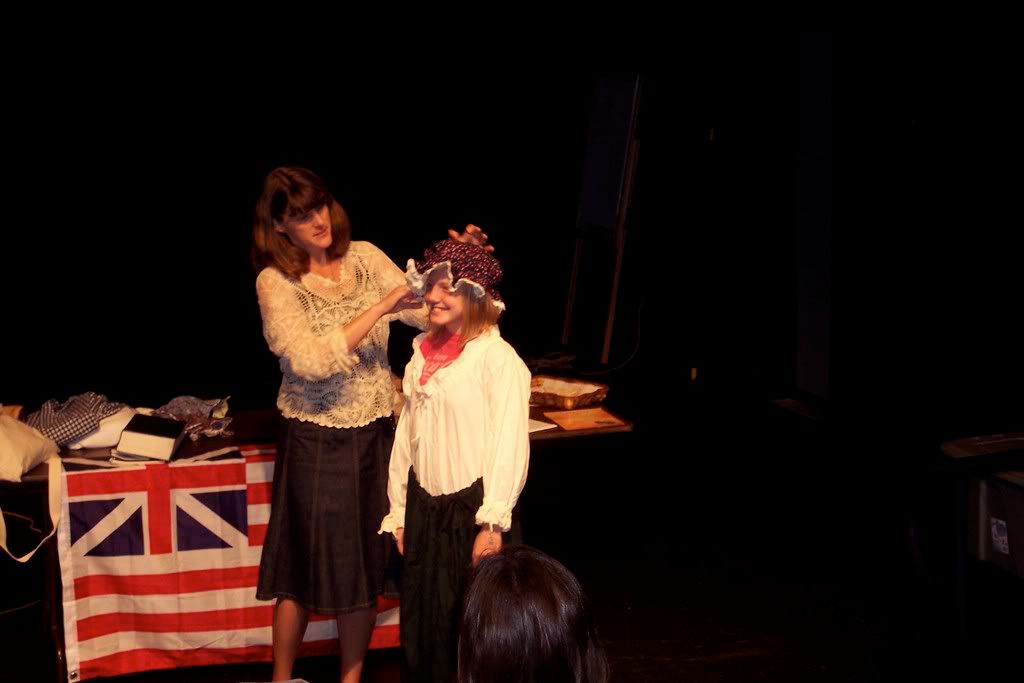 The kids, teachers, writers, and parents in the audience were enthusiastic and were game to dress up in 18th century garb and taste hardtack and everything. It was so much fun to share the story of SPITFIRE with them, especially some of the kids in the audience who are writers, too.
Then I got to be in the audience for Linda Urban's presentation on A CROOKED KIND OF PERFECT, which was just fantastic. If you've ever met Linda, you know how smart and warm and genuine she is, and that all came through in her presentation. My family and I loved listening to Linda read from her book. When Linda read a part where Zoe's dad strikes up a marching band in the living room, marching around with the lids of pots and pans, E stopped laughing long enough to lean over and whisper, "He's even crazier than Daddy!"
One more bit of good news… Essex, VT is getting a new independent bookstore! I had a chance to chat with the folks at Phoenix Books, which is opening next month at the Essex Shoppes & Cinema, and they're promising lots of great events for children. Yay!!
As for the Burlington Book Festival… Congratulations to Rick Kisonak and Elaine Sopchak and everyone else who put this event together. It was a fantastic, fun, inspirational celebration of reading and writing.