The
Lake Champlain Maritime Museum
has a fantastic reputation when it comes to staff development for teachers, so I was thrilled to be a part of today's workshop called Teaching the Quad, helping educators prepare for the 400th anniversary of Samuel de Champlain's voyage in 1609. I talked about Using Historical Fiction in the Classroom and gave my first-ever reading from
Champlain & the Silent One
, my new middle grade historical novel that comes out in September. For me, reading out loud from a novel for the first time is a milestone that's always a little scary but a lot of fun!
As the last speaker, I got to relax for most of the day and enjoy the other presenters — including biographer
Willard Sterne Randall
, whose work I've admired for years.
His Benedict Arnold biography
was one of my first stops when I was researching
Spitfire
. Randall and his wife have worked together to put together
this fantastic website
focusing on Champlain and the Quadricentennial Celebration.
Also on the agenda today – Dr. Fred Wiseman from Johnson State College, who shared parts of his
new documentary
about 1609 as well as information about some recent archaeological discoveries that may change the way we view the lives and culture of Native peoples in the Champlain Valley.
Sarah Lyman from the Lake Champlain Maritime Museum talked more about the museum's Quadricentennial curriculum, a 200-page treasure trove for educators that's
available as a free download here
. It includes the first chapter of
Champlain & the Silent One
, as well as a sample chapter of the study guide.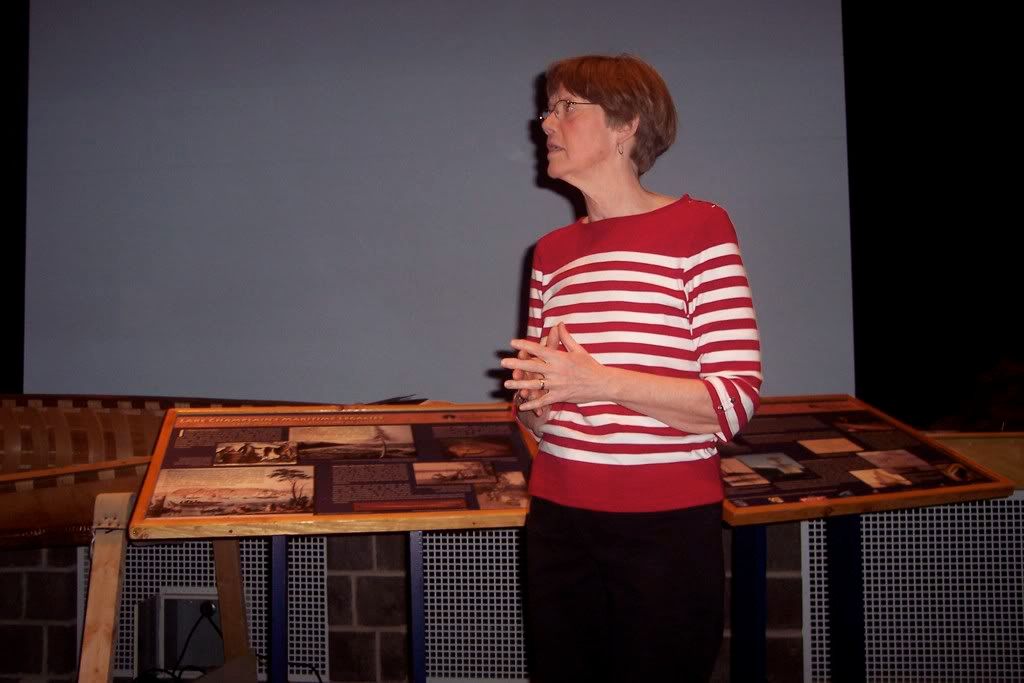 Joan Robinson of the
Flynn Theatre
got us all up and moving around with some dramatic activities relating to the 1609 encounter between Champlain and the Iroquois.
And Roger Longtoe of the El-nu Abenaki Tribe shared his expertise on Abenaki culture of the 17th century and today.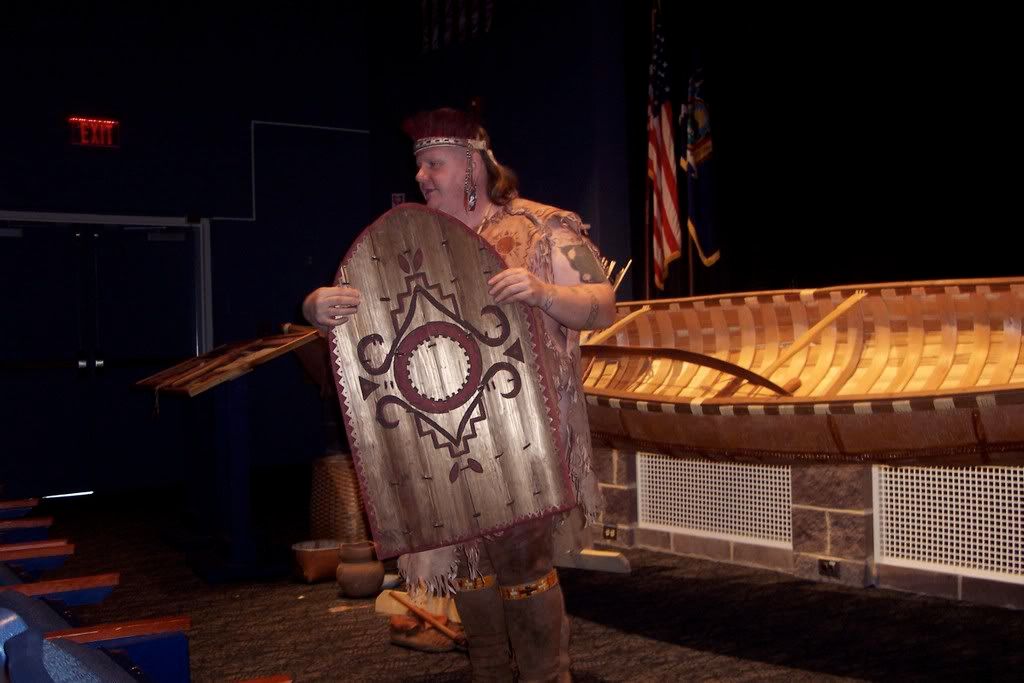 I was especially intrigued by the wooden shield he's holding here, since it was modeled after the ones that Champlain describes in his 17th century journals. No matter how many times I read the descriptions, I couldn't quite picture what they looked like until now.
Perhaps the most fascinating part of today's workshop for me was listening to the struggles of some other researchers who have delved into Champlain's life and the world he inhabited in 17th Century New France. Because there are still so many unanswered questions about this time period — and so many controversial opinions — the Quadricentennial Celebration in the Champlain Valley is promising to be a time of tremendous scholarship, discussion, and discovery.